Henschel Hs123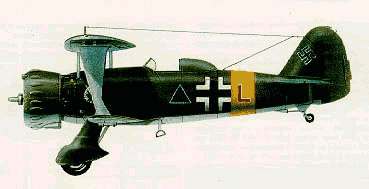 The Hs123 was a plane of a type generally considered obsolete by World War II. It saw heavy service until 1942, and did not totally disappear from front line service until 1944. It was one of only three combat biplanes that served; the other two were the Gloster Gladiator, and the Polikarpov I-15. The Henschel also had the honour of being the first Luftwaffe dive-bomber, and the more dubious honour of being the last Luftwaffe biplane.
The first Henschels were tested in the Spanish Civil War. Contrary to all the theories from staff-colleges, the Henschels were able to give the infantry help of the immediate kind; the Henschel carried out extensive ground strafing, and bombing despite the lack of any radiolink, or even an established system of operation. This was the plane that made the Luftwaffe take notice of the idea of airpower being used as a close-support for the advancing armies, and was an integral part of the Nazi Blitzkreigs.
The advent of the Ju 87 stripped all funding from the Hs123 project, and it was phased out of production before the war began. In Poland however, these aircraft proved immensly useful, having the great ability to make pinpoint attacks with guns and bombs. Also, by setting the propeller at a certain speed, the Henschel made a very demoralizing noise. Even more important, the Henschel had the ability to return to base even after direct hits from Anti Aircraft shells.
The entire force was continually threatened with disbandment or replacement. Thus, the Hs123 close-support unit II (Schlacht)/LG2 was sent to the Balkans, and then to the USSR, where the nimble biplanes worked round the clock, proving better suited to the conditions of Russia than more modern types. They continued in combat until 1944, when there were no more left. The Henschel had fixed landing gear.
Charles Bain


Technical Data
Origin: Henschel Flugzeugwerke AG
Type: Single-seat divebomber, and close-support
Engine: 880hp BMW 132 Dc nine-cylinder radial
Dimensions: Span 34ft 5.5in (10.5m); length 27ft 4in (8.3m); height 10ft 6.5in (3.2m)
Weights: Empty 3,316lb (1504kg); loaded 4,888 (2217kg)
Performance: Maximum speed: 214 mph (345km/h); initial climb 2,905ft (900m)/min;
service ceiling 29,530ft (9000m); range 530miles (850km)
Armament: Two 7.92 mm Rheinmetall MG 17 machine guns ahead of pilot; underwing racks for four 110lb (50kg) bombs, or clusters of anti-personnel bombs or two 20mm MG FF cannon