Dewoitine D.520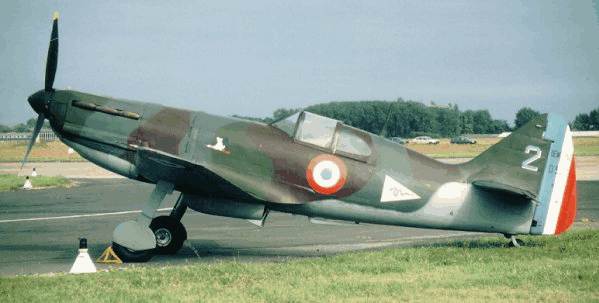 One of the best products to come out of France in all the war was undoubtedly the Dewoitine D.520. It was evolved from a long family of aeroplanes, but it nearly never got past the prototypical stage. While test-flying it, Marcel Doret forgot about the retractable landing gear on 27 November 1938, and put it out of action.
In September 1939, Dewoitine was absorbed into SNCA du Midi, the Nationalized French aircraft industry. This did not stop the D.520. Like most of the good planes of the other countries, such as the Fokker XXI and G.1a of the low countries, and the PZL P.11c of Poland, the Dewoitine was not in enough wide-spread service to beat off the thus far unbeaten German Luftwaffe.
The Squadrons that were equipped with the D.520 spoke highly of it. This was also an attractive airplane. Its long fuselage seemed more crafted than the M.S.406 or the stubby Bloch MB-152-C-1. It was elegant, with the set back cockpit offering an interesting effect. It was a combination of beauty and effectiveness, something that was sorely lacking in the French Air Force at the time.
Oddly enough, when the Germans invaded, French industry began to churn out D.520s in massive numbers, although few reached the front lines. They served after 1940 with the Vichy Air Force, both for and against the Germans. (Vichy used very imaginative paint schemes) A very small number served with the Free French after the liberation, harrassing the retreating Germans. Some were also used by Bulgaria, Romania and Italy (RA)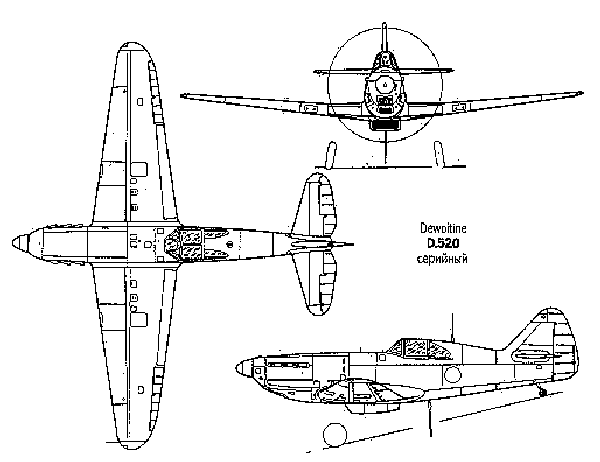 Technical Data
Origin: Dewoitine Aircraft, later SNCA du Midi
Type: Single Seat fighter.
Dimensions: Span 33ft 5 3/4in (10.2m);
length 28ft 8.5in (8.75m);
height 11ft 3in (3.4m)
Weights: Empty 4,630lb (2199kg); loaded 6,173lb (2800kg)
Performance: Maximum speed 329mph (530 km/h); initial climb 2,362ft (729m)/min; service ceiling 36,090ft (11,000m)l range 777 miles (1,240km)
Armament: One 20mm Hispano-Suiza 404 cannon, with 60 rounds, firing through propeller hub, and four 7.5mm MAC 1934 machine guns, each with 500 rounds, in wings.