The Gloster Gladiator
One of the only biplane fighters to have any measurable success in the Second World War, the Gloster Gladiator was the product of a bygone era combining with modernity for one last fling. The Gladiator was obsolete by September 1939, but it still had what it took to make a significant impact on history. Air Ministry specification F.7/30 realized (correctly) that future fighters were going to be faster and better armed.

Unfortunately, the delay in placing an order lasted 4 and a half years, by which time war was approaching, and it was realized that biplanes were soon to be judged obsolete. Folland created the S.S.37, which was the best design, and was accepted. It was really obsolete by the time of its first flight. However, since nothing else had arrived to replace the aging Bulldog fighter, the Gloster was readily accepted, and was the main fighter of the RAF until the Hawker Hurricane was delivered. By 1939, four squadrons were still operational with Gladiators.
Gladiators formed the core of the British Expeditionary Force's Advanced Striking Force in France in 1939. Many served in Belgium and the Netherlands, and many were present for the collapse of France. After 1940, most that still remained with the RAF worked as Meteorological Reconnaisance Aircraft. But the most famous exploit of the Gladiator happened at the height of the war; in the Mediterranean.
The situation was desperate: British forces had been driven from Greece and Crete; they now rested at Gibraltar. Royal Navy forces under Cunningham were pounding the Italian Navy. And a little island stood in the way of supplies to Rommel in North Africa: Malta. The Italians decided to wipe Malta off the face of the earth. To defend itself, Malta had only the component pieces of five Gloster Gladiators. Two were lost on runway accidents. The remaining three, named Faith, Hope and Charity, successfully defended Malta against the entire might of the Regia Aeronautica. They took heavy toll on the Italians, and stopped only when Hurricanes arrived.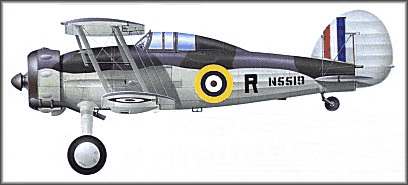 Malta's ordeal was far from over, but the Gladiator had lived up to it's name and given hope to Malta's occupants. Gladiators also served in the Middle East. It was finally retired from all roles in 1944. The Royal Navy used Sea Gladiators until 1940. It was the Gladiator that intercepted the first raid over England in 1940. This maneuverable and tough biplane certainly earned a first-line place in history.
Charles Bain
Technical Data
Origin: Gloster Aircraft Company
Type: Single-seat fighter; (Sea Gladiator) carrier-based fighter
Engine: One 840hp Bristol Mercury IX or IXS nine-cylinder radial;
(Gladiator II) usually Mercury VIIIA or similar power
Dimensions: Span 32ft 3in (9.85m);
length 27ft 5in (8.38m);
height 10ft 4in (3.17m)
Weights: Empty 3,450lb (1565kg);
(Sea Gladiator) 3,745lb;
loaded 4,750lb (2155kg);
(Sea Gladiator) 5,420lb.
Performance: Maximum speed 253mph (407km/h);
(Sea Gladiator) 245mph;
initial climb 2,300ft (700m)/min;
service ceiling 33,000ft (10,060m);
range 440 miles (708km);
(Sea Gladiator) 425 miles
Armament: First 71 aircraft, two 0.303in Vickers in fuselage,
one 0.303 Lewis under each lower wing;
subsequent, four 0.303 Brownings in same locations,
fuselage guns with 600 rounds and wing guns with 400.