Historical Writings of the combat aircraft of the two World Wars
Polikarpov I-15 and I-153

While one might think that this biplane preceded the famed Polikarpov I-16 monoplane, it is really true that the I-15 was produced after the I-16 and in many places replaced the I-16. In Mongolia against the Japanese in 1939, the I-16 was replaced by its more nimble biplane bretheren.

The I-15 was in large scale service when Germany launched Operation Barbarossa, and more than 2,200 I-15s and I-153s were lost in the first week on the invasion, most of them on the ground. The Germans were always careful not to dismiss captured or shot down I-15s. One was found with RS-82 rocket launchers under the wings.

The I-153 had something else that set it apart from other biplanes: Retractable landing gear. The gear, (either wheels or skis) folded to the rear. The I-15 claimed a world altitude record before serving against the Luftwaffe. The Germans dubbed it "Chato" (flat-nosed). No exact number of I-15 and I-153s in service is known. The Russians only said: "Several Thousands". Later variants had variable-speed propellers and drop-tanks.
Even more bizarre than a biplane in WWII production with retractable landing gear is a fighter of such form with jet propulsion! Ivan Merkulov was a pioneer of simple ram-jet engines, and equipped a I-153 (one of at least two Polikarpov biplanes) with them early in 1940 as a testbed. This was done is October of 1940. It was the only biplane fighter in the world ever equipped as such. (Most likely for a good reason!) The Russians put it down to only minor enhancement in flight speed.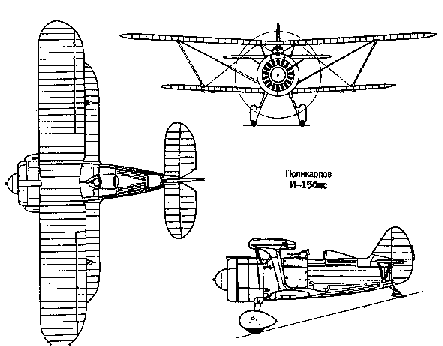 Technical Data
Origin: The design bureau of Nikolai N. Polikarpov
Type: Single-seat fighter, or fighter-bomber
Engine: (Data for I-15) One 700hp Shvetsov M-25;
(Data for I-153) 1,000hp M-63, nine-cylinder radials
Dimensions: Span 29ft 11.5in (9.13m); length 20ft 7.5in (6.29m); height 9ft 7in (2.92 m)
Weights: Empty 2,597lb (1178kg); loaded 3,027-3,135lb (1370-1422kg)
Performance: Maximum speed (all): 267mph;
initial climb (all) about 2,500ft (765m)/min
Service ceiling: (highest of variants) 35,100ft; range 450 miles (720km)
Armament: Four 7.62mm DA or ShKAS guns in fuselage,
two or four 110lb (50kg) bombs, or six RS-82 rockets.
If there is anyone with a picture of the ramjet-equipped fighter; please send it to me at my e-mail below. Charles Bain


If you have any questions you would like answered, e-mail them to
charles_bain@hotmail.com

© simviation.com 1999. All rights reserved.