| | |
| --- | --- |
| Manufacturer: Boeing | Country of Origin: USA |
Model: Boeing 777 series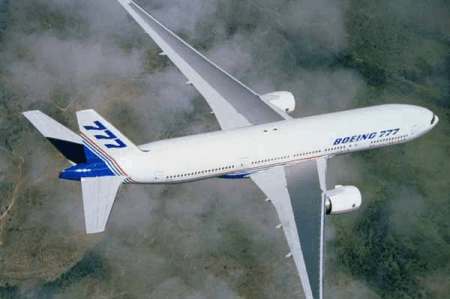 Information:
777 Family Overview
The company's newest airplane type is the 777, designed to fill the size gap between the 767 and 747. The market-driven 777-200 twinjet seats from 305 to 320 passengers in three classes. The initial 777-200, which was first delivered in May 1995, has a range of up to 5,850 miles.
The increased-gross-weight, longer-range 777-200 was first delivered in February 1997. This model is capable of flying the same number of passengers up to 8,860 miles.
Boeing also developed a stretched version of the 777, providing three-class seating for 368 to 386 passengers on routes up to 6,720 miles. This high-capacity 777-300 enters service with launch customers Cathay Pacific Airways of Hong Kong.
Boeing is studying a derivative of the 777-200 that could fly nearly 10,000 miles, as well as a longer-range derivative of the 777-300.

Specifications
767-400
Passenger capacity
Three-class
368 to 386
Two-class
451 to 479
All-economy
Up to 550
Range, miles (km)
6,720
(10,805)
Maximum gross weight, lb (kg)
Takeoff

580,000 to 660,000
(263,080 to 299,375)

Typical operating empty weight, lb (kg)

352,200
(159,755)

Engines
General Electric
GE90
Pratt & Whitney
PW4000
Rolls-Royce
Trent 800
Maximum fuel capacity, U.S. gal (L)

45,220
(171,155)

Lower-hold cargo volume, ft3 (m3)

935
(26.5)

With all LD-3 containers & bulk

7,552
(214)

With 96- by 125-in pallets forward & containers aft & bulk

7,080
(200.5)