| | |
| --- | --- |
| Manufacturer:Airbus Industrie | Country of Origin: France/ Germany/ UK/ Spain |
Model: Airbus A380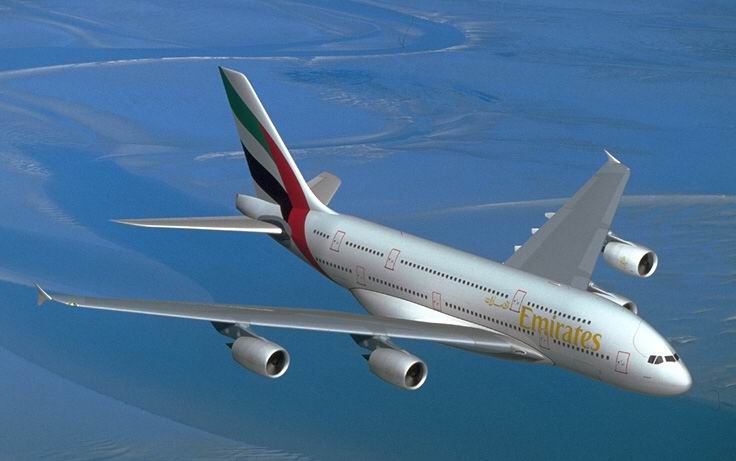 Information:
Airbus A380-800 Mock-up picture in Emirates colours Role Civil air transport Crew 2 First Flight 2005 (projected) Manufacturer Airbus Inc., [Toulouse]
Dimensions Length 293' 6" 73 m Wingspan 261' 10" 79.8 m Height 79' 1" 24.1 m Wing area 8,920 ft² 830 m² Weights Empty 606,000 lbs 275,000 kg Maximum takeoff 1,208,000 lbs 548,000 kg Capacity Up to 555 (3-class) Up to 840 (1-class) Freight cap. 38 LD3s or 13 pallets Powerplant Engines Four Rolls-Royce Trent 900 or Engine Alliance GP7200 turbofans Thrust 271,560 lbs 1,208 kN Performance Cruising speed 0.85 M (approx. 561 mph) approx 902 km/h Maximum speed 0.89 M (approx 587 mph) approx 945 km/h Operating range 9,383 miles 15,100 km Service ceiling 43,000 ft 13,106 m Rate of climb (?) ft/min (?) m/min Wing loading 135.4 lb/ft² 660.2 kg/m² Thrust/Weight 0.22:1
The Airbus A380, known for many years during its development phase as the Airbus A3XX, will be the largest airliner in the world by a substantial margin when it enters service. The aircraft, manufactured by Airbus Industrie, is currently under construction and the first flight of the double-decker aircraft is scheduled for 2005, with deliveries to start in 2006. Launch customers include Emirates Airlines, Singapore Airlines, Air France, Lufthansa, Qantas, Virgin Atlantic, Korean Air, Qatar Airways, and International Lease Finance Corporation (ILFC). In July 2004, Etihad Airways purchased four Airbus A380 for delivery in 2007, at the same time as the first A380 prototypes began to emerge from the Toulouse assembly plant. [edit]
Configurations The new Airbus will initially be sold in two versions: the A380-800, with the ability to carry 555 passengers in three-class configuration for 8,000 nautical miles (14,800km), and the A380-800F dedicated freighter, to carry 150 tonnes for 5,600 miles (10,400km). Power is provided by a choice of Rolls-Royce Trent 900 or Engine Alliance GP7200 engines. Airbus intend to continue their well-established policy of making cockpit layout, procedures and handling characteristics as similar to other Airbus aircraft as possible: This reduces crewing and training costs and increases safety (as crew only have to learn a single set of procedures for many different types). The passenger version will consist of a full double-decker configuration. [edit] History In the years prior to the decision to begin the project, both Airbus and arch-rival Boeing had spent a great deal of effort on considering the very-large-airliner market. For Boeing, the announcement of the A380 was a major blow: already faced with heavy expenditure to replace the aging mid-sized 767 line, Boeing were then placed in the awkward position of having to replace their flagship 747 as well, or else cede market leadership to Europe. Boeing's first action was to announce the Sonic Cruiser concept - a 767-sized near-sonic aircraft that would compete on speed instead of size and economics, but a general lack of market interest has seen this project cancelled. Boeing has announced a plan to replace the 767 with the 7E7 Dreamliner but their intentions in the over 400-seat market remain unknown.