| | |
| --- | --- |
| Manufacturer: Bell | Country of Origin: USA |
Model: Bell 212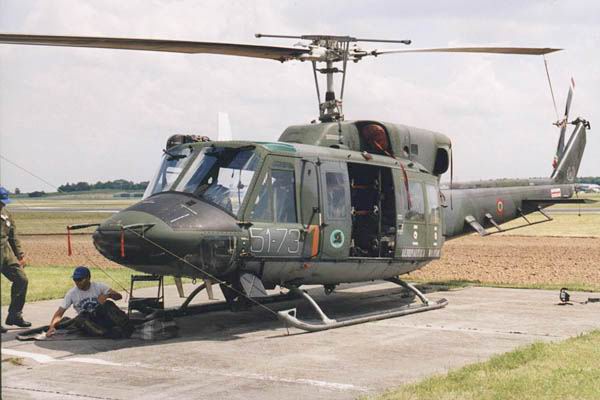 Information:
The Bell Model 212 Twin Two - Twelve 15 seat military/civil utility helicopter
first flew in 1968. Military aircraft are designated UH-1N in the USA and CH-135 in
Canada. Power plant is a PT6T-3 twin turboshaft. Each engine is capable of producing
900 Hp, but the combined output is de-rated to 1290 Hp. This twin engine feature
means increased safety in the event of engine failure and hence the 212 is a popular
helicopter for offshore gas and oil rig support as well as rescue operations.

Main characteristics:
Main rotor diameter 48 ft 2in
Length (rotors turning) 42 ft 5in
Max T.O. weight 10 500 lbs
Max level speed 127 mph
Powerplant 1 290 Shp Pratt & Whitney PT6T-3 Twin Turboshaft