| | |
| --- | --- |
| Manufacturer: Boeing | Country of Origin: USA |
Model: CH47D Chinook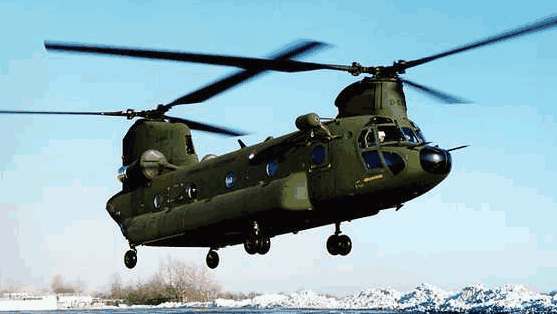 Information:
The Boeing CH-47D Chinook is a twin-turbine, tandem-rotor, heavy-lift transport helicopter. Boeing in Philadelphia manufactures the CH-47D for military customers around the world. More than 600 are currently in service internationally.
New Chinook orders for three nations are in place and negotiations with three additional nations are under way. Nearly a dozen more countries may also procure the CH-47D. In addition, Boeing has completed a Chinook fleet modernization program for the U.S. Army and other users and is engaged in updating Chinooks for other customers, including the British Royal Air Force and the Royal Netherlands Air Force. A number of new or improved components and systems enhance the capabilities of the CH47D and reduce its operating and support costs.
The useful load of the CH-47D is, at 25,000 pounds, nearly twice that of the CH-47A. A combination of high speed and large payload make the Chinook as effective as three utility helicopters, such as the UH-60 Black Hawk, and give the CH-47D the lowest cost-per-ton nautical-mile of any U.S. Army helicopter.
The Chinook's primary U.S. Army mission is movement of troops, artillery, ammunition, fuel, water, barrier materials, supplies and equipment on the battlefield. Secondary missions include medical evacuation, aircraft recovery, fire-fighting, parachute drops, heavy construction, civil development, disaster relief and search and rescue. In the U.S. Army National Guard and among international customers, Chinooks often expend the majority of their flight hours on these latter missions.

Specifications
Powerplant:
• Two Textron Lycoming T55-L712 engines
Rotor System:
• Three blades per hub (two hubs)
• Fiberglass construction
• Speed: 225 r/min
• Manual folding blades
Performance at 50,000 lb:
| | |
| --- | --- |
| SL cruise: | 143 kn. |
| Rate of climb: | 1,522 ft/min. |
| Range: | SL and ISA, 230 nmiles. |
Crew:
| | |
| --- | --- |
| Cockpit-crew seats: | 2 |
| Cabin-troop seats/litters: | 33/24 |
Weights:
| | |
| --- | --- |
| Max gross: | 50,000 lbs. |
| Empty: | 23,401 lbs. |