| | |
| --- | --- |
| Manufacturer: McDonnel Douglas | Country of Origin: USA |
Model: DC-8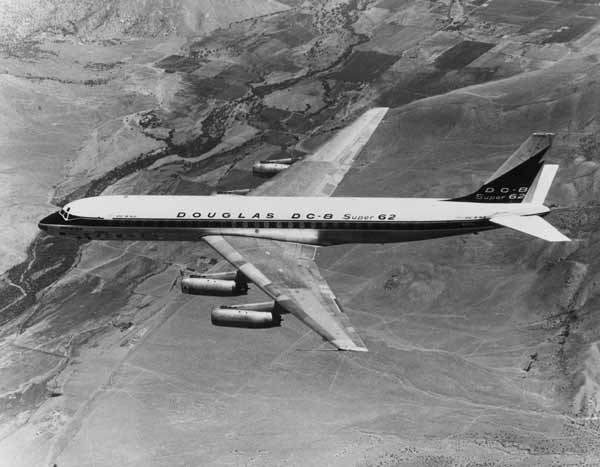 Information:
The DC-8 is one of the earliest jet-powered commercial passenger aircraft. In the decade following its maiden flight, the DC-8 established commercial transport world records for speed, altitude, distance and payload.
From its inception, the four-engine DC-8 embodied advanced aerodynamic and structural concepts, as well as internal systems designed for maximum service reliability, operational convenience and passenger comfort.
A capacity for improved power, payload and range capabilities was inherent in the DC-8 design. Four basic models were produced: the Series 10 through 50, in passenger, freighter and convertible freighter versions; and the Super 60 Series 61, 62 and 63, with freighter models of each. The last of 556 aircraft was delivered on May 13, 1972, marking the end of 15 years of production, at which time there were 48 operators in 28 nations.
Development of the Super 60 Series in 1965, with increased size, capacity and efficiency, demonstrated the capacity for growth in the DC-8 design. The Super 61 can carry up to 259 passengers in high-density, transcontinental routes. The Super 62, designed for long-haul operations, carries up to 189 passengers at ranges over 6,000 statue miles (9,656 km). The Super 63, which combined the fuselage extension and payload capacity of the Super 61 with the long-range, aerodynamic and power plant improvements of the Super 62, carries a maximum capacity of 259 passengers and baggage 4,500 statute miles (7,242 km), or lesser loads even greater distances. The DC-8 Super 63F/63CF is able to carry up to 118,000 pounds (53,524 kg) of freight, accommodating 18 standard cargo pallets in the main cabin.
The DC-8 Series 70 is a re-engined version of the popular Super 60 Series, substituting CFM56 engines for the latter's Pratt & Whitney engines. The result is an aircraft that retains the Super 60 operating weights, but with a longer range due to the newer, more fuel-efficient turbofans. The Series 70 was also able to meet later, more stringent noise regulation that were implemented in the 1980s.
As of June 30, 1997, the DC-8 fleet has flown more than 13.5 billion statute miles and carried more than 900 million passengers. The operational fleet numbers 301 aircraft.
The DC-8 jetliner represents a significant chapter in the evolution of commercial air transport design.