| | |
| --- | --- |
| Manufacturer: Lockheed Martin | Country of Origin: USA |
Model:C5 Galaxy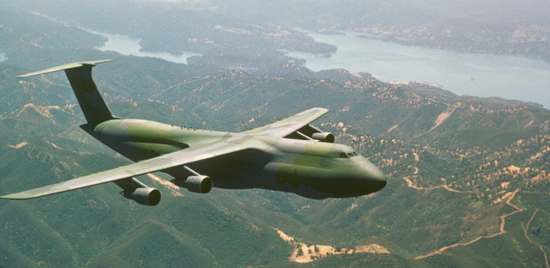 Information:
How do you get six Apache helicopters to fly in formation with their engines off? Put them inside a C-5 Galaxy. Or two M1 main battle tanks, each weighing 135,400 pounds. Or six M-2/M-3 Bradley Infantry Vehicles. Or a quarter-million pounds of relief supplies. You get the idea, the C-5 is big - one of the biggest airlifters ever made. The Wright brothers could have made their miraculous first flight within the C-5's cargo bay. There is no piece of army combat equipment it can't carry, including a 74-ton mobile bridge. It's six stories high, as long as a football field, and if you ever wanted to open an eight-lane bowling alley at 30,000 feet, you could do it in a C-5.
Yet despite its size, the C-5 is amazingly versatile. Even with a payload of 263,200 pounds, the latest version can fly non-stop for 2,500 miles at jet speeds and with aerial refueling, it can go forever. It can load outsized cargo from both ends at once (at truckbed height or ground level), and its 28-wheel, high flotation landing gear lets it operate from unpaved airfields without ground support equipment.
In 1988, C-5s delivered more than 885,000 pounds of earthquake relief to Armenia. In '89, they delivered two million pounds of clean-up gear to the Alaska oil spill. And in Desert Storm they carried nearly half a million passengers, 15 mobile hospitals and, each day, over 200 tons of mail. Needless to say, the C-5 has proven itself big enough and tough enough to handle any heavy airlift mission.

Specifications
| | |
| --- | --- |
| General Characteristics | Value |
| Length | 247.8 ft / 75.53 m |
| Height | 65.1 ft / 19.84 m |
| Wing span | 222.8 ft / 67.91 m |
| Wing area | 6,200 sq ft / 576.0 sq m |
| Wing sweep | 25 degrees |
| High speed cruise | 0.79 Mach |
| Long range cruise speed | 0.77 Mach |
| Fuel capacity | 332,500 lb / 150,819 kg |
| Engines | Four General Electric TF-39-1C Turbofan Engines, each with 41,100 pounds of Thrust -- 43,000 pounds with Additional Thrust Rating (ATR). |
| | |
| --- | --- |
| Cargo Compartment | Value |
| Length (including ramps) | 144.6 ft / 44.07 m |
| Length (excluding ramps) | 121.1 ft / 36.91 m |
| Width | 19.0 ft / 5.79 m |
| Height | 13.5 ft / 4.11 m |
| Total volume (including ramps) | 34,795 cu ft / 985.3 cu m |
| | |
| --- | --- |
| Maximum design weights | Value |
| Zero fuel weight (2.5 g) | 590,000 lb / 267,620 kg |
| Zero fuel weight (2.25 g) | 635,000 lb / 288,031 kg |
| Maximum ramp gross weight | 840,000 lb / 381,018 kg |
| Landing weight (9 fps sink rate) | 635,850 lb / 288,417 kg |
Performance Requirements
(Based on Sea Level, Standard Day with Additional Thrust Rating)
Value
Takeoff distance over 50 ft at 797,000 lb
9,800 ft / 2,987 m
Landing ground roll distance with combined payload/fuel weight of 280,000 lb
2,450 ft / 747 m
Range with a 263,200 lb payload
2,400 nm / 4,445 km