| | |
| --- | --- |
| Manufacturer: Lockheed Martin | Country of Origin: USA |
Model: P-3 Orion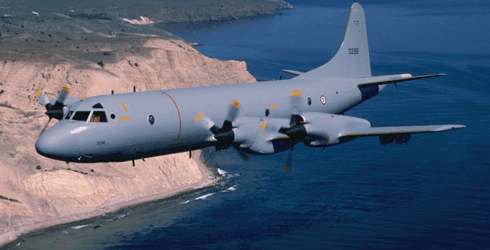 Information:
The P-3 Orion is a peerless airborne hunter. First flown in 1958 & now spanning service into the new century. Its reputation was made as the ultimate submarine finder with over 35 years' service, from the Cuban Missile Crisis to round-the-clock, low-profile patrols throughout the Cold War. Today the P-3 is still very busy, remarkably well-adapted for marine patrol in the post-Cold War world. In fact, no other plane is better suited.
The P-3 can be outfitted with a variety of sophisticated detection equipment. Infrared and long-range electro-optical cameras plus special imaging radar allow it to monitor activity from a comfortable distance. It can stay aloft for extremely long periods, and its four powerful Allison T-56-A-14 engines can fly at almost any altitude. And like all good hunters, it has no problem carrying weapons.
In addition to sub hunting, the P-3 is now called upon for peacekeeping and relief missions around the world. When civil war flared in Liberia, P-3s were the eyes and ears of forces protecting the U.S. Embassy. In Somalia, P-3s monitored street operations in Mogadishu from well off-shore. In Rwanda, P-3s tracked large groups of refugees to help pin-point relief efforts. And in Desert Storm, P-3s logged more than 12,000 hours in 1,200 combat surveillance sorties. With capabilities like these, it's no wonder that somewhere above the Earth, there's nearly always an Orion, serving as an eye in the sky.


Specifications

| | |
| --- | --- |
| Length | 35.6m (116ft 19in) |
| Wingspan | 30.4m (99ft 8in) |
| Height | 10.2m (33ft 8in) |
| Warload | 9,071g (20,000lb) |
| Weapons | AIM-9 Soidewinder, AGM-84 Harpoon; torpedoes, mines, depth charges. |
| Accomodation | 2 pilots, 2 crew, 6 mission crew |
| Variants | EP-3E (Japan, USN), P-3 AEW&C (USCG, US Customs) |