| | |
| --- | --- |
| Manufacturer: Boeing (McDonnell Douglas) | Country of Origin: USA |
Model: MD 80/90
MD-80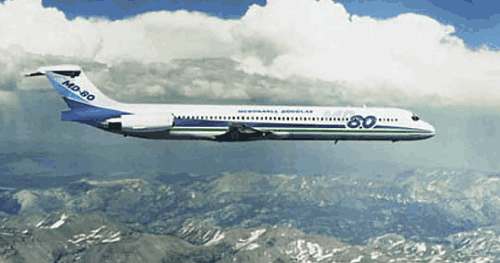 Information:
MD-80 and MD-90 Overview
MD-80 The MD-80, a quiet, fuel-efficient twinjet, was certified by the Federal Aviation Administration in August 1980 and entered airline service in October l980. Its modern Pratt & Whitney JT8D-200 engines, combined with its efficient aerodynamic design, allow the MD-80 to meet all current noise regulations while producing operating costs among the lowest in commercial aviation.
The MD-80 is 147 feet 11 inches (45.1 m) long and accommodates 144 passengers in a mixed-class configuration, with 152 in single-class and 168 in inclusive-tour arrangements. The MD-87 is 130 feet 6 inches (39.8 m) in length, with a maximum passenger capacity of 139. Wingspan for all models is 107 feet 10 inches (32.89 m). The Douglas Products Division of the Boeing Commercial Airplane Group assembles the MD-80 in Long Beach, California.
MD-90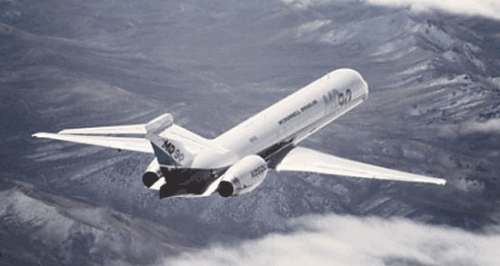 Technology advancements in the MD-80 include aviation's first digital flight guidance system. Nonstop range is from 1,580 to 2,750 statute miles (2,540 to 4,420 km), depending on the model. The MD-81's maximum takeoff weight is 140,000 pounds (63,503 kg); the MD-82's and the basic MD-88's is 149,500 pounds (67,813 kg). The longer-range MD-83 and a higher-gross-weight MD-88 have a takeoff weight of 160,000 pounds (72,576 kg). The MD-87's maximum takeoff gross
weight is 140,000 pounds, with an option to 149,500 pounds.
Through March 1998, 69 airlines worldwide had placed firm orders for 1,167 MD-80 airplanes. These operators range from the largest trunk carriers to new startup airlines and charter operators. Swissair and Austrian Airlines began the first service, while American Airlines operates the largest number of MD-80s, a fleet of 260. In addition, 35 MD-80 airplanes were
assembled and are operating in the People's Republic of China.
The MD-80 is a modern-technology successor to the popular DC-9 twinjet, of which 976 were
delivered. The MD-80 and MD-90 families of jetliners are built on the same assembly line in Long Beach,
California.
MD-90
The MD-90 is the newest member of the twinjet family of aircraft that started with the DC-9 and includes the MD-80. The MD-90 is an advanced midsize, medium-range airliner that serves the needs of travelers and airlines today and well into the 21st century. The aircraft is the quietest large commercial jetliner in the skies.
Following its launch in November 1989, the MD-90 first flew on Feb. 22, 1993. After FAA certification in late 1994, the first
delivery was made to launch customer Delta Air Lines in February 1995. The aircraft entered revenue service in April 1995.
The MD-90 was designed to be technically and economically competitive by incorporating many cost-effective technologies. It offers an advanced flight deck, including an electronic flight instrument system, a full-flight management system, a state-of-the-art inertial reference system and LCD flat-panel displays for engine and system monitoring.
The MD-90 is powered by two International Aero Engines V2500 engines designed to be more fuel efficient and environmentally friendly with much lower emission and noise levels.
The MD-90 retains the popular five-abreast interior arrangement, offering travelers the lowest interior noise levels of any aircraft in its class. The passenger-pleasing interior features wide seats, fewer center seats and more aisle and window seats.
Other features of the MD-90 include a new-look advanced interior design, vacuum lavatories, new electrical and auxiliary power systems, an upgraded digital environmental control system, lightweight carbon brakes with digital anti-skid system, and significant improvements to the aircraft hydraulic system.

Specifications
The MD-90 has an overall length of 152 feet 7 inches (46.5 m) and a wingspan of 107 feet 10
inches (32.87 m). The fuselage provides a cargo volume of 1,300 cubic feet (36.8 m 3 ).
Long-range cruising speed is Mach 0.76, or approximately 500 mph (812 km/h).
The basic MD-90-30 has a maximum takeoff weight of 156,000 pounds (70,760 kg), with an
option for 160,500 pounds (72,800 kg), and will carry 152 passengers, in a typical mixed-class
interior arrangement, approximately 2,400 statute miles. A higher-gross-weight MD-90-30
increases the maximum gross weight to 168,000 pounds, providing a range increase to 2,510
statute miles (4,040 km), or, with the addition of a 565-gallon auxiliary fuel tank, an increase to
2,765 statute miles (4,450 km).
With a takeoff thrust of 25,000 pounds, the MD-90-30 can use runways as short as 5,000 feet
(1,524 m) on a typical 550-statute-mile (885-km) operation with a full passenger load. At the
maximum takeoff weight, the MD-90-30 requires only 7,450 feet (2,270 m) of runway. A
28,000-pound optional takeoff thrust rating is available for operators in need of special takeoff
performance.
MD80
Passenger capacity
Two-class
144
Range, miles (km)
2,750
(4,420)
Maximum gross weight, lb (kg)
Takeoff
149,500
(67, 810)
160, 000
(75,575)
Typical operating empty weight, lb (kg)
82,420
(37,385)

84,300
(38,235)
Engines
Pratt & Whitney
JT8D-217C
JT8D-219
Maximum fuel capacity, U.S. gal (L)
5,840
(22,100)

6,970
(26,380)
Lower-hold cargo volume, ft3 (m3)
1,253
(35.5)

1,013
(28.7)
MD90
Passenger capacity
Two-class
152
Range, miles (km)
2,770
(4,450)
Maximum gross weight, lb (kg)
Takeoff
156,000
(70,760)
168,000
(76,205)
Typical operating empty weight, lb (kg)
89,980
(40,815)
90,080
(40,860)
Engines
International Aero Engines
V2500
Maximum fuel capacity, U.S. gal (L)
5,840
(22,105)
Lower-hold cargo volume, ft3 (m3)
1,300
(36.8)