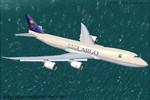 21.13Mb (234 downloads)
FS2004 Boeing 747-8F Saudi Arabian Cargo, registration HZ-AI3. Model by Skyspirit. Repaint By Carlos Eduardo Salas
Posted Sep 18, 2017 08:17 by chrisE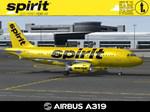 8.44Mb (493 downloads)
FS2004 Project Airbus A319-132 Spirit Airlines 'BARE FARE', registration N534NK. Spirit Airlines, a discount carrier in the US based in Atlantic City, New Jersey (KACY), started a marketing campaign in July of 2014 called the "Bare Fare" campaign. By some measures it was cheeky with obvious sexual overtones, including $69 fares and celebs that stripped to their underwear in their provocative online ad videos. It even drew the eire of the American Family Association (AFA) from a member group called "One Million Moms." All that aside, the campaign includes several A319s and most recently an A320 painted to promote the campaign. This is one of those A319s, reg N534NK, painted taxi cab yellow and adorned with the campaign logos. The repainted textures in this package are 32-bit with no mipmaps for best clarity and quality. Full Installation package, Project Airbus A319-132 V2.1 model and air files included (FS2004 only). Repaint by Jeffrey S. Bryner, Model by Project Airbus. Uses default 737-400 panel and sounds.
Posted Sep 16, 2017 01:58 by chrisE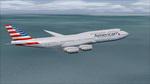 31.63Mb (506 downloads)
Boeing 747-81 American Airlines. Full model. A fictional livery for the skyspirit Boeing 747-8i. American have not ordered the new Boeing 747-8i (yet). Model by Skyspirit/Project Opensky. Textures by Luis Castro.
Posted Sep 11, 2017 07:59 by chrisE
8.97Mb (347 downloads)
Boeing 737-800 S7 Airlines. S7 is Russia's biggest domestic airline and as of 2017, operate 19 Boeing 737-800. Fully animated control surfaces Fully independent suspension Front gear steering. Trim Animation Opening Passenger Doors. Dynamic flexing wings. Animated tilting bogies. Animated thrust reversers. Fully reflective textures ( each part has different degree of reflection based on material ) Accurate flight dynamics ( and more). Model by Project Opensky.Model by Project Opensky. Textures by Denis Minaev
Posted Sep 9, 2017 02:06 by chrisE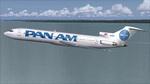 17.46Mb (415 downloads)
Pan American Boeing 727-223/Adv N609KW. Model by TDS. Livery Painted By: Luis Castro
Posted Sep 3, 2017 08:45 by chrisE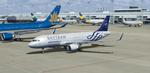 14.38Mb (580 downloads)
Project Airbus A320-214 in Air France "Skyteam" livery, F-HEPI. Model by Project Airbus. Textures by Stefan Bree
Posted Aug 25, 2017 03:21 by chrisE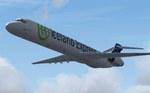 2.81Mb (340 downloads)
FS2004 Iceland Express McDonnell Douglas MD-90. SGA McDonnell Douglas MD-90 in the current livery of Iceland Express. The main textures are 32bit with no mips for better quality whilst the others are DXT3 for better frame rates. This is the newer FS2004 model from SGA and although it is configured with default panel and sound files. Model/Texturing by Erick Cantu and FDE/XML by Fraser Turner. This repaint by John Newman.
Posted Aug 15, 2017 02:21 by chrisE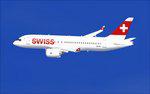 1.48Mb (162 downloads)
FS2004 Bombardier CSeries 100 V5L. This model is design for AI traffic only, base from my CSeries 100 ags V5L but without AGS and static displays. No VC. Model design and paint by Camil Valiquette.
Posted Aug 13, 2017 04:15 by Camil Valiquette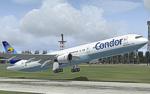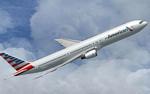 11.62Mb (425 downloads)
The Boeing 767 is a twin-engine aircraft of the U.S. aircraft manufacturer Boeing . The economically very successful low-wing monoplane was the first long-haul Boeing aircraft with only two engines and is produced today. The Boeing 767 has until today more transatlantic flights performed than any other passenger airplane. The development of the Boeing 767 as a widebody aircraft began on 6 July 1979 and was intended as a replacement for the Boeing 707. The first flight took place on 26 Of September 1981. No virtual cockpit and uses default 737 2d panel and sound. By Andreas Meyer
Posted Aug 4, 2017 03:56 by Andreas Meyer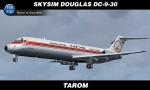 8.83Mb (950 downloads)
The Airbus A380 is a doubledecker, four-engined airliner manufactured by Airbus S.A.S. The media has termed the A380 a "superjumbo". Without virtual cockpit. Free for private use. By Andreas Meyer -
Posted Jun 25, 2017 03:09 by Andreas Meyer