2.71Mb (180 downloads)
This is a fuselage and night lighting fix for the TDS 757-300 PAN AM BLUE livery. I apologize for the mistakes previously made. I didn't realize my editor was removing the alpha channels when I saved without using DXTBMP. Tail logo has been lightened, alpha channels added to all textures and night lighting is perfect now.
Posted Jan 15, 2019 00:22 by Ken Webber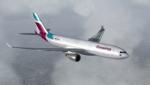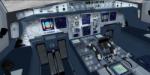 68.34Mb (1497 downloads)
FSX/P3D Airbus A330-200 Eurowings. German low cost airline Eurowings is based at Dusseldorf and as of January 2019, operate 7 Airbus A330-200 to destinations mainly around Europe as well as north and south America, the Middle East and North Africa. Model by Thomas Ruth. Added the better Thomas Ruth modified VC with latest updates by Chris Evans and Louis Quintero. I added the textures by unknown (maybe they can be improved a little). Fixed contact points. Added wing views and better VC. Includes built in FMC by Garret Smith. FMC will display in VC. Includes A330 manual. Custom A330 sounds included. FSX : requires either FSX Acceleration or Service packs 1 & 2. Assembled and tested in P3Dv4 by Chris Evans Should also be fine in FSX and earlier P3D versions.
Posted Jan 14, 2019 12:58 by chris evans
1.17Mb (209 downloads)
These are the Fusesplash textures for the night lighting that weren't done in the original upload. I apologize for that. Credit to Darrin Redick who provided me with the corrected textures
Posted Jan 14, 2019 05:16 by Ken Webber
66.34Mb (2027 downloads)
Patriot AirWorks proudly presents to you...the Delta Blue livery. Placed on the 737 MAX8 by Tenkuu Developers Studio. Includes the FSND Upgraded Virtual Cockpit with custom textures I created specifically for the MAX series. Tested in FSX and P3DV4.4. Full night lighting, organized aircraft.cfg.
Posted Jan 14, 2019 00:18 by Ken Webber
35.88Mb (831 downloads)
Project Airbus A320-214 in Delta SKYTEAM Livery. Includes the A32X panel by Stefan Liebe, which includes a SFCC (slats/flaps computer) which I have pre-configured, Callouts, V1 calculation, autoflare and so much more.
Posted Jan 12, 2019 11:36 by Ken Webber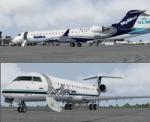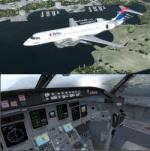 67.34Mb (893 downloads)
FSX/P3D Bombardier CRJ-700 SkyWest 3 livery package - Delta Connection, Alaska and SkyWest House. SkyWest is the largest regional airline in the USA and operates under several other regional airlines - Delta Connection, Alaska, American Eagle, United Express. As of January 2019, SkyWest operate 19 Bombardier CRJ-700 under the various regional airlines. FSX Native model by Project Opensky with VC. Brilliant new upgraded VC by David Hoeffgen , includes built in FMC, working wipers and more (see VC docs in folder). High quality model with opening doors and stairs. All credit to the fantastic talents of the Project Opensky team. Thanks to , Nick Bottamer, Jo Shimmel and Eric Ingram for the great textures. Tested in P3Dv4 and should be OK in FSX and earlier P3D versions. Other updates by Chris Evans.
Posted Jan 12, 2019 11:28 by chris evans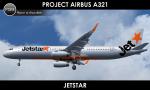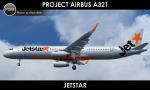 8.64Mb (274 downloads)
Textures only for the freeware Project Airbus 320-200 IEA model in JetStar Airways livery. Repaint by Sergey Gleba aka serg09. Requires any full Project Airbus A320-200 IAE model. Link to my products on SimMarket: http://secure.simmarket.com/paintsim.mhtml
Posted Jan 12, 2019 11:24 by Sergey Gleba | PaintSim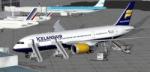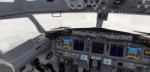 65.41Mb (677 downloads)
FSX/P3D Boeing 787-8 Icelandair Package. Icelandair was founded in 1937 and is based at Keflavik International Airport. As of January 2019, Icelandair have 1 Boeing 787-8 on order. The wonderful Boeing 787-9 from TDS will be enjoyed by many more people who do not know how to install a VC into a FSX native model. The VC is the Alejandro Rojas Lucena/FSND fantastic Boeing 737-800 VC cockpit blended with Ken Wiggington's revisions for the default B737 VC to make it more resemble a 787 plus added HUD. This VC model includes Working wipers (right mouse click on switch) with rain effect. Switches for LCD Screens, EICAS, PFD, MFT, HGS. Autobrake switch. Opening pilots window. Cabin Lights switch. Realistic FMC. Ground Proximity Warning System (GPWS), More Realistic night VC textures. There are custom Boeing sounds included for that extra realism. Added Boeing 787-8 checklist. I added the great photo real textures by the Kevin Goolaerts. Fixed views, wheel levels. Added wing views. TDS high spec. native FSX Boeing 787-9 model. See VC docs to get the best out of the VC and FMC. Tested in P3Dv4 and should also work in earlier P3D & FSX. Packaged by Chris Evans.
Posted Jan 10, 2019 05:26 by chris evans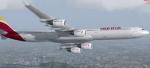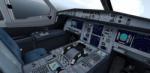 65.78Mb (1982 downloads)
FSX/P3D Airbus A340-600 Iberia package. Spain's flag carrier airline was founded in 1927 and is now merged with British Airways as part of the IAG Group. As of January 2019, Iberia operate 17 A340-600 to destinations across the globe. Model by Thomas Ruth. Added the better Thomas Ruth modified VC with latest updates by Chris Evans and Louis Quintero. Added the great textures by Xudeva Irribarra. Incluced VC texture upgrade by Enrique Cornejo. Added correct jetway configs, wing views and wheel levels. Manual included. Zip preview for larger pictures. Checklist by Werner Schott included. Prepared and Tested in P3D v4 by Chris Evans. Should work in FSX and earlier P3D versions.
Posted Jan 8, 2019 13:02 by chris evans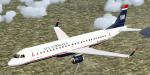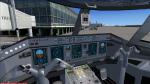 14.95Mb (1124 downloads)
The Embraer 190 is part of the successful ERJ family (170, 175, 190 and 195). The first flight was in 2002 and a bit more than 900 have been ordered. The 190 is a modern medium-range twin-engine civil jet. Original model and VC by PAD, FMC by Garett Smith, panel design for wide and standard screen, GPWS callout by Philippe Wallaert. See instructions for installation and configuration in the readme.txt file. Credits: Premier Aircraft Design & Jean-Pierre Brisard for the original and excellent aircraft. For FSX and P3D up to v3.
Posted Jan 8, 2019 04:56 by philippe Wallaert