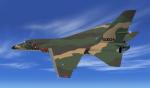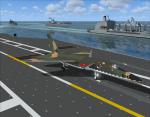 6.12Mb (813 downloads)
This texture set was inspired by the few beautifully camouflaged Vigilantes that operated in the US Navy during the early 70s. It might not be 'politically correct' in many respects, but I only could work with what I could find on the Internet. I therefore did what I can with what I have and had to improvise a lot along the way to make this what it is now. Aligning the patterns took many re-visitations to the textures after viewing the sim-supplied aircraft in order to make the necessary adjustments in order for it to look like this - but I suppose all you painters are familiar with this process. It depicts a North American RA-5C Vigilante # 150834, 604, that operated from USS Independence, circa 1974. Textures by A. Ludick. Requires the full model.
Posted Nov 1, 2016 01:07 by Andre Ludick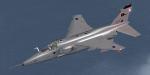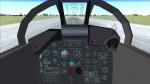 7.49Mb (1339 downloads)
The SEPECAT Jaguar is a twin engines Anglo-French jet attack aircraft. It was conceived in the end of the sixties and still in use by the Indian Air Force. original aircraft by A P Designs. Adaptation to FSX, VC, panels and gauges by Philippe Wallaert. See instructions in the readme.txt file.
Posted Oct 27, 2016 03:57 by Philippe Wallaert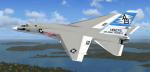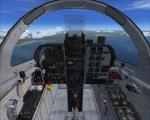 37.26Mb (1752 downloads)
North American RA-5C Vigilante of RVAH-14, AB-602 BuNo. 149276, which operated from USS John F. Kennedy, circa 1974. Original model by Alphasim. Converted to FSX native format by LLS. Piglet's T-2 great virtual cockpit. Used Tim Conrad T2 VC and panel. Base package for effects is Bob Chilco's A-5 updates. Revised textures by A. Ludick. Works in FSX and P3D
Posted Oct 27, 2016 00:35 by Andre Ludick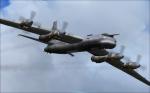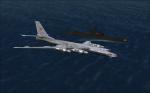 39.36Mb (4045 downloads)
The quintessential Soviet big stick has racked up 60 years in service, with no end in sight. Vladimir Zhyhulskiy's old BEAR-H has a long FS lineage, and still looks great. This is an update to FSX native, MDL X materials and animations.
Posted Oct 27, 2016 00:14 by LLS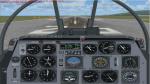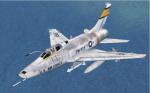 7.48Mb (1645 downloads)
This is an update for FSX of the F-100F Super Sabre by Kazunori Ito, and repainted by Mark Rooks. I have updated the flight dynamics, you can now descend at 2000 ft vertical on the VSI while maintaining a reasonable speed as set on the autopilot; see read me. I changed the position of the GPS, and made a few other tweaks. No VC.
Posted Oct 26, 2016 13:52 by Bob Chicilo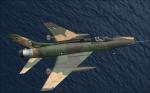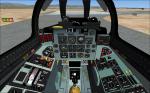 26.71Mb (3389 downloads)
21/10/2016 update: The CWDT F-100C 'Hun' in FSX native, MDL X conversion. FSX materials and animations, bump and spec maps-though these are placeholders. They're enabled, but one of the talented painters will have to bring those to life. Drop tanks are on weight visibility conditions, add 200 lbs to left and right inboard stores station in the load manager. Otherwise...it looks pretty damned good, and fly's on the numbers. Textures in DDS format. This incorporates Henks FSX updates to panel, effects and FDE and paints, Henk- huge B-Z. Works in FSX & P3D.
Posted Oct 22, 2016 03:44 by LLS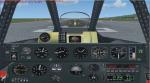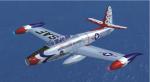 23.24Mb (787 downloads)
This is an update for FSX of the F-84G by J. Kristensen, textures by different authors, and originally upgraded to FSX by A. F. Scrub. I have simplified the 2D panel background and changed and/or added gauges. I did not try to upgrade the VC gauges, as I only fly 2D and have no access to the VC background. I changed the smoke and burner effects, corrected the contact points, and updated the flight dynamics.
Posted Oct 20, 2016 10:58 by Bob Chicilo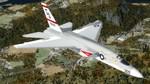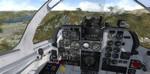 58.48Mb (4551 downloads)
North American A-5 Vigilante updated now with reflective glass, HUD and new VC. It's old, but so pretty...FSX native conversion, full original Alphasim Vigilante with VC. All functions and animations correct in sense and direction, per original FS2004 release.Version 2 updates materials and restores the coded lights. Conversion facilitated by a terrific set of freeware tools; Arno's MDLX with a breakthrough set of new XML definitions by Henk-BRAVO ZULU! Textures in DDS DXT3 format with Martin Wright's DXTBMP, file structure in FSX format. Skullsweat and conversion by LLS. While the model comes in a bit heavier, the frames are buttery, the glass is c'est bon. Note: The VC was pretty badly out of date, so I aliased Piglet's T-2 virtual cockpit. Base package for effects is Bob Chilco's A-5 updates. The repaints by Antonio Diaz for this model are highly recommended. Made possible with the kind support and encouragement of Phil at Virtavia. http://www.virtavia.com. Works in FSX and P3D.
Posted Oct 19, 2016 02:28 by LLS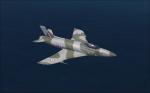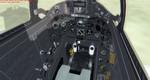 34.86Mb (1224 downloads)
Alphasim's Swift in FSX native format. Version 2 updates materials and glass, puts the long range tank on payload visibility condition. With Phil at Virtavia's support and encouragement(www.Virtavia.com)
Posted Oct 18, 2016 05:06 by LLS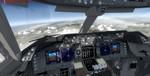 31.02Mb (5380 downloads)
FSX/P3D Boeing 747SCA Shuttle Carrier Package. The Boeing 747 SCA was one of 2 heavily modified Boeing 747 aircraft used by NASA to carry Space Shuttles from landing sites back to Kennedy Space Center as well as lift them for test flights and landings. Default FSX AI Boeing 747 Shuttle Carrier made flyable and added the much improved Boeing 747 VC (virtual 3d cockpit) from Alejandro Rojas Lucenda (Manual included). Included CF engine sounds with realistic jet whine to make your flight sound great. Also includes the Boeing 747 VC textures upgrade. This give a much clearer 747 interior virtual cockpit look. Fixed wheel sinking. Adjusted flight handling (Thanks to Bob Chicilo for tutorial). Zip preview for larger pictures. Assembled, edited and tested in Prepar3D and FSX Acceleration by Chris Evans
Posted Oct 15, 2016 13:13 by chris evans