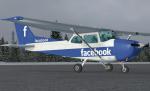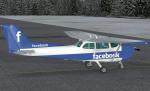 0.53Mb (990 downloads)
Social media site 'Facebook' textures for the default FSX Cessna 172
Posted Jan 11, 2014 04:47 by Uploader

0.10Mb (1393 downloads)
Additionnal views ( defined by camera definitions in the aircraft.cfg file ) for the "FSX DeHavilland Dash 7 Ice Recon package". By Milton Shupe, Scott Thomas, Mike Kelly, Bernt Stolle, Tom Falley, and sounds by Nigel Richards. 4 virtual cockpit views and 9 external cameras pointing at the aircraft. See readme.txt for very easy installation procedures. Enjoy !
Posted Jan 2, 2014 09:36 by Marc Renaud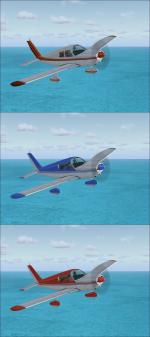 13.51Mb (1908 downloads)
As the title says, this is a flyable version of the default FSX Piper PA-28 Cherokee that I created using the default models and textures. The package uses the default Mooney Bravo 2d panel (no vc) and sounds. The aircraft comes in three liveries, horizon, blue and red.
Posted Jan 1, 2014 19:54 by Mitchell Green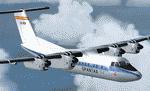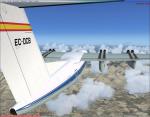 4.53Mb (853 downloads)
Textures only for De Havilland Canada Dash 7 Spantax (Spain, 1978-1981). Requires Milton Shupe's Dash 7
Posted Jan 1, 2014 13:18 by Enrique Medal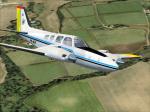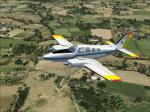 4.50Mb (1029 downloads)
Textures for the default Beech Baron 58 FSX with STPI Curug Flying School livery. Indonesia most famous civil aviation institute, STPI Curug Flying School provided by a lot of training aircrafts like Piper, Tobago, Bell Jet Ranger and Beech Baron for the studets who studied there. Enjoying the day of training to build your skill in flying and aeronautics. Texture created by Tubagus Hardika.
Posted Dec 30, 2013 18:05 by Gizz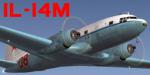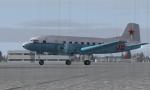 3.30Mb (453 downloads)
This is a repaint texture for the excellent Ilyushin IL-14 by Jens Christensen. The IL-14M VVS08 (no blisters) was exposed in Central Aerodrome Museum, Frunze Central Airfield, Moscow.
Posted Dec 29, 2013 13:12 by Enrique Medal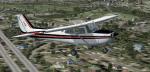 3.67Mb (619 downloads)
Textures for the default Cessna 172 in my rendition of black and red stripes. Enjoy and happy flying!
Posted Dec 27, 2013 23:47 by Lloyd Horton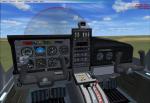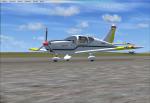 0.76Mb (382 downloads)
Updates for Premier Aircraft Design Tobago TB-10 STPI Curug Flying School livery. Added Red color on the propeller. And also gray color for the VC texture as Tobago TB-10 STPI Curug Flying School livery in the real world. Repaint by Tubagus Hardika.
Posted Dec 26, 2013 08:21 by Gizz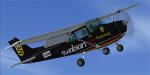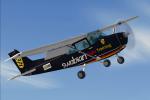 1.47Mb (420 downloads)
'Swabian Airlines' (fictional) Flight Training textures for the default FSX C172
Posted Dec 19, 2013 13:59 by Nils N.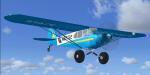 1.00Mb (1188 downloads)
Alaska State Troopers repaint textures ONLY for the J.E.Narcizo freeware Piper Super Cub model. Original model download is "FS2004/FSX Piper Super Cub PA18_V3" available from this site. Based on a real Alaska State Troopers Piper Super Cub. Repaint textures by J.L.Deuble December, 2013
Posted Dec 19, 2013 11:25 by J.L.Deuble