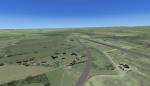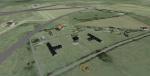 2.52Mb (156 downloads)
RAF Scorton was opened in October 1939 as part of 13 Group Fighter Command and a satellite station of RAF Catterick. It was located near the village of Scorton in North Yorkshire. It was used by the Royal Air Force, the Royal Canadian Air Force, and the United States Army Air Forces Ninth Air Force during the war. The location was chosen for its flat terrain and its situation close to the now disbanded Eryholme-Richmond branch line that had a sub branch line to Catterick Garrison and RAF Catterick. The famous No. 56 Squadron RAF flew Spitfires from Scorton during the Second World War. Also the USAAF 422d and 425th Night Fighter Squadrons were stationed at Scorton flying the Northrup P-61 "Black Widow" fighter. The Aerodrome closed in 1945 and most of the concreted areas have been extensively quarried away for sand and gravel extraction. Most of what was the airfield is now under a lake or a quarry. There are a few military pre-fab buildings remaining in the area – they were dismantled after the war and moved to local farms to be used as agricultural buildings. Source:Wikipedia
Posted Feb 20, 2017 05:32 by Terry Boissel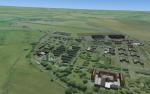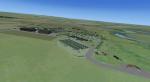 1.90Mb (248 downloads)
RAF Catterick is located alongside the A1 on the outskirts of Catterick Village. Operationally it falls under the command of Catterick Garrison. It currently houses 5th Regiment Royal Artillery and 32 Engineer Regiment. Catterick airfield first opened in 1914 as a Royal Flying Corps aerodrome with the role of training pilots and to assist in the defence of the North East of England. It came under RAF administration in 1918 and housed Number 49 Training Depot. In 1927, it temporarily came under the administration of the British Army, under the Army Air Co-Operation Command which would supply the army with any air support needs that would be required. This continued until 1939 when the station was handed back to the RAF. During the Second World War, the airfield operated a small satellite station called RAF Scorton near the village of Scorton. Catterick's runway could not be extended from its existing 3,350 ft (1,020 m) for the jet age due to the perimeter being bounded by the Great North Road (A1) and the River Swale. Therefore, Catterick's importance declined after the Second World War, though it still housed training institutes for many years. Source: Wikipedia
Posted Feb 18, 2017 12:35 by Terry Boissel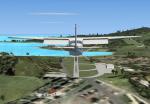 0.82Mb (1058 downloads)
St Barts, Caribbean. This airport is not very well represented in default FSX scenery so I have made an addon scenery to try to improve it. This scenery adds water on one end and a sloped hill on the other side. This is NOT Photoreal scenery but is an improvement from the origional scenery
Posted Feb 18, 2017 10:34 by Kyle Thomson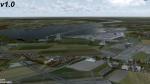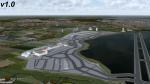 0.06Mb (260 downloads)
Eemland Airport is a fictive international airport near Amersfoort, the Netherlands. The runway (12-30) is based in the Eemmeer. The area is also called "Eemland" because of the beautiful river that flows through the area, the Eem. About the airport: The runway (12-30) has a length of 2500 meters and is 60 meters wide. On each side is a overrun of 200 meters and 20 landing lights. Also both runways have an Instrumental Landing System (ILS) and the airport has full Air Traffic Control (ATC). The airport has 27 Small gates, 5 Medium gates, 4 Heavy gates and 3 Cargo parkings. The airport also has 19 small, 10 medium and 5 big Genaral Aviation (GA) parkings. The airport furthermore has it's own fuel supply, air traffic radar, and logistics center. The airport doesn't have AI traffic of it's own, only some static planes. You can download the AI Flight Planner here: http://stuff4fs.com/open.asp?Folder=AIFP&JS=TRUE Scroll all the way down till you find: "The current release of AI Flight Planner is..." and click on the current version to download. With this tool you can add AI traffic to this airport with any traffic addon you are using or any default AI traffic.
Posted Feb 15, 2017 04:18 by Joeri Veenhuizen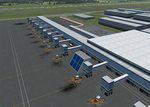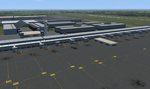 1.25Mb (2307 downloads)
Munich Airport, EDDM, Germany. All gates are on the exact position, have working jetways (if so in reality) and ground numbers. Taxiways are exact. ILS frequencies are current. Approach lights work in low visibility. Created by Rene Scharlach
Posted Feb 14, 2017 03:33 by Mike Leitz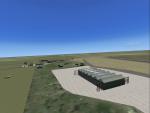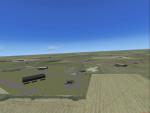 1.78Mb (147 downloads)
RAF Catfoss was a Royal Air Force station during the Second World War. The airfield was opened in 1932 for an Armament Training Camp. A small number of fighters were posted there at the start of the Second World War, before the airfield was rebuilt as a bomber station. It closed in November 1945. The site was re-opened in 1959 as the site for the PGM-17 Thor ballistic missile. It closed again in 1963. Source:Wikipedia
Posted Feb 12, 2017 05:51 by Terry Boissel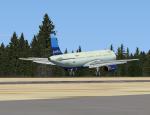 0.46Mb (292 downloads)
This is a replacement airport for "lib field" - With a tower placement where plane spotters can see landings or takeoffs from a realistic perspective.
Posted Feb 11, 2017 08:16 by Kyle Thomson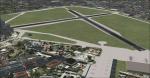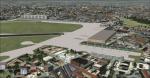 0.80Mb (158 downloads)
Frunze Tsentralny Aerodrome was Moscow's first airport and location of several aircraft constructors, e. g. Ilyushin. The airport was finally closed in 2003 so in default FSX it is not present.
Posted Feb 11, 2017 05:27 by Mario Kassmann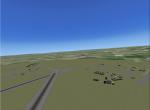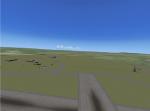 4.38Mb (119 downloads)
Royal Naval Air Station Henstridge or RNAS Henstridge (HMS Dipper) is a former Fleet Air Arm base located 7 miles (11 km) west of Shaftesbury, Dorset (Now Somerset) and 12.4 miles (20.0 km) east of Yeovil, Somerset in South West England. The main part of the land (355 acres) was purchased in August 1941, after which building of the airfield and the marsh lane accommodation site commenced, it was commissioned on April 1, 1943 as HMS Dipper, principally as number 2 naval fighter school, on the 11th September 1942, another 18 acres was acquired at the adjoining gibbs marsh area for an aircraft repair and maintenance site. The design and lay-out of the airfield was quite unique, having 5 runways, 2 of these being east west lay-out (07-25) both 1000 yards long, the northern runway incorporated a dummy deck landing strip, complete with under-ground arresting gear with four above ground arrestor wires, which was a duplicate of that installed on HMS Implacable for training of aircraft carrier landings, these mainly being carried out with the Seafire, a naval version of the spitfire with folding wings. The site also had its own cinema and stage hall March 1952 the airfield became inactive and was placed under care and maintenance, during 1953 Air whaling (now Bristow group) used the facilities for repairs to the whaling fleet of helicopters until moving out in June 1958.June 1957 it was finally closed as a naval establishment, from 1958-1960 the entire site was sold off. 27 June 1980 the BBC purchased the whole site and applied for planning permission to erect at the airfield a shortwave radio station consisting of 21 self-supporting towers holding aerial arrays and ancillary buildings on a 300-acre site. The station would transmit overseas radio services to Eastern Europe, the Soviet Union and perhaps South America the application failed and the BBC sold the land during January 1987 The airfield is also the home of the wessex strut, a general aviation club formed in January 1977, which holds an annual fly in and other events their first fly-in was on 17 April 1977 and attracted 107 aircraft. As of today the only usable runway is the north 07-25 runway, extant with the concrete dummy deck, and the underground machinery chamber, it is also the home to a large number of light aviation enthusiasts aircraft as well as the Yakolevs aerobatic display team and the Dorset and Somerset air ambulance The current airfield is operated by EGHS and is an unlicensed airfield. The only usable runway is 07/25 tarmac/concrete 750 mts long x 6 mtr wide. Henstridge radio can be contacted on 130.250 MHz, it can be found at the south eastern stub of the Yeovilton MATZ Source:Wikipedia
Posted Feb 8, 2017 14:34 by Terry Boissel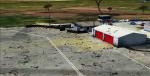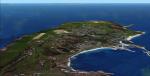 127.13Mb (907 downloads)
Alderney is the smallest populated island in the cluster of Channel Islands, Again winds, fog and plenty of short runway makes for a very nice challenge. This scenery is perfect for VFR operations as it features the entire island of Alderney recreated in Photo-scenery. Also included are all the usual bells and whistles. This Scenery is perfect when joined with our other Channel Island products
Posted Feb 5, 2017 13:23 by Mark Piccolo - Soarfly Concepts