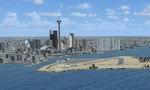 0.25Mb (8567 downloads)
FSX Toronto City Centre Scenery Updated scenery for downtown Toronto, CYTZ airport and surrounding area. Includes relocation of buildings in the city,landclass and airport runway-taxiway-parking changes per Google Earth imagery, and replacement of the "floating" airport generic buildings. Art Poole
Posted Nov 13, 2008 08:25 by Art Poole

68.54Mb (3346 downloads)
FSX Land's End SeaPlanes "Northern Passage". Adds custom objects, textures, effects, day/night lighting and animations to a large set of airports. Includes 61FD - Chalk's Key West, Key West, Florida; MP5 - Miami Port Runway 5, Chalk's Miami, Maimi, Florida; 001A - LESP Jacksonville Downtown, Jacksonville, Florida; 09J - Jekyll Island, Jekyll Island, Georgia; KHXD - Hilton Head, Hilton Head, South Carolina; 2SC4 - Salty Fare Landing, Hilton Head, South Carolina; 001C - Grand Strand Seaplane Base, North Myrtle Beach, South Carolina; KCRE - Grand Strand, North Myrtle Beach, South Carolina; 001D - Top Sail Landing, Topsail Island, North Carolina; 01NC - Topsail Airpark, Topsail Island, North Carolina; 001E - Ocracoke Landing, Ocracoke Island, North Carolina; W95 - Ocracoke I, Ocracoke Island, North Carolina; KMQI - Dare Co., Dare County, North Carolina 85VA - Land's End, Reedville, Viringia; 02MD - Hale Seaport Base, Baltimore Maryland; 9N2 - Philadephia, Philadelphia, Pennsylvannia; 6N7 - New York Skyports, Inc, New York, New York; 42B - Goodspeed Airport, East Haddam, Connecticut; 001G - Vineyard Seaplane Port, Vineyard Haven Massachusetts; KMVY - Martha's Vineyard, Vineyard Haven, Massachusetts; 001F - Portland Harbor Seaplanes, Portland Maine; KPWM - Portland International, Portland, Maine; KOLD - Dewitt Old Town Municipal, Old Town Maine. The airports provide a complete route with each leg 80 to 120 nm apart. Requires LESP.ZIP. By Chris Carel
Posted Nov 13, 2008 06:52 by Chris Carel

59.82Mb (3718 downloads)
FSX Land's End Seaplanes "East Coast Tours & Cargo". Includes 61FD - Chalk's Key West, Key West, Florida; MP5 - Miami Port Runway 5, Chalk's Miami, Maimi, Florida; 001A - LESP Jacksonville Downtown, Jacksonville, Florida; 09J - Jekyll Island, Jekyll Island, Georgia; KHXD - Hilton Head, Hilton Head, South Carolina; 2SC4 - Salty Fare Landing, Hilton Head, South Carolina; 001B - Grand Strand Seaplane Base, North Myrtle Beach, South Carolina; KCRE - Grand Strand, North Myrtle Beach, South Carolina; 001D - Top Sail Landing, Topsail Island, North Carolina; 01NC - Topsail Airpark, Topsail Island, North Carolina; 001E - Ocracoke Landing, Ocracoke Island, North Carolina; W95 - Ocracoke I, Ocracoke Island, North Carolina; KMQI - Dare Co., Dare County, North Carolina; 85VA - Land's End, Reedville, Viringia (Home of Land's End SeaPlanes); 02MD - Hale Seaport Base, Baltimore Maryland; 9N2 - Philadephia, Philadelphia, Pennsylvannia; 6N7 - New York Skyports, Inc, New York, New York; 42B - Goodspeed Airport, East Haddam, Connecticut; 001G - Vineyard Seaplane Port, Vineyard Haven Massachusetts; KMVY - Martha's Vineyard, Vineyard Haven, Massachusetts; 001F - Portland Harbor Seaplanes, Portland Maine; KPWM - Portland International, Portland, Maine; KOLD - Dewitt Old Town Municipal, Old Town Maine. Includes custom objects, animations, day/night textures and more. By Chris Carel.
Posted Nov 13, 2008 06:47 by Chris Carel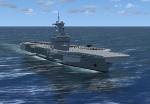 0.28Mb (9606 downloads)
The ship carries a complement of Dassault Rafale M and E-2C Hawkeye, as well as modern electronics and Aster missiles. She is the second largest European carrier, after the Admiral Kuznetsov. It is a CATOBAR-type carrier that uses the same catapult system as that installed on the US Nimitz class carriers, the 75 m C13-3 steam catapult.
Posted Nov 8, 2008 14:05 by dominikx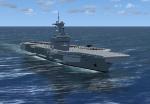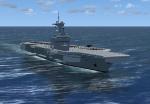 1.58Mb (12251 downloads)
Charles de Gaulle (R91) is the only serving French aircraft carrier and is the flagship of the French Navy (Marine Nationale). She is the tenth French aircraft carrier, the first French nuclear-powered surface vessel, and the first nuclear-powered carrier built outside of the United States Navy. She is named after French statesman and general Charles de Gaulle.
Posted Nov 8, 2008 13:57 by dominikx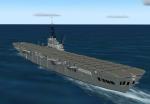 0.80Mb (1877 downloads)
French old carrier Bydominikx. Based off Arromanches in Normandy, France. Model based on the 1954 carrier.
Posted Nov 8, 2008 12:33 by dominik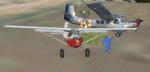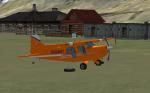 0.67Mb (1111 downloads)
This is a Little Scenery added to be part of a "on-going" mission to find lost and downed bush Pilots. Updates Muddy lake, Alaska. Works with Snow Dog Tours 2. There is a issue with the ILS on Muddy lake. It is not fixed due to ADE Crashing every time I touch the ILS Watch out for Grizzly's, working fuel box at BD7
Posted Nov 7, 2008 08:48 by Crazieman_47
0.03Mb (811 downloads)
Sanliurfa International Airport "GAP", LTCS, Turkey Fix. Fixes a large black mark on the runway.
Posted Nov 3, 2008 04:05 by Vedat Sencan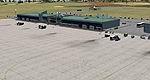 4.45Mb (1988 downloads)
FSX Sanliurfa International Airport "GAP", LTCS, in southeastern Turkey. City: Sanliurfa Country: Turkey IATA code: SFQ ICAO code:LTCS Airport Name: International Sanliurfa GAP Havaalani Airfield Data: 1 Runways Navigational Aids: VOR DME-112.60 Runway: 04/22-, (4000 M)
Posted Nov 2, 2008 06:17 by Vedat Sencan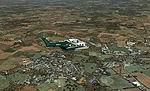 99.20Mb (2315 downloads)
FSX Fall Textures part 1 of 4. Replacement fall/autumn textures. Just cities, villages and culture zones are reworked. Textures cover the entire world and are more dark and brown with a little more sharpness. By Aime Leclercq.
Posted Nov 1, 2008 07:04 by Aime Leclercq