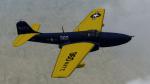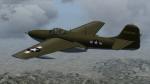 28.36Mb (150 downloads)
New textures for the fabulous P-59 Airacomet of Kazunori Ito to whom all the merits go. Replace the aircraft.cfg file and add the textures, panel and effects folders in the corresponding directories of your simulator. Personally reviewed effects of afterburner and smoke, also repainted all textures. Functional in FSX up to P3D v3. Enjoyment.....
Posted Jun 15, 2019 13:54 by Rodolfo Valery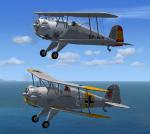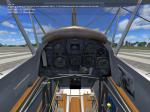 30.13Mb (397 downloads)
FSX/P3D v3 & 4 Bucker Bu 133 Jungmeister The Bucker Bu 133 Jungmeister (Young master) was an advanced trainer of the Luftwaffe in the 1930s. It was a single-engine, single-seat biplane of wood and tubular steel construction and covered in fabric. The Jungmeister design remained competitive in international aerobatic competition into the 1960s. FSX/P3D v3,v4 upgrade by A.F.Scrub.
Posted Jun 13, 2019 02:58 by A.F.Scrub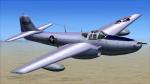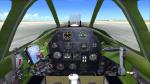 19.91Mb (418 downloads)
The Bell P-59 Airacomet was a twin jet-engined fighter aircraft, the first produced in the United States, designed and built by Bell Aircraft during World War II. The United States Army Air Forces were not impressed by its performance and cancelled the contract when fewer than half of the aircraft ordered had been produced. Although no P-59s entered combat, the fighter paved the way for another design generation of U.S. turbojet-powered aircraft, and was the first turbojet fighter to have its turbojet engine and air inlet nacelles integrated within the main fuselage. This an FSX update of the FS9 Kazunori Ito model and my previous FSX update featuring completetely revised panels, interior and virtual cockpit. The focus of this update lies upon the highly authentic look of VC and 2D panel. The panels have been designed according to internet images of the real panel. Thanks to Kazunori Ito for the original model. The model very likely will work in P3D,version3 as well. New panel design and gauge configuration by Michael Pook.
Posted May 25, 2019 10:09 by Michael Pook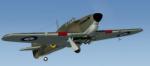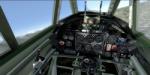 23.10Mb (937 downloads)
Hawker Hurricane RAF MK1 56 Squadron 1938 Package for FSX and P3D. Revised version of the Aeroplane Heaven GMax model converted to FSX native by A.F.Scrubb. Fixed VC and 2d panel with working gauges. The Hawker Hurricane is a British single-seat fighter aircraft of the 1930s–1940s that was designed and predominantly built by Hawker Aircraft Ltd for the Royal Air Force (RAF). Although overshadowed by the Supermarine Spitfire, the aircraft became renowned during the Battle of Britain, accounting for 60 percent of the RAF air victories in the battle. It served in all the major theatres of the Second World War. Added MK1 56 Squadron textures by AJ Merry. FSX native /P3D (up to v4) GMAX model. Danny Garnier
Posted May 16, 2019 12:10 by GARNIER D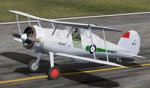 13.72Mb (489 downloads)
The Gloster Gladiator was a British-built biplane fighter; its last such fighter. It was used by the Royal Air Force and the Fleet Air Arm and was exported to a number of other air forces during the late 1930s. First flown in 1934 it was rendered obsolete by newer monoplane designs even as it was being introduced to the RAF in 1937 with its new enclosed cockpit and four guns. By David Molyneau
Posted May 16, 2019 11:06 by mlietz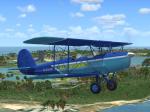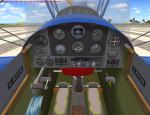 7.69Mb (576 downloads)
FSX/P3Dv3,v4 Stampe Vertongen SV4 The Stampe et Vertongen SV.4 (also known as the Stampe SV.4 or just Stampe) is a Belgian two-seat trainer/tourer biplane designed and built by Stampe et Vertongen. The aircraft was also built under licence in France and French Algeria. The SV.4 was designed as a biplane tourer/training aircraft in the early 1930s, by Stampe et Vertongen in Antwerp. FSX/P3D v3,v4 upgrade by A.F.Scrub.
Posted May 5, 2019 04:56 by A.F.Scrub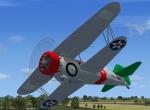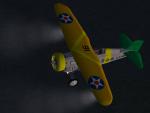 0.92Mb (191 downloads)
FSX/P3D v3,v4 Curtiss Hawk BF2C-1 fix In some flight sim installations there is a problem with the landing light always active and impossible to turn out. This corrects the problem : Replace everything with the new items, put the effects in the effects folder and the fx.landing-light.bmp into the effects/texture folder. The landing lights now work in the normal way (CTRL+l). A.F.Scrub
Posted May 3, 2019 12:12 by A.F.Scrub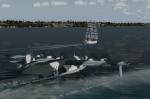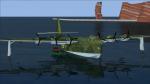 23.54Mb (613 downloads)
FSX/Accel/P3dv3 (FS2004) Giant Flying Boat Blohm & Voss BV-238. This huge aircraft made its first flight in April 1944 and was rather a flying ship than a boat, bigger than the BV-222, and was the heaviest aircraft of WWII. The Spruce Goose with eight engines was even much bigger but she was buildt at the end of the war and never did a real flight except a test taxiing with a short moment of being airborne. Only one BV-238 performed successful flights, the two other prototypes were never completed. The FS-model showes the heavy armed planned long range bomber version, which was never completed. It comes with two paint schemes, 2D panel and a complete virtual cockpit. And there are plenty of animations: 2 extendable floats, 20 bomb bay hatches, 20 falling bombs, 18 moving guns and a supply boat. Twelve cameras showes you all the details. FSDS 3.5 model by Erwin Welker
Posted Apr 27, 2019 11:26 by Erwin Welker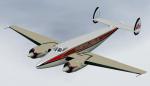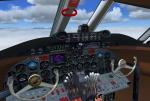 73.28Mb (677 downloads)
The new FSX native Howard 350 Concept for FSX and P3D by Milton Shupe, Scott Thomas, William Ellis, and Sounds by Nigel Richards. Pkg incl a passenger model, custom panel and gauges, custom sounds, and one livery per the concept drawing. Tested in FSXA and P3Dv4. April 2019
Posted Apr 16, 2019 17:18 by Milton Shupe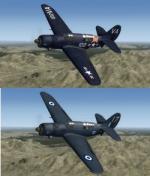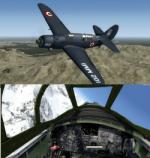 43.98Mb (650 downloads)
FSX/P3D>v4 Curtiss Helldiver SB2C 3 livery pack. US Navy N.A.S. Glenview, Italian Air Force and Helenic Air Force. Original VC was non functional so I added the best I could find - Milton Shupe Vultee VC. Also fixed crash on takeoff. Textures converted to DDS format. FSX native, MDL X materials and animations, several new models, radar options, bomb, rocket, torpedo and glide bomb features. See readme for details, operational features and credits. Sound current aliased to Howard 500X-an excellent sound pack. Original model by Wolfgang "Wolfi" Faber revised and updated by LLS to FSX native version. Andre Luddick for updates. Textures: Manuele Villa, Enrique Medal. Other updates by Chris Evans. Tested in P3D4 but should be fine in FSX and earlier P3D versions. April 2019 IMPORTANT: Use only gentle (c. 50% approx) throttle during takeoff (over 80KPH) and increase gradually after takeoff. Otherwise you will crash this powerful aircraft.
Posted Apr 16, 2019 12:20 by chris evans