Ground School - Aircraft Installation- Combat Flight Simulator
Updated September 27th 1999

Installation of Aircraft into Combat Flight Simulator
By Doug Attrell
Let's start from the beginning.
What do we need?
I am assuming that you:
a) Have a basic knowledge of M/S Windows 95/98 directory & file structures.
b) Know how to use Windows Explorer or My Computer & how to drag & drop or cut/copy & paste files & folders using the mouse.
c) Know how to download a file from the Website to a Temp folder on your hard drive..
d) Know how to unzip a .zip file.
First of all, you obviously need to have Combat Flight Simulator installed correctly to your hard drive.
(CFS comes complete with its own Converter. You do NOT need the FS98 patch & FS98 Converter )
As most files come zipped, you will need an unzipper.
(Winzip is very good & easy to use. A fully functional demo version is available at Simviation.)
THIS IS MOST IMPORTANT:-
99.9% OF THE AIRCRAFT AT www.simviation.com ARE ALREADY CONVERTED FOR DIRECT INSTALLATION TO EITHER FS98 OR CFS.
YOU DO NOT NEED TO INSTALL THE FS98 PATCH OR FS98 CONVERTER TO INSTALL AIRCRAFT TO COMBAT FLIGHT SIMULATOR.
YOU WILL NOT NEED TO USE THE CFS CONVERTER TO INSTALL 'CFS READY' AIRCRAFT !!!!!!!!!
ALTHOUGH MOST FS98 AIRCRAFT WORK FINE IN CFS IT'S BEST TO STICK TO THE ONES FROM THE CFS SECTION UNTIL YOU GET THE HANG OF THINGS.
Can I suggest you print this first for easy reference.

Let's download & install an aircraft.
I know this works as I've just done it.
Go to www.simviation.com .
In the Combat FS Aircraft Pacific section, Page 3, you will see two Grumman Hellcats.
Let's try the bottom one, a nice Grumman Hellcat Mk I by Chris Lampard & Steve Bezant.
Click on it and download the file to a folder on your hard drive. It's a small file & won't take long.
(I created a special folder called C:\ziptemp for downloads but you can call it anything you like, or use an existing one providing you can find it later.)
When you go offline, open Windows Explorer (or My Computer) and find the Zipfile. It's called jv131.zip.
Unzip the file to a folder of your choice using Winzip or other unzip programme.
(Winzip will automatically create a folder called C:\unzipped for you if you agree.)
You should now have a yellow folder called jv131.
Click (double click) on it and open it up. Inside the main folder you should see another folder called Jv131.
Open this & you will see 4 more folders named model, panel, sound, Texture and 4 files called aircraft.cfg, Jv131.air, Jv131.dp & Jv131.cdp.
This is the standard CFS Aircraft folder configuration.
(There are 3 other files in the folder, Jv131.jpg, ReadMe.txt & File.id.diz.
These are for your information & have no effect on the aircraft installation.)
Now, we need the previous folder, Jv131. ( Note the capital or uppercase letter 'J' ).
Not the main folder, jv131, or it won't work. I know, as I had the same problem. I did, really……..!!!!!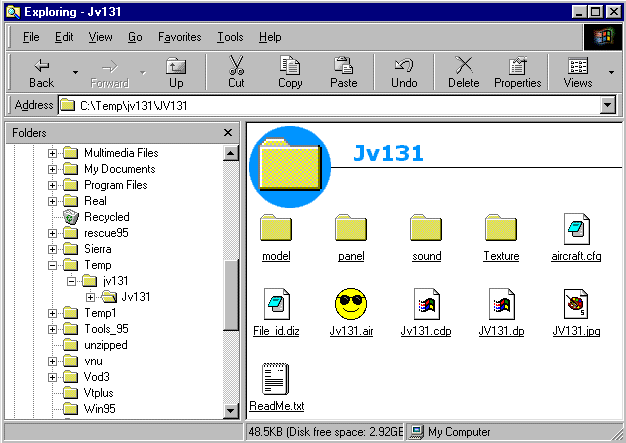 This is how I do it.
(I prefer to copy & paste rather than drag & drop as, if your finger slips, the file could end up anywhere.)
Right-click on the folder Jv131 and copy it.
Find your CFS Aircraft directory and open it.
(Mine's located in C:\Program Files\Microsoft Games\Combat Flight Simulator\Aircraft.)
This folder contains your CFS default aircraft.
Right-click in an empty space and paste that file into the Aircraft folder with the others.
Be careful not to paste it into one of the other aircraft folders.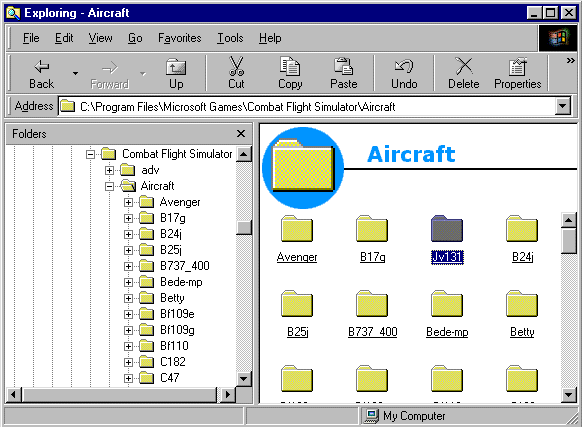 That's it!
Start Combat Flight Simulator, click Free Flight.
Under 'Player aircraft' click Change/Modify......
Scroll up or down until you see your beautiful new Hellcat.
It's called Grumman Hellcat I JV131
Select it. Click 'Fly Now!' Go and fly!
JV131 uses the default P47d panel & sound.
These can be changed later if you wish.
You can also use imported aircraft in Quick Combat & Single Missions.
I hope you followed all that and it worked for you.
It sounds more complicated than it is.
Let me know how you get on.
Doug Attrell

© simviation.com 2001