F + W D-3802/D-3803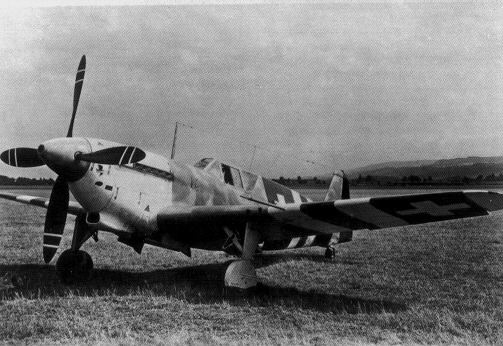 Switzerland is not usually a country mentioned in connection with vingate aviation. Despite aircraft like the C-3605, most Swiss designs are relegated to the dustbin of history.
The Farner-Werke D-3802/D-3803 is one such aircraft.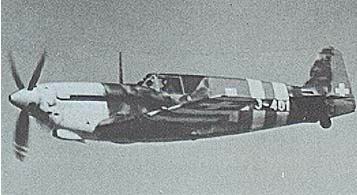 The Swiss government was attempting to improve on performance they had gained from the D-3801, which was a Morane design, looking very much like the Ms406. The D-3802 was created through a co-operation between Morane-Sauliner and Dornier-Werke AG. It was based on the Morane 540.
The newplane was to have a new engine,. The Sarrer YS-2 was swiss-built, developing 932-kW, or 1,250hp. The prototype D-3802 flew in the autumn of 1944. The plane was to replace the aging Bf109Es, and Bf109Fs that many Swiss pilots believed had been sabotaged, due to their many problems. At any rate the workmanship was poor, as almost all aircraft were needed for the Luftwaffe.
Following evaluation by the Swiss Air Force, a batch of twelve aircraft were ordered. Various problems plagued production, and a whole retinue of modifications failed to rectify them. One of the craft, however, was given the new YS-3 engine, which developed 1119-kW (1,500hp). This aircraft was also given a cut-down rear fuselage that allowed for a bubble canopy to be installed.
Unfortunately, the problems of the D-3802 line got the aircraft relegated to secondary duties, and they were replaced in the fighter role by North American P-51 Mustangs.
The F + W D-3802 and D-3803 were perhaps only a minor example of aviation design, and might not even be considered successes, but they provided the Swiss with construction experience that would serve them well in the future.
Technical Data
Manufacturer: Farner-Werke (design from Morane-Sauliner and Dornier Werke AG)
Type: Single-seat fighter
Powerplant: One 1119-kW (1,500hp) Sarrer YS-3 12-cylinder Vee piston engine
Performance: Maximum speed 422mph (680km/h); service ceiling 12000m (39,370ft); range 650km (404 miles)
Weights: Empty 2945kg (6,493lb); maximum 3905kg (8,609lb)
Dimensions: Span 10.02m (32ft 10 1/2in); length 9.32m (30ft 7in); height 3.33m (10ft 11in); wing area 17.58m2 (190.4 sq. ft)
Armament: One 20-mm Hispano-Suiza in propellor shaft and two 20-mm cannon in wings; and 220kg (441lb) bombs/rockets beneath the wings.