Blohm Und Voss Bv222 "Wiking"
The Bv222 "Wiking" (Viking) was an aircraft of truly impressive size, and equally impressive characteristics. It also happened to be the largest flying boat to achieve operation status, and the second largest flying boat of the war. (Surpassed only by it's cousin, the Bv238.)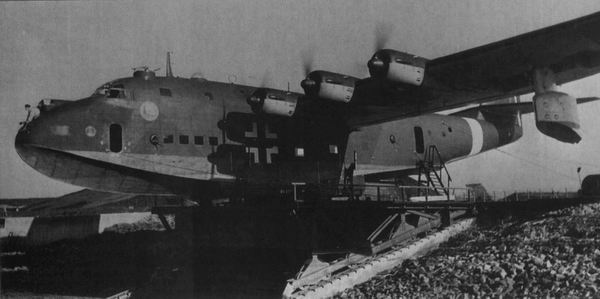 The Bv222 was designed by Herr R. Schubert and Dr. Ing. Richard Vogt, and was tailored to meet a requirement issued in 1937 for the Lufthansa. The requirement was for a long-range passenger transport to operate from Berlin to New York. Furthermore, the aircraft would have to make the trip in 20 hours with at least 16 passengers (24 passengers were to be carried on shorter routes.)

A total of three aircraft were ordered in September of 1937. They were powered by six BMW Bramo Fafnir 323R radials, and work on the first of these prototypes began in January of 1938. The Bv222 had an extensive, unobstructed floor area, thanks to an impressive beam of ten feet (3.05m) with no above-floor, intermediate bulkheads.
The wing had a tubular main spar, used to store fuel and oil, which was considered a hallmark of Vogt's designs.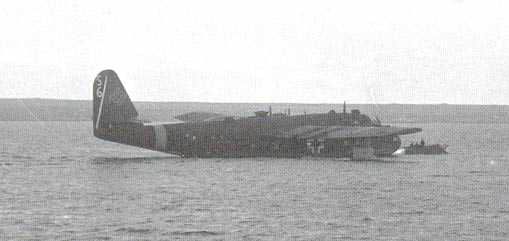 The first flight took place on September 7th, 1940. The first Bv222 was piloted by Flugkapitän Helmut Rodig. The military use of such a giant was readily apparent, and largers doors for military transport were quickly added.
The Bv222's first sortie for the Luftwaffe was on the 10th of July, 1941. Initial service was in Norway, but the plane was soon transferred to shipping supplies to German and Italian forces in North Africa from across the Mediterranean. When the next two Bv222s arrived, they came with newly installed armament, a feature lacking from the first Wiking.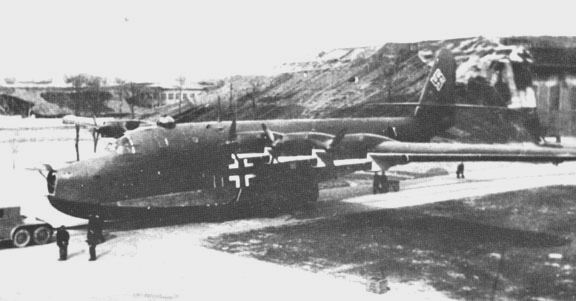 Ultimately, the Bv222s were transferred again to maritime reconnaisance with Aufklärungsstaffel (See) 222, and then again to 1.(Fern/See) Auflkäarungsgruppe 129 based in France. In such a role the aircraft were given revised armament and fitted with FuG 200 "Hohentwiel" search radar.
In an odd postscript, a lone Bv222 entered service with the R.A.F.! After the war, a captured Bv222 was evaluated by the R.A.F., and was eventually passed on the No.201 Squadron. The plane had been captured at Trondheim, Norway, and wasfirst flown to R.A.F Calshot, and was transferred to the Marine Aircraft Experimental Establishment before being handed over to No.201 for evaluation. For a captured enemy plane, a very active post-war service life!
Below, a photo of the Bv222's cockpit (pictured is the V7)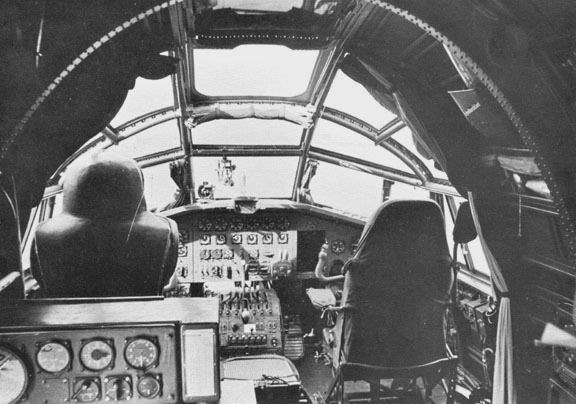 The Bv222 was the biggest production aircraft in Blohm Und Voss's distinguished line of flying boats. It combined staggering dimensions with amazing capabilities to become one of the most interesting designs to reach the frontlines during WWII.

Technical Data
Manufacturer: Blohm Und Voss Type: Long-range transport / maritime patrol and reconnaisance aircraft
Powerplant: Six 746-kW (1,000hp) Junkers Jumo 207C inline diesel engines.
Weights: Empty 30650kg (67,572lb); maximum take-off 49000kg (108,027lb)
Performance: Maximum speed 390km/h (242mph); service ceiling 7300m (23,950ft); range 6095km (3,787 miles)
Dimensions: Span 46m (150ft 11in); length 37m (121ft 4 3/4in); height 10.90m (35ft 9in); wing area 255m2 (2,744.89 sq.ft)
Armament: Bv 222C-09 (production series): three 20mm MG 151 cannon (one each in forward dorsal and two over-wing turrets), and five 13-mm (0.51-in) MG 131 machine guns (one each in bow position and four beam hatches.)