Historical Writings of the combat aircraft of the two World Wars
Yugoslavia is not much noted for its wartime aircraft production. This is a true loss since much of the data on what aircraft were produced before German armies over-ran the country has been forgotten.
One of the forgotten products of the Yugoslavian factories was the Ikarus IK-2.
The Ikarus factory started out producing Potez 25 reconnaisance biplanes and Avia BH-33E fighters under license.

Breaking from this, the company produced the IK-L1, a prototype for a gull-winged monoplane fighter.

It was powered by a 860hp (641-kW) Hispano-Suiza 12Ycrs engine.
The aircraft first flew on April 22nd, 1935.
Unfortunately, the first prototype crashed and a second prototype, designated IK-02, was built.
This was followed by a series of twelve IK-2 fighters. The fighters were delivered early in 1939. These were generally similar to the early prototypes.

The IK-2s flew with 107 Eskadrila against the Germans in 1941. The quick fall of their country under the massive onslaught prevented the planes from getting much time to fight or to make a mark.

While this aircraft may not have made an impact on its theatre of war, or flown a singular exploit of renown, the Ikarus IK-2 is interesting in the fact that it was domestically-produced, and despite the circumstances and incredible odds, flew for its country.
Charles Bain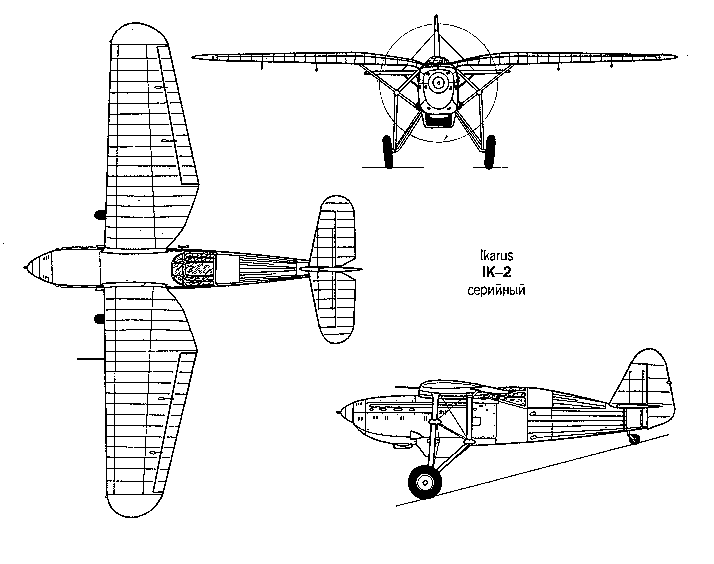 Technical Specifications
Manufacturer Ikarus AD
Class fighter

Armament 20mm Hispano-Suiza HS-404 fixed forward-firing cannon with 60 rounds in a moteur-cannon installation, two 7.9 mm (0.312 in) Darne fixed forward-firing machine guns in the upper sides of the forward fuselage with synchronization equipment to fire through the propeller disc
Crew Pilot in an enclosed cockpit
Engine One Hispano-Suiza 12Ycrs Vee piston engine rated at 860hp (641 kW) at 4000 meters (13,125 ft)
Speed Maximum: 435 km/h (279 mph; 234 kt) at 4000 meters (13,125 ft)
360 km/h (224 mph; 194.5 kt) at sea level
Cruising: 250 km/h (155 mph; 135 kt) at optimum altitude
Range 700 km (435 miles; 378 nm); endurance 3 hours 15 minutes
Ceiling 10500 meters (34,450 ft)
Climb 5000 meters (16,405 ft) in 5 minutes 24 seconds
Length 7.88 meters (25 ft 10.25 in)
Height 3.84 meters (12 ft 7.125 in)
Dimensions
Wing Span: 11.40 meters (37 ft 0.875 in)
aspect ratio 7.22
area 18.00 m2 (193.76 sq ft)
Weight empty: 1502 kg (3,311 lb)
normal take-off: 1857 kg (4,094 lb)
maximum take-off: 1930 kg (4,255 lb)



If you have any questions you would like answered, e-mail them to
charles_bain@hotmail.com

© simviation.com 2001. All rights reserved.