| | |
| --- | --- |
| Manufacturer: Boeing | Country of Origin: USA |
Model: Boeing 737 series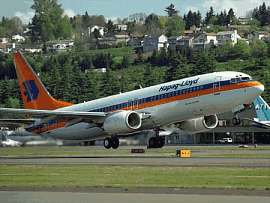 The twin-engine 737 demonstrates how Boeing develops a family of models to meet specific airline needs. Airlines can choose from seven models of the world's most popular jetliner. Smallest of this "Classic" series of 737s in production is the 737-500, seating 110 passengers; the 737-300 accommodates 126 passengers; and the 737-400 is capable of carrying 147 passengers, all in two classes. All three versions of this 737 series share the same two-pilot, new-technology flight deck, so pilots qualified to fly one model can also fly the others. In November 1993, the company launched a derivative 737 family to build on the 737's extraordinary success and extend the airplane type well into the 21st century. Since then, the Next-Generation 737s have outsold all other airplanes in their market category. The 737-600, -700, -800 and -900 will fly faster, higher and farther than previous models, with additional improvements in operating costs, noise, fuel burn and thrust. All of this is accomplished while maintaining crew commonality with the previous 737 lines. Like Classic 737s, these new family members are offered in multiple sizes, with the 737-600 accommodating 110 to 132 passengers, the 737-700 seating 126 to 149 passengers, the 737-800 capable of carrying 162 to 189 passengers, and the 737-900 seating 177 to 189 passengers.
In December 1997, Southwest Airlines became the first airline to take delivery of a Next-Generation Boeing 737-700. 1998 milestones include delivery of the first 737-800 to Hapag-Lloyd in April and delivery of the first 737-600 to SAS planned
for September.
In July 1996, Boeing and General
Electric announced a joint venture, called Boeing Business Jets, to market a business jet derived from the Next-Generation 737-700. GE also became the plane's launch customer, ordering the first two BBJs, with first delivery at the end of 1998. A convertible freighter version of the 737-700 is scheduled for delivery in 2000.
737-600 Cabin. Click for larger image

Specifications
737-300
Passenger capacity
126 to 149
Range miles (km)
2,600
(4,180)
Maximum gross weight, lb (kg)
Standard
Options
Takeoff
124,500
(56,470)
138,500
(62,820)
Typical operating empty weight, lb (kg)
72,360
(32,820)
Engines
CFM56-3C1
Maximum fuel capacity, U.S. gal (L)
5,311
(20,104)
6,295
(23,828)
Lower-hold cargo volume, ft3 (m3)
1,068
(30.2)
792
(22.4)
737-400
Passenger capacity
147 to 168
Range, miles (km)
2,370
(3,810)
Maximum gross weight, lb (kg)
Standard
Options
Takeoff
138,500
(62,800)
150,000
(68,040)
Typical operating empty weight, lb (kg)
76,180
(34,550)
76,760
(34,810)
Engines
CFM56-3C1
Maximum fuel capacity, U.S. gal (L)
5,311
(20,104)
6,295
(23,828)
Lower-hold cargo volume, ft3 (m3)
1,373
(38.9)
1,095
(31.0)
737-500
Passenger capacity
110 to 132
Design range, mi (km)
2,740
(4,400)
Maximum gross weight, lb (kg)
Standard
Options
Takeoff
115,500
(52,390)
133,500
(60,550)
Typical operating empty weight, lb (kg)
70,440
(31,950)
Engines
CFM56-3C1
Maximum fuel capacity, U.S. gal (L)
5,311
(20,104)
6,295
(23,828)
Lower-hold cargo volume, ft3 (m3)
822
(23.3)
546
(15.5)
737-600
Passenger capacity
110 to 132
Design range, mi (km)
3,630
(5,840)
Maximum gross weight, lb (kg)
Standard
Options
Takeoff
124,000
(56,240)
143,500
(65,090)
Typical operating empty weight, lb (kg)
81,360
(36,900)
Engines
CFM56-7B
Maximum fuel capacity, U.S. gal (L)
6,875
(26,025)
Lower-hold cargo volume, ft3 (m3)
756
(21.4)
737-700
Passenger capacity
126 to 149
Design range, mi (km)
3,800
(6,110)
Maximum gross weight, lb (kg)
Standard
Options
Takeoff
133,000
(60,320)
154,500
(70,080)
Typical operating empty weight, lb (kg)
83,790
(38,010)
Engines
CFM56-7B
Maximum fuel capacity, U.S. gal (L)
6,875
(26,025)
Lower-hold cargo volume, ft3 (m3)
966
(27)
737-800
Passenger capacity
162 to 189
Design range, mi (km)
3,370
(5,420)
Maximum gross weight, lb (kg)
Standard
Options
Takeoff
155,500
(70,530)
174,200
(79,010)
Typical operating empty weight, lb (kg)
90,560
(41,080)
Engines
CFM56-7B
Maximum fuel capacity, U.S. gal (L)
6,875
(26,025)
Lower-hold cargo volume, ft3 (m3)
1,591
(45.0)
737-900
Passenger capacity
177 to 189
Design range, mi (km)
3,140
(5,050)
Maximum gross weight, lb (kg)
Standard
Options
Takeoff
164,000
(74,390)
174,200
(79,010)
Typical operating empty weight, lb (kg)
93,610
(42,460)
Engines
CFM56-7B
Maximum fuel capacity, U.S. gal (L)
6,875
(26,025)
Lower-hold cargo volume, ft3 (m3)
1,852
(52.4)