| | |
| --- | --- |
| Manufacturer: Boeing | Country of Origin: USA |
Model:Boeing 757/ 767 series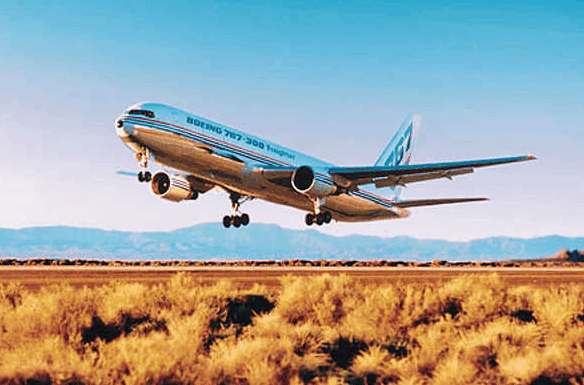 Information:
The 757 was designed as part of Boeing new technology aircraft to replace the 727. Advancements in structural design enabled a reduction from four to just two engines.
The 757 was the 1st Boeing to be offered with Rolls Royce engines as an option.
757/767 Family Overiew

Introduced within five months of one another, the 757 and 767 are much alike: Both airplanes are powered by two engines, both were designed to be fuel efficient, and both have a two-pilot electronic flight deck that replaces many instruments and gauges with video displays. The 757 and 767 flight decks are so similar that a pilot who learns to fly one airplane also is qualified to fly the other.

Designed to replace the 727, the 757 retains a standard-body, single-aisle configuration. The 757-200 can carry 201 passengers in two classes up to 4,390 miles. The airplane also is offered as a freighter. In September 1996, Boeing launched the 757-300, a stretched model that will fly 243 passengers 4,000 miles. This newest model is slated for first delivery in 1999.
The 767 is a larger, two-aisle twinjet. The airplane, which is the most widely utilized airplane across the Atlantic, is currently in service in five versions: the 767-200 and -200ER (extended range), with seating for 224 passengers in two classes or 181 passengers in a three-class configuration and range of up to 7,665 miles; the 767-300 and -300ER, with seating for 269 in two classes and 218 in three classes and a range capability of 7,080 miles; and the 767-300 Freighter, with 16,020 cubic feet of cargo volume and a range of 3,765 miles.
In 1997, Boeing launched a higher-capacity version of the 767, called the 767-400ER. This new derivative will provide seating for 304 passengers in two classes or 245 passengers in a three-class arrangement with a range capability of 6,475 miles, all with complete 757/767 family commonality.


Click for larger image

Specifications
757-200
Passenger capacity
Two-class
201
Inclusive tour
231
Range, miles (km)
4,550
(7,315)
Maximum gross weight, lb (kg)
Takeoff
255,000
(115,660)
Typical operating empty weight, lb (kg)
128,730
(58,390)
Engines
Pratt & Whitney
PW2040
Rolls-Royce
RB211-535
Maximum fuel capacity, U.S. gal (L)
11,526
(43,625)
Lower-hold cargo volume, ft3 (m3)
1,670
(47.3)
767-400
Passenger capacity
Inclusive tour
375
Two-class
304
Three-class
245
Range, miles (km)
6,475
(10,415)
Maximum gross weight, lb (kg)
Takeoff
450,000
(204,120)
Typical operating empty weight, lb (kg)
227,300
(103,100)
Engines
Pratt & Whitney
PW4000
General Electric
CF6-80C2
Maximum fuel capacity, U.S. gal (L)
24,140
(91,370)
Lower-hold cargo volume, ft3 (m3)
Pallets + containers + bulk
4,580
(129.7)
LD-2 containers + bulk
4,905
(138.9)