| | |
| --- | --- |
| Manufacturer: Lockheed Martin | Country of Origin: USA |
Model: C-141 Starlifter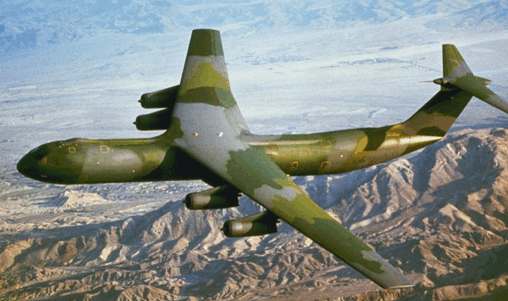 Information:
The C-141 Starlifter was the first pure jet designed for cargo, and it's been a mainstay of U.S. military airlift since 1965. In 30 different configurations, it has seen, done and carried it all - troops, supplies, vehicles, weapons, refugees, disaster relief, even a huge high-powered NASA telescope - from the Persian Gulf to South America to Southeast Asia.
Its easy-to-load 93-foot-long cargo bay can take up to 208 ground troops or 168 paratroops, and it can quickly be converted for med-evac operations. In 1983, after the bombing of the U.S. Marine barracks in Beirut, it was a C-141 that evacuated 78 wounded. Starlifters also brought flood relief to Minnesota in '79, to the Azores in '80, to Louisiana in '83. And when an airliner was hijacked in 1985, a C-141 carried the 39 hostages to freedom. In Desert Storm, C-141s flew more than 37,000 departures with an on-time record above 90%.
In fact, the C-141 has proven itself with nearly 9 million hours logged to date, including a record set in 1981 when a C-141 flew 67,000 pounds of cargo non-stop from New Jersey to Saudi Arabia, refueling three times in flight. With such an outstanding track record, the C-141 truly is a worldwide star.

Specifications
| | |
| --- | --- |
| General Characteristics (C-141B) | Value |
| Length | 168.3 ft / 51.3 m |
| Height | 39.3 ft / 12 m |
| Wing span | 160.0 ft / 48.8 m |
| Wing sweep | 25.0 Degrees |
| High speed cruise | 0.767 Mach |
| Long range cruise speed | 0.74 Mach |
| Fuel capacity (JP-4) | 153,352 lbs / 69,559 kg |
| Engines | Four Pratt & Whitney TF-33-P-7 Turbofan Engines with 21,000 lbs of thrust |
| | |
| --- | --- |
| Cargo Compartment | Value |
| Length (including ramp) | 104.4 ft / 31.8 m |
| Length (excluding ramp) | 93.3 ft / 28.4 m |
| Height | 9.1 ft / 2.78 m |
| Width | 10.3 ft / 3.1 m |
| Clear-cube volume (including ramp) | 9,190 cu ft / 260.2 cu m |
| | |
| --- | --- |
| Weights | Value |
| Operating weight | 144,492 lbs / 65,540 kg |
| Maximum takeoff gross weight (2.5g) | 323,100 lbs / 146,556 kg |
| Maximum takeoff gross weight (2.25g) | 343,000 lbs / 155,582 kg |
| Maximum payload (2.5g) | 74,233 lbs / 33,672 kg |
| Maximum payload (2.25g) | 94,508 lbs / 42,868 kg |
| Normal landing weight (10 FPS sink rate) | 257,500 lbs / 116,800 kg |
| Maximum landing weight (6 FPS sink rate) | 343,000 lbs / 155,809 kg |
| | |
| --- | --- |
| Range | Value |
| With a 94,508 lb payload | 2,501 nm / 4631.5 km |