0.03Mb (485 downloads)
S-76A Corporate Checklist For those who might enjoy a bit of real world authenticity in their FSX operations, this is the Checklist I used when flying a corporate version of the real aircraft in the 1980's & 90's. It is designed to be printed on both sides of a single 81/2" x 14" piece of paper and folded in quarters for easy use and storage in the cockpit. All credits go to Nemeth Designs for their fine FS9 model, Michael E. Roberts for his FSX upgrade, and the outstanding helicopter pilots with whom I flew many S-76 variants for over 20 years.
Posted May 29, 2014 11:38 by Michael Faraday
0.55Mb (1471 downloads)
Descriptions and operating guidelines for the Douglas DC-6's major systems.
Posted Jul 21, 2013 12:41 by Ryan Rice
0.00Mb (2631 downloads)
This is a check list for the default FSX Acceleration F/18,so you can use it as a training aid.
Posted Jun 13, 2011 14:07 by BOB
0.00Mb (3475 downloads)
This is a printablae check list I redone from the default one so it can be printed and used as a flight checklist.
Posted Jun 13, 2011 13:56 by BOB
0.49Mb (2644 downloads)
Flight notes for the Cessan 172, including trim settings, and speeds, and much more. This is my first manual so enjoy!
Posted Jan 24, 2011 11:20 by Haydn Jakes
0.00Mb (6222 downloads)
Airliner Checklists (All checklists approx 2k size) Boeing 777, 767-300, 757-200, 747-400, 737, 727-200 Boeing 747SP speedbook - speed specifications for the SP. 1.3MB ATR -72, 74 Airbus Industrie A320-200 MacDonnell Douglas DC10-30, MD8X Lockheed L1011 All the above in one zip (36560)
Posted Aug 24, 2009 06:41 by archive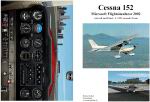 0.46Mb (2992 downloads)
Manual/Checklist Cessna 152. In PDF-format as a booklet. From "cold" - Pre Start - Startup - Before Taxi - Taxi - Before Takeoff - Takeoff - Climb Out - Cruise - Descent - Approach - Landing - Taxi To Ramp - Shutdown - Securing Aircraft - to "cold". based on the freeware aircraft and panel by the "C 152 Carenado Team". Freeware by Werner Schott. 424K
Posted Aug 24, 2009 06:41 by archive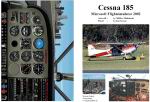 1.23Mb (1614 downloads)
Manual/Checklist -- Cessna 185 on wheels. Manual/Checklist Cessna 185 on wheels. In PDF-format as a booklet. From "cold" - Pre Start - Startup - Before Taxi - Taxi - Before Takeoff - Takeoff - Climb Out - Cruise - Descent - Approach - Landing - Taxi To Ramp - Shutdown - Securing Aircraft - to "cold". based on the freeware aircraft and panel by Mikko Maliniemi, Steve Small and Ian Grant. Freeware by Werner Schott. 1.2MB
Posted Aug 24, 2009 06:41 by archive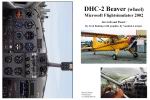 0.78Mb (1787 downloads)
Manual/Checklist -- De Havilland DHC-2 Beaver Mk I (on wheels).Manual/Checklist De Havilland DHC-2 Beaver Mk I (on wheels). In PDF-format as a booklet. From "cold" - Pre Start - Startup - Before Taxi - Taxi - Before Takeoff - Takeoff - Climb Out - Cruise - Descent - Approach - Landing - Taxi To Ramp - Shutdown - Securing Aircraft - to "cold". Based on the DHC-2 Beaver panel by Fred Banting. Freeware by Werner Schott. 800K
Posted Aug 24, 2009 06:41 by archive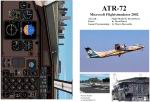 0.79Mb (3705 downloads)
Manual/Checklist -- ATR-72. Manual/Checklist ATR-72. In PDF-format as a booklet. From "cold" - Pre Start - Startup - Before Taxi - Taxi - Before Takeoff - Takeoff - Climb Out - Cruise - Descent - Approach - Landing - Taxi To Ramp - Shutdown - Securing Aircraft - to "cold". Based on the ATR-72 panel by David Durst. Freeware by Werner Schott. 811K
Posted Aug 24, 2009 06:41 by archive