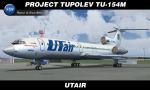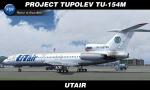 12.59Mb (3 downloads)
Project Tupolev Tu-154M in UTair UGRA livery. Texture only for freeware Project Tupolev model. Repaint by Sergey Gleba aka serg09. Link to my products on SimMarket: http://secure.simmarket.com/paintsim.mhtml
Posted Jun 25, 2019 11:14 by Sergey Gleba aka serg09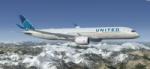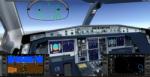 78.46Mb (146 downloads)
FSX/P3D Airbus A350-900XWB United Airlines 2019 colors package. Founded as Varney Airlines in 1926, United is now the world's 3rd largest airline with a current fleet of over 780 aircraft flying globally. United is introducing this new livery in 2019. As of June 2019, United have 45 Airbus A350-900 on order. Added Garmin G1000 MFD and PFD popups and added FSX Garmin G1000 user maual. Added the better Thomas Ruth VC with updates by Louis Quintero and Chris Evans. Use FMC under Views/Instrument panel in FSX menu. (FSX : Go to Views -Instrument Panel. P3D: Go to Vehicle - Instrument panel). Added better views. Textures by Adam Hamada. The Airbus A350 XWB is a family of long-range, twin-engine wide-body jet airliners from the European aircraft maker Airbus. The A350 is the first Airbus aircraft with both fuselage and wings made mainly from carbon fibre structure. The A350 is intended to replace the A340 and compete with Boeing's 787 and 777. Textured, assembled and tested in P3Dv4.5 and should be ok in FSX and earlier P3D versions by Chris Evans.
Posted Jun 25, 2019 06:02 by chris evans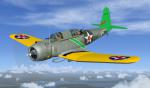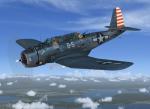 0.80Mb (49 downloads)
FSX/Acceleration/P3dV3 Vought SB2U Vindicator improved textures for that prewar carrier based dive bomber. The two repaints are for the update package from Michael Pook. The convertion from CFS2 to FSX/P3Dv3 was made by Erik Hertzberger. The repaints has no historical reference but they looks a bit more photorealistical than the old CFS textures. The model provides folding wings and an animated gunner. Please add or replace the two texture sets to the preinstalled package. By Erwin Welker
Posted Jun 25, 2019 03:26 by Erwin Welker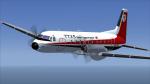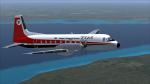 8.73Mb (56 downloads)
Textures for the Rick Piper HS-748 Series 2A in Trinidad and Tobago Air Services - TTAS 1980 colors. The freeware Hawker Siddeley HS-748 by Rick Piper is needed for this repaint. The more modern turboprop HS-748s replaced the DC-6Bs on all TTAS routes by 1978. They were consequently all absorbed by BWIA, after the merger with TTAS in 1980. Textures are 32bit bmp. This repaint was tested on FSX-SE. It should work on FSX & P3D v1-3.
Posted Jun 24, 2019 10:57 by Ted Giana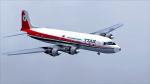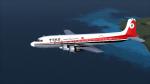 7.58Mb (38 downloads)
Textures for the CalClassic Douglas DC-6B in Trinidad and Tobago Air Services - TTAS colors. The freeware CalClassic DC-6B by Greg Pepper and Tom Gibson is needed for this repaint. The government of Trinidad and Tobago formed TTAS at Port of Spain on June 12, 1974 to take over the Port of Spain to Tobago service suspended upon the failure of Caribbean United Airlines. With a pair of Douglas DC-6Bs, TTAS, became the second national carrier, and undertook air bridge flights to Tobago, as well as routes to Grenada, Martinique, and St. Lucia. The DC-6Bs were replaced between 1977 and 1978 by HS-748s. After a short lifespan of 6 years, TTAS was taken over and merged into the main Trinidad and Tobago national carrier - British West Indies Airways, in 1980. Textures are 32bit bmp. This repaint was tested on FSX-SE and should work on FSX & P3D v1-3. It should also work on FS2004.
Posted Jun 24, 2019 10:55 by Ted Giana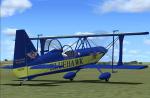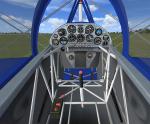 9.12Mb (156 downloads)
FS2004/FSX Price Ultimate 10 DASH 300s. The 10 Dash Model 100 was designed as sport biplane that could be either bought assembled or for amateur construction from either plans or a kit. A competition aerobatic variant, the 10 Dash 300 is fitted with either a 300 hp (224 kW) or 350 hp (261 kW) Lycoming engine with a three-bladed propeller. Produced by Canadian pilot Gordon Price's Ultimate Aircraft Ltd, the 10-300s was the pinnacle of a series of developments which started life as upgrade packages for the Pitts Special aerobatic bi-plane. GMAX mdl by A.F.Scrub
Posted Jun 24, 2019 09:40 by A.F.Scrub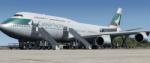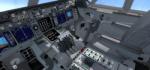 60.08Mb (287 downloads)
FSX/P3D Boeing 747-8i Cathay Pacific package with enhanced VC. Cathay Pacific operate 14 Boeing 747-8i flying to destinations worldwide. The Boeing 747-8 Intercontinental can carry over 400 passengers at a speed of 1055km/h or 570 knots (656mph). Skyspirit FSX Native Boeing 747-8i assembled and upgraded for Prepar3D 3 & 4 + FSX with the developed B747 VC (virtual 3d cockpit) from Alejandro Rojas Lucenda (Manual included). This is the Project Opensky FSX native Boeing 747-8i GenX model, and includes ground cargo servicing, stairs (FSX - Go to Views - Instrument Panel -Posky Utility), opening nose section and more. Included CF engine sounds from BrandonG, with realistic jet whine to make your flight sound great. Thank you to Skyspirit/Project Opensky for their outstanding donations to the worldwide community of flight simulation. Textures by me. Also includes the Boeing 747 VC textures upgrade. This give a much clearer 747 interior virtual cockpit look. Added the textures by Stian Svensen. Assembled and tested in P3D4 by Chris Evans. Should also work in FSX and earlier P3D versions.
Posted Jun 24, 2019 01:20 by chris evans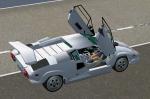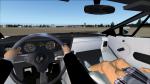 18.66Mb (140 downloads)
FSX/Acceleration/P3dV3 Lamborghini Countach LP500S. This was one of the most exiting serial produced super sport cars of that era, built between 1982 and 1985. The model has a photorealistical 2D panel and a matching VC. The special gauges, effects and lights are made by Pierre J. Carosin. The FSDS 3.5 models with panels is made by Erwin Welker.
Posted Jun 23, 2019 07:10 by Erwin Welker
53.52Mb (264 downloads)
FSX/P3D Boeing 787-9 Bamboo Airways Package. Bamboo Airways is a Vietnamese airline that began operations in January 2019 and is fast expanding with destinations around Vietnam, Japan, Korea and Taiwan. Currently Bamboo has 30 Boeing 787-9 on order that will enable the airline to fly to many more destinations. The high quality Boeing 787-9 from TDS will be enjoyed by many more people who do not know how to install a VC into a FSX native model. The VC is the Alejandro Rojas Lucena/FSND fantastic Boeing 737-800 VC cockpit blended with Ken Wiggington's revisions for the default B737 VC to make it more resemble a 787 plus added HUD. This VC model includes Working wipers (right mouse click on switch) with rain effect. Switches for LCD Screens, EICAS, PFD, MFT, HGS. Autobrake switch. Opening pilots window. Cabin Lights switch. Realistic FMC. Ground Proximity Warning System (GPWS), More Realistic night VC textures. There are custom Boeing sounds included for that extra realism. Fixed views, wheel levels. Added wing views. Added 787 checklist. TDS high spec. native FSX Boeing 787-9 model. See VC docs to get the best out of the VC and FMC. Textured, assembled and tested in P3Dv4.5 by Chris Evans. Should also work in earlier P3D & FSX.
Posted Jun 23, 2019 06:16 by chris evans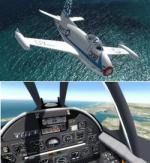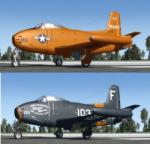 74.91Mb (373 downloads)
North American FJ-1 Fury Package for FSX and P3D4. USN, NAS, NATC liveries included. The North American FJ-1 Fury was the first operational jet aircraft in United States Navy service, and was developed by North American Aviation as the NA-135. Original model by Kazunori Ito. FSX native MDL X conversion by LLS. Panel and basic VC modified with P4D4 compatible gauges. Sounds added. . FSX native /P3D4 model. Danny Garnier
Posted Jun 22, 2019 13:28 by GARNIER D