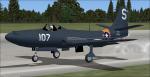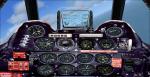 4.65Mb (22 downloads)
This is an update to the Kazunori Ito FS2002/FS2004 McDonnell FH-1 Phantom. The 2D panel has been re-gauged with all XML gauges. 2D panel only, has non-functional VC panel.
Posted Jun 25, 2017 12:08 by Michael E. Roberts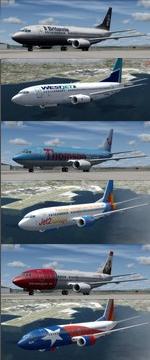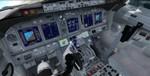 48.80Mb (137 downloads)
FSX/P3D 3.4 Native Boeing 737-300 Multi Package 2 with enhanced VC This is the native FSX Boeing 737-300 converted by Eagle Rotorcraft Simulations of the Eric Cantu original. Liveries added: Britannia, Westjet, Southwest Lone Star, Jet 2, Norwegian and Thomson. Native model by Eric Cantu/ Eagle Rotorcraft Simulations. The VC is the Alejandro Rojas Lucena/FSND Boeing 737-800 interior model. This virtual cockpit model includes Working wipers (right mouse click on switch) with rain effect. Switches for LCD Screens, EICAS, PFD, MFT. Autobrake switch. Opening pilots window. Cabin Lights switch. Realistic FMC. Ground Proximity Warning System (GPWS), More Realistic night VC textures. There are custom Boeing 737 sounds included for that extra realism. I have added the great textures by Colin Lowe. Model is not modified in any way. VC added and textures. See VC docs to get the best out of the VC and FMC. Assembled and prepared and tested for P3D V3.4 /FSX by Chris Evans.
Posted Jun 25, 2017 09:27 by chris evans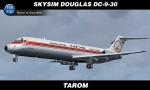 8.83Mb (40 downloads)
The Airbus A380 is a doubledecker, four-engined airliner manufactured by Airbus S.A.S. The media has termed the A380 a "superjumbo". Without virtual cockpit. Free for private use. By Andreas Meyer -
Posted Jun 25, 2017 03:09 by Andreas Meyer
87.99Mb (61 downloads)
Sound pack for the Boeing 777 GE
Posted Jun 24, 2017 19:52 by kairi Akai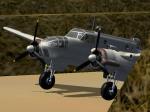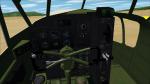 28.90Mb (37 downloads)
Bristol Beaufort for CFS2 by Alphasim modified by Tom Sanford, Tango Romeo for CFS2 Some Gauges borrowed from MAPE collection sound file of twin Bristol Hercules 14-cylinder radial engines by Lawdog 2360. I removed 2d cockpit and remade F5 and F9 windows to my keep it simple format also re-did flight model and air file a bit. Very Nice VC here
Posted Jun 24, 2017 17:52 by Peter Mercy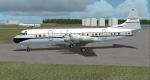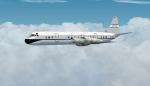 99.48Mb (78 downloads)
FSX/P3D Kwajalein Missile Range textures for KBT L-188 Electra Kwajalein Missile Range textures by Gary Harper.
Posted Jun 24, 2017 16:22 by Gary Harper
9.06Mb (50 downloads)
Beechcraft D18S Republic Of China Air Force(ROCAF) Textures.
Posted Jun 24, 2017 06:30 by Liao Yitong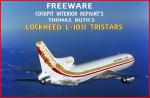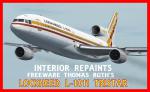 103.92Mb (270 downloads)
From the PAINT SHOP Cockpit Interior Repaints for the FREEWARE Lockheed L1011 Tristar of Thomas Ruths. Enjoy the Color contrast Seats to match the Tristar of your paint livery. Reds, Blues, Golds and Floral seats and some with Tristar stickers on the engineers panels too. Interior repainted by Jetranger
Posted Jun 24, 2017 01:32 by Jetranger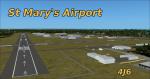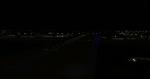 13.55Mb (96 downloads)
St. Marys Airport (4J6) is a public use airport located two nautical miles north of St. Mary's, Georgia. The Airport has 2 Runways and Fuel service. This scenery will update the airport in FSX to match it real world counterpart. It will also add scenery for Kings Bay Navel Base just North of the Airport. In addition to this the scenery will also add the Prohibited Airspace P50 which is extremely close to the airport. COM Frequencies and Approaches have been updated as well. Sadly the airport is scheduled to be closed down on July 14th 2017. This is due to security concerns. Because of this the Scenery has 2 versions of the airport, you may choose which one to install. The first version is the airport updated and working in FSX. The 2nd version is the airport closed down. Runways are closed, AI will no longer use the field, fuel service has been shutdown.
Posted Jun 23, 2017 15:26 by CountryFlyboy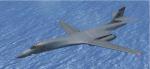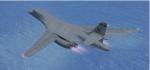 32.62Mb (428 downloads)
This is my second update of the Alpha B-1B Lancer for FSX. I have fixed the problem with the nose bobbing up and down at low altitude while on autopilot. The fix also changed the throttle setting at cruise speed and altitude to between 60 and 75% instead of over 90%. This update includes everything I did for the previous update.
Posted Jun 23, 2017 13:15 by Bob Chicilo