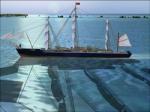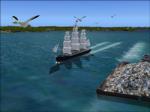 3.79Mb (136 downloads)
FSX - Tall Ship Bermuda. Credits to Ian Thatcher for the Cfg sources and wake effect to compile all the models..thanks so much!! Visit FSX-Shipyards.com for large collections of freeware ships and boats and submarines.. Don't forget to Copy and Paste the "Effects" into your main Effects Folder. Updated for FSX by Ewin Sheridan (fsx-shipyards.com). Ron Jeffers
Posted May 18, 2019 21:18 by Ewin Sheridan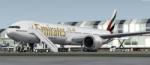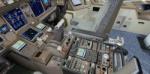 54.61Mb (766 downloads)
FSX/P3D FSX native Boeing 777-9 Emirates P3D4 compatible. Based in Dubai, Emirates is the largest airline in the Middle East and as of May 2018, has 115 Boeing 777-9 on order. This is the FSX native Skyspirit Boeing 777-9 with the FSX native internal B777 model/VC. Compatible with 64bit P3D4 versions. Correct jetways and wingview added. (From wiki: The Boeing 777X is the latest series of the long-range, wide-body, twin-engine Boeing 777 family from Boeing Commercial Airplanes. The 777X will feature new GE9X engines, new composite wings with folding wingtips, greater cabin width and seating capacity, and technologies from the Boeing 787) Thank you to Zachary777 for the native conversion of the brilliant Jacob Kubique VC. Gauges added by Chris Evans. Textures by Aziz Polash. Tested in P3Dv4.2 and should also work in other P3D up to v4.* & FSX. Edited and packaged by Chris Evans.
Posted May 18, 2019 07:48 by chris evans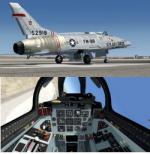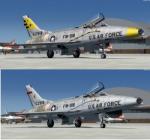 48.32Mb (1279 downloads)
North American F100D Super Sabre USAF x3 Package for FSX and P3D. USAF: 306th TFS, 458th TDS, 20th TFW. Original model by Classic Warbirds Design Team/SOH Donationware. Gauges by Tim Conrad. FSX panel mods by Falcon409. FSX mods by Henk Schuitemaker with FSX native, MDL X conversion by LLS. Added USAF textures by D Quincey. FSX native /P3D4 GMAX model. Danny Garnier
Posted May 18, 2019 06:11 by GARNIER D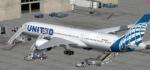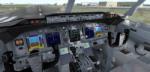 66.68Mb (643 downloads)
FSX/P3D Boeing 787-9 United Airlines '2019 Livery' Package. United are reported to be updating their livery in 2019. Fixed middle livery issue (sorry). Based in Chicago, United Airlines is one of the world's largest airlines with a fleet of over 750 aircraft flying globally. As of May 2019, United operate 25 Boeing 787-9 with a further 13 on order. The wonderful Boeing 787-9 from TDS will be enjoyed by many more people who do not know how to install a VC into a FSX native model. The VC is the Alejandro Rojas Lucena/FSND fantastic Boeing 737-800 VC cockpit blended with Ken Wiggington's revisions for the default B737 VC to make it more resemble a 787 plus added HUD. This VC model includes Working wipers (right mouse click on switch) with rain effect. Switches for LCD Screens, EICAS, PFD, MFT, HGS. Autobrake switch. Opening pilots window. Cabin Lights switch. Realistic FMC. Ground Proximity Warning System (GPWS), More Realistic night VC textures. There are custom Boeing sounds included for that extra realism. Textures by me. Would welcome improvements! Fixed views, wheel levels. Added wing views. Added 787 checklist. TDS high spec. native FSX Boeing 787-9 model. See VC docs to get the best out of the VC and FMC. Tested in P3Dv4.2 and should also work in earlier P3D & FSX. Packaged by Chris Evans.
Posted May 17, 2019 23:04 by chris evans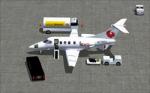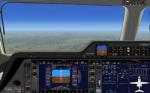 10.59Mb (392 downloads)
FSX EVO Embraer Phenom 100EV AGS V2L, registration N775EV. New Animated Ground Servicing. New landing / taxi soft light beams. New 2D panel. (No VC). New spoilers added. Interior animations ( Shift+E+2 ). Model design and paint by Camil Valiquette. ( CamSim )
Posted May 17, 2019 02:50 by Camil Valiquette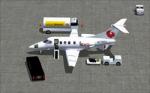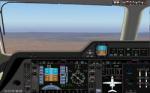 3.12Mb (92 downloads)
FS2004 EVO Embraer Phenom 100EV AGS V2L, registration N775EV. New Animated Ground Servicing. New landing / taxi soft light beams. New 2D panel. New spoilers added. Interior animations ( Shift+E+2 ). Model design and paint by Camil Valiquette. ( CamSim )
Posted May 17, 2019 02:47 by Camil Valiquette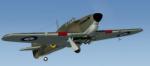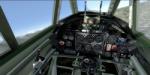 23.10Mb (752 downloads)
Hawker Hurricane RAF MK1 56 Squadron 1938 Package for FSX and P3D. Revised version of the Aeroplane Heaven GMax model converted to FSX native by A.F.Scrubb. Fixed VC and 2d panel with working gauges. The Hawker Hurricane is a British single-seat fighter aircraft of the 1930s–1940s that was designed and predominantly built by Hawker Aircraft Ltd for the Royal Air Force (RAF). Although overshadowed by the Supermarine Spitfire, the aircraft became renowned during the Battle of Britain, accounting for 60 percent of the RAF air victories in the battle. It served in all the major theatres of the Second World War. Added MK1 56 Squadron textures by AJ Merry. FSX native /P3D (up to v4) GMAX model. Danny Garnier
Posted May 16, 2019 12:10 by GARNIER D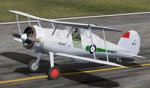 13.72Mb (393 downloads)
The Gloster Gladiator was a British-built biplane fighter; its last such fighter. It was used by the Royal Air Force and the Fleet Air Arm and was exported to a number of other air forces during the late 1930s. First flown in 1934 it was rendered obsolete by newer monoplane designs even as it was being introduced to the RAF in 1937 with its new enclosed cockpit and four guns. By David Molyneau
Posted May 16, 2019 11:06 by mlietz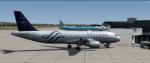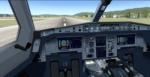 90.17Mb (368 downloads)
FSX/P3D Airbus A320-200 Aeroflot Skyteam package. Based at Moscow Sheremetyevo International Airport, Aeroflot is Russia's flag carrier airline and was founded in 1923. As of May, 2019, Aeroflot have 80 A320, one painted in the skyteam livery. Added the better Thomas Ruth VC with updates by Louis Quintero and Chris Evans. Use FMC under Views/Instrument panel in FSX menu. (FSX : Go to Views -Instrument Panel. P3D: Go to Vehicle - Instrument panel). Added better views. Model by Project Airbus. HQ textures by Stefan Bree converted to DDS format. FMC by Garret Smith. Includes A320 checklist by Werner Schott. Airbus sounds included. Tested in P3D v4.2 and should be ok in FSX and other P3D versions. Zip preview for images. Custom packaged by Chris Evans
Posted May 16, 2019 00:45 by chris evans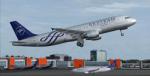 13.81Mb (77 downloads)
Project Airbus A320-214 in Aeroflot - Russian Airlines "Skyteam" livery, VP-BDK. Model by Project Airbus. Textures by Stefan Bree
Posted May 16, 2019 00:27 by chrisE