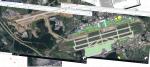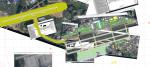 71.86Mb (162 downloads)
UUEE_Moscow Sheremtievo with functioning R06L/24R. Navaids as per last AIRAC. Gates and parking as per last available charts. Deactivate FTX APB_UUEE.bgl before installing if applicable.
Posted Mar 16, 2019 22:03 by Sergey Stoyanov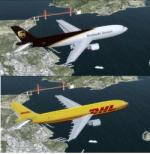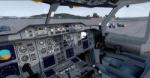 84.67Mb (795 downloads)
FSX/P3D Airbus A300B4-600R DHL/UPS twin pack. As of March 2019, DHL operate 35 A300 and UPS operate 52 A300. Model Eric Cantu converted to FSX native by Eagle Rotorcraft Design. VC by Thomas Ruth. Added FMC by Garret Smith. I included the textures by Paul Winn. Manual included. Zip preview for larger pictures. Tested in P3D v4.3 and should work ok in FSX and earlier P3D versions. Assembled for Prepar3D and FSX by Chris Evans.
Posted Mar 16, 2019 13:10 by chris evans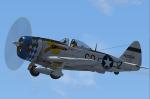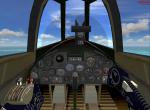 23.10Mb (331 downloads)
FSX/P3D v3,v4 Thunderbolt P-47D-25. Republic's immense and powerful P-47 Thunderbolt was one of the truly great fighters of World War II, built in greater numbers than any other U.S. fighter. In combat, the P-47 was an effective air-to-air fighter, but it was an even more effective air-to-ground weapon. It had great diving speed and a tremendous payload capacity. FSX/P3D (up to v4) model by A.F.Scrub .
Posted Mar 16, 2019 08:10 by A.F.Scrub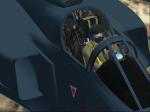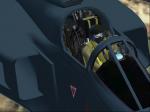 6.30Mb (304 downloads)
SEPECAT Jaguar M for FSX and FS9 with changes and additions. Correct glazing of the cockpit canopy (visible glass) for FSX. Author: Tsyntsar Victor, Kyiv, Ukraine, 2019.
Posted Mar 16, 2019 07:55 by Tsyntsar Victor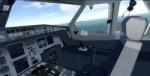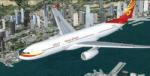 137.08Mb (390 downloads)
FSX/P3D (incl. v4.3) Airbus A330-300 + A330-200 Hainan Airlines Twin Pack. Based at Beijing Capital International Airport, Hainan Airlines is the largest privately run airline in China and flies to destinations worldwide. As of March 2019, Hainan operate 9 A330-200 and 25 A330-300. Model by Thomas Ruth. Added the better Thomas Ruth modified VC with latest updates by Chris Evans and Louis Quintero. I added the great textures by He Lingyuan. Fixed contact points. Added wing views and better VC. Includes built in FMC by Garret Smith. FMC will display in VC. Includes A330 manual. Custom A330 sounds included. FSX : requires either FSX Acceleration or Service packs 1 & 2. Assembled and tested in P3Dv4.3 by Chris Evans Should also be fine in FSX and earlier P3D versions.
Posted Mar 15, 2019 12:01 by chris evans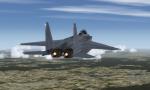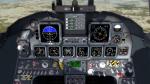 6.68Mb (539 downloads)
This archive contains fixes for the upload by GARNIER D on Mar 9, 2019 for those who want to fly the F-15 in FSX or P3Dv3. (I could not find the mail address of Danny Garnier) It turned out the reason for the aircraft not showing up in the 32-bit Flight Sims was due to the fact that the config files were in some kind of unicode format... Tested in both FSX SP2 and P3Dv3. Slight modications made: . Added Afterburner effect . Added Betty Callouts . Changed Fuel load (more balanced) . Added Gear operating speeds . Added Damaging speeds for flaps . Added 3 cockpit views . Added engine startup effect . Added Radios, GPS, and Radar popups. . Added IRIS kneeboard Checklists . Created and added kneeboard Reference from adapted aircraft.cfg
Posted Mar 14, 2019 12:51 by Flanker256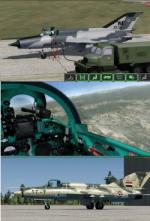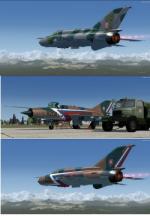 95.58Mb (998 downloads)
FSX/P3D MiG-21 MF Multi Livery Pack 1. Liveries included: USAF, Soviet, Syrian Air Force 2301, Slovak Air Force 8208, Soviet Air Force, Croatian Air Force HRZ 122. This is the superb high detail Mig-21MF created by Ivan Jurcaga (external model), Peter Priskin (internal model base). See Readme for further credits. The MiG-21 is a supersonic jet fighter and multi role fighter aircraft, designed by the Mikoyan-Gurevich Design Bureau in the Soviet Union. Over 11,000 were built between 1959 and 1985 and many are still in use today. Credits for paints: Pavol Augustin. Hani Michal. Stefano Zibell. vRRba. Uses the default F16 sound. Thank you to Flanker 256 for reminding me about this aircraft with great new checklists. https://simviation.com/1/search?submit=1&keywords=MiG-21+MFB&x=17&y=12 Assembled and tested in P3D 4.2 by Chris Evans. Should also work in earlier P3D versions and FSX. Zip preview for images.
Posted Mar 14, 2019 12:09 by chris evans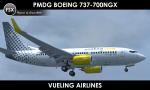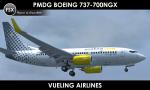 18.99Mb (86 downloads)
P3D/FSX Vueling Airlines textures for the payware PMDG Boeing 737-700NGX. Textures in UHD format for PMDG model. Repaint by Sergey Gleba aka serg09. Link to my products on SimMarket: http://secure.simmarket.com/paintsim.mhtml
Posted Mar 14, 2019 11:08 by Sergey Gleba aka serg09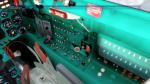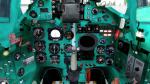 12.88Mb (409 downloads)
These files contain extras for the excellent Mikoyan Gurevich MiG-21 MFB by Ivan Jurcaga. Extras included: • Documentation of the MiG-21. • Illustrated Checks and Reference kneeboard files in htm format so that they will be usable in both FSX and P3Dv3. These kneeboard files are based upon the great MiG-21 manual by Dutch Owen. • Extra VC camera definitions. • Modification of the [autopilot] section by adding entry; max_bank=28.000000 Implementation of these extras: Put all these files and folders into the root of the MiG-21 MFN aircraft. To add the max-bank entry, camera definitions, and kneeboard files to the aircraft read the Aircraft_cfg.txt When you're done you can delete the Aircraft_cfg.txt and the What is this.txt files. Good flights and happy landings wished to you by Flanker256
Posted Mar 14, 2019 05:25 by Flanker256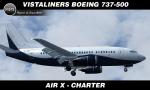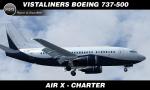 2.17Mb (123 downloads)
VistaLiners Boeing 737-500 in AIR X Charter livery. Texture only for VistaLiners (VL) model. Repaint by Sergey Gleba aka serg09 (Some details by Denis Minaev). Description and instruction in the archive. Link to my products on SimMarket (New! HD Clouds): http://secure.simmarket.com/paintsim.mhtml
Posted Mar 13, 2019 13:09 by Sergey Gleba aka serg09