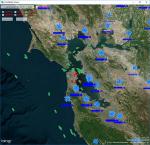 0.94Mb (60 downloads)
FSX2BMAP version 1.5 is FSX, P3D(V4) and FS2004 utility. This program shows a your aircraft position on Bing Maps. And more flight plan and AI traffic (planes & ships(FSX & P3D)) also is shown. LAN mode was added. You can show your plane and AI on another PC.
Posted Jun 22, 2017 21:43 by Koji Tsubakimoto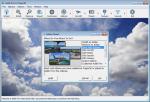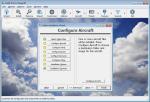 22.46Mb (135 downloads)
Addit! Pro is a comprehensive addon manager for Lockheed Martin's Prepar3D. Easily install, manage and remove aircraft, adventures, flights, flight plans, gauges, missions, panels, AI airport and facilities data, scenery, sounds, textures, videos, weather and more! Simple wizard-based interface makes installing and removing addons a breeze. Comprehensive addon management allows you to archive, rebuild and remove addons. Addit! Pro is fast and easy--no unzipping or file copying is necessary. Modify all aircraft, panels, sounds and scenery. Let Addit! Pro tackle the tough chores and spend your time flying. Shareware--please register to install an unlimited number of add-ons. Supports Prepar3D v4, v3, v2, and v1. By Joseph Stearns.
Posted Jun 9, 2017 07:08 by Joseph Stearns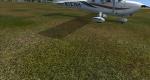 9.28Mb (552 downloads)
Drzewiecki Design Grass is a freeware, fully automated package of ultra high quality, 4096x4096 pix grass and snow textures for Microsoft Flight Simulator 2004, Microsoft Flight Simulator X, FSX:SE and Lockheed Martin Prepar3D (v1,v2,v3 and v4). It will enhance ground textures in the whole FS. Microsoft Flight Simulator X and Lockheed Martin Prepar3D have texture resolution limit, which is 1024x1024 pixels. It is possible to select higher resolution by manually editing configuration files but Drzewiecki Design Grass will do that for you automatically! Default FS9's grass is 128x128pix and with Drzewiecki Design Grass you can admire the 1024x1024 ground texture resolution. Extra features: Drzewiecki Design Grass will automatically add a HIGHMEMFIX=1 tweak to your FS, which will prevent texture disappearing from aircraft and buildings + snow texture for winter flying. Enjoy your virtual flying with Drzewiecki Design!
Posted Jun 6, 2017 03:59 by Drzewiecki Design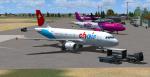 2.94Mb (114 downloads)
Updates 'Virgin Blue' jetway and terminal signage to 'Virgin Australia'. Requires Orbx YBBN Brisbane International Airport.
Posted May 6, 2017 04:56 by Anthony Neave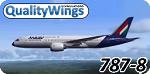 106.21Mb (167 downloads)
McCoy Helicopter Landing Effect v3.4b (Final Version). This package replaces the rotor-wash effect for dirt and water, five sets of various sizes are included and can be used in any combination along with a subtle helicopter wake. These effects are individually assigned to a specific helicopter overriding P3D's default effects. These effects will not detach and lift off the ground when the aircraft climes above a specific height. The water effect will adhere to waves of any height and the dirt effect will adhere to the sides of small hills with gentle slopes. Some of the improvements over v3.4 include two new emitters giving the wind effect a more uniformed look and the replacement of a third emitter which eliminates exaggerated movement of ground decals. All emitters have had their scale, velocity, density, offsets and colors adjusted for a more realistic appearance compared to v3.4. Textures included by Vince McCoy, 04/04/2017.
Posted Apr 25, 2017 01:27 by Vince McCoy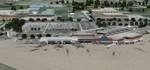 215.86Mb (172 downloads)
Fort Wayne International Airport, KFWA, Indiana, USA, version 1.1 for P3D. This is a detailed rendition of Fort Wayne International Airport, Indiana, USA. The airport is a regional airport serving Northeast Indiana and is also the home of the USAF 122nd Fighter Wing Indiana ANG. The airport was originally named "Baer Field" as a World War II military base. During World War II more than 100,000 military personnel served at the airport. Shehryar 'Shez' Ansari
Posted Apr 9, 2017 03:05 by Mike Leitz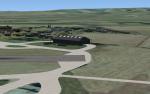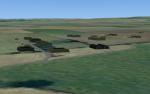 0.21Mb (24 downloads)
RAF Wombleton opened in 1943 as a sub-station of RAF Topcliffe. It was part of RAF Bomber Command's No. 6 Group RCAF, and along with the main station at Topcliffe and the station at Dishforth, was designated part of No 61 (Training) Base. In November 1944, No 61 Base was transferred to No 7 (Training) Group and it was renumbered No 76 Training Base. No 1666 Heavy Conversion Unit (HCU) was the first unit to move to Wombleton. Aircrew who were originally trained on twin-engined aircraft such as Wellingtons or Whitley's received conversion training on heavy four-engined bombers such as the Halifax or Lancaster. No 1666 HCU remained at Wombleton until the end of the war. The RAF took over the station and stayed for several years. Source: Wikipedia
Posted Mar 31, 2017 09:47 by Terry Boissel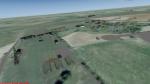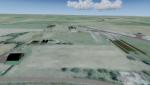 0.18Mb (21 downloads)
The Station opened in 1942 before closing in 1946, it hosted No. 431 Squadron, Royal Canadian Air Force as part of 4 Group RAF Bomber Command which formed at the airfield on 13 November 1942 flying Vickers Wellington Mark X aircraft while at Burn. On 15 July 1943 the squadron was transferred to RAF Tholthorpe and became part of No. 6 Group RCAF. On 1 January 1944 No. 658 Squadron RAF moved to the airfield from RAF Clifton flying the Taylorcraft Auster III but left only seven days moving to RAF Doncaster but on 21 January 1944 the squadron returned, this time staying until 14 March 1944 when they moved to RAF Collyweston. The squadron was briefly joined on 31 December 1943 by 659 Squadron which moved to RAF Clifton the following day. During its use the airfield was also used by No. 10 Aircrew Holding Unit RAF. On 6 January 1944 No. 578 Squadron RAF squadron was relocated to RAF Burn from RAF Snaith. This Bomber Command squadron flew Handley Page Halifax Mk. III before disbanding on 15 April 1945 and the station was closed for flying operations in July 1945. On the night of 30 March 1944, Pilot Officer Cyril Joe Barton took off from RAF Burn in Halifax LK797 for a raid on Nuremberg, and won a posthumous Victoria Cross for valour. Shortly after flying was discontinued, the Royal Army Service Corps took over some facilities to store surplus equipment. ] Many of the buildings have been dismantled but all three runways remain intact and are used by Burn Gliding Club Ltd.
Posted Mar 26, 2017 13:43 by Terry Boissel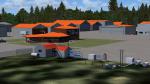 9.08Mb (62 downloads)
Parry Sound CNK4 scenery for Prepar3D. This is a self-contained scenery package for enhancing the Parry Sound CNK4 appearance. The native CNK4 is rather poor, but the real Parry Sound is a fairly busy airport, located in the Ontario "Cottage Country" only a few kilometres from the town of Parry Sound, on Lake Huron. Please note that P3D's terrain is full of towns and farms that don't exist, including in the area of this airport, but I didn't do anything about it. The package is simple to install, just unzip and locate the folder somewhere convenient, then "add" it to the scenery library. If you have problems installing, send me an e-mail. All objects are created with gmax. You can do anything you want to it, so as long as you don't sell my objects, in whole or in part. If you need any of the gmax files, just send me an e-mail. My e-mail address is in the zip. Made by Fern Marques, static aircraft by Dave P. March 2017. Thanks.
Posted Mar 4, 2017 12:31 by Fern Marques
39.38Mb (280 downloads)
Washington X DEMO - features an extremely detailed scenery of large area of Washington, Dstrict of Columbia, United States, fully compatible with FSX, FSX Steam, P3Dv1, P3Dv2 and P3Dv3. With this product you are free to fly to any of 5 airports (KDCA, KCGS, KADW, KVKX, W32) and many heliports in the area, admire some of the world-renowned landmarks like Capitol or Pentagon, or simply pay a visit to The President of the United States. This Demo version of the commercial product is a fully functional freeware scenery, featuring same airport layout as in the full version but with limited 3D objects and low resolution textures. This ensures no problems with online (VATSIM, IVAO and multiplayer) flying in case some users have the payware scenery and some don't. It's equipped with an automatic installer, which means that the scenery will be automatically added to the Flight Simulator Scenery Library. Please uninstall all previous versions of the above-mentioned airports you may have installed before. Please make also sure that no duplicated AFCAD files are installed. Enjoy your virtual flying with Drzewiecki Design!
Posted Feb 18, 2017 12:54 by Drzewiecki Design