83.37Mb (619 downloads)
FSX/P3D Boeing 787-8 American Airlines package with native B787 cockpit. The world's largest airline, American, currently operate 23 Boeing 787-8 with a further 19 on order. 8 The VC is the comprehensive Bender Erik great adaption of the Asobo MSFS 2020 Boeing 787 cockpit. TDS high spec. native FSX Boeing 787-8 model. See Document folder to get the best out of the VC. Textured, assembled and tested in P3Dv5 by Chris Evans. Should also work in earlier P3D & FSX.
Posted Jan 1, 2021 05:53 by chris evans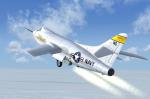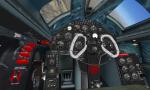 18.42Mb (546 downloads)
Douglas D-558-2 achieved Mankind's first Mach 2 on November 20, 1953. I've been longing for aircraft since I was a kid, but somehow I got to know D-558-2 six months ago. The reason was that the glory of Chuck Yeager and Bell X-1 was so dazzling that I couldn't see D-558-2. And Albert Scott Crossfield and Douglas D-558-2, who achieved the world's first Mach 2, became my heroes alongside the X-1. The very elegant streamlined design of D-558-2 is very beautiful. It's a very perfect design! The triangular canopy glass is small and the pilot's face appears to be trapped. What a small and unique cockpit. What does the landscape from this cockpit look like? And I was excited to see the powerful take-off photo of D-558-2 using JATO(Takeoff support rocket unit). I wanted to reproduce these in FSX. This model is D558-2 number 3 and is a hybrid of turbojet and rocket engine. I dedicate this model for the great history of aircraft. FSDS v3.5 model by uenoshing. We have not confirmed the operation other than FSX ACCELERATION. Edit: Works in P3D too.
Posted Dec 31, 2020 10:05 by uenoshing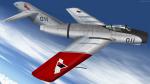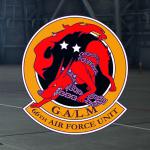 19.95Mb (74 downloads)
What if the events of Ace Combat Zero took place in an early Cold War era? This is my take on Solo Wing Pixy (Galm 2) if he flew the MiG-15. Repaint for the freeware MiG-15bis by Jean-Pierre Langer and co. (FSX/P3D native version)
Posted Dec 31, 2020 09:48 by InDeepSchit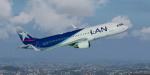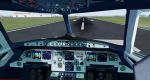 80.92Mb (292 downloads)
FSX/P3D Airbus A320-200 LAN Chile (LATAM) package. LATAM (or LAN) Chile is the Chile division of LATAM and has it's main hubs at Lima and Santiago airports. Currently LATAM Chile have 54 A320-200 with another 12 on order. Views/Instrument panel in FSX menu. (FSX : Go to Views -Instrument Panel. P3D: Go to Vehicle - Instrument panel). Added better views. Quality original model by Project Airbus. Updated VC by Speedbird77 with built in FMC by Garret Smith. Includes A320 operation manual and checklist. Airbus sounds included. Textured and assembled for P3D v5 by Chris Evans. Should work in FSX and other P3D
Posted Dec 31, 2020 01:06 by chris evans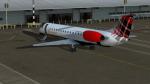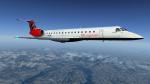 29.12Mb (33 downloads)
Loganair Embraer ERJ145LR 4K HD textures for the payware ERJ v2 by Feelthere/Wilco. Textures only
Posted Dec 31, 2020 00:10 by Kelvin Keeble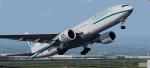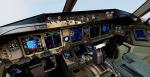 101.19Mb (374 downloads)
FSX/P3D Boeing 777-200ER Crystal Aviation with FSX native VC. Crystal Aviation is the air division of luxury Crystal Cruises and operates this luxury VIP charter Boeing 777-200ER. Includes revised VC and Honeywell FMC (via Views-Instrument panel). Great high quality Project Opensky model features opening doors & cargo doors, detailed textures, accurate paint, dynamic shine & effects, dynamic flexing wings that respond to turbulence, fully independent suspension, trim animation, gear steering, accurate flight dynamics, spoiler animation, reflective cockpit windows, crash effects, animated tilting bogies, full night lighting, stairs, ground service vehicles when cargo doors open, (FSX - Go to Views - Instrument Panel -Posky Util), detailed virtual cockpit and more. Added custom B777 sounds. VC night lights fixed thanks to Hagar. To use FMC - Go to Views - Intrument panel - FMC. See FMC docs. Fantastic native FSX model by Skyspirit/Project Opensky. Jetway exits added. Thank you to Zachary777 for the native conversion of the brilliant Jacob Kubique VC. Gauges added by Chris Evans. Textured and assembled for P3D v5 by Chris Evans. Should also work in earlier P3D versions and FSX.
Posted Dec 30, 2020 01:34 by chris evans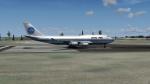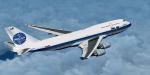 24.70Mb (215 downloads)
Liveries represent 70's and 80's variants. You need a Boeing 747-400 POSKY package with GE engines; OSX744V4_CF6-80.MDL I found a livery for FS9 by 'Captain Dave The FSLightman' and updated it for FSX/P3D usage. Then I copied and modified that livery with a new variant with bigger PAN AM text, as well made the tail logo somewhat smaller and made the fuselage a bit more white. Credits: Project Open Sky, Captain Dave The FSLightman, Flanker256 To add these liveries to your aircraft see the aircraft_cfg.txt. Liveries has been tested in FSX and P3Dv4.5 (should work as well in P3Dv3). Example of needed 747 POSKY GE package released by Chris Evans: See zip file for screenshots.
Posted Dec 29, 2020 11:41 by Flanker256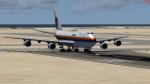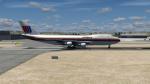 9.26Mb (108 downloads)
United rainbow livery (created by Saul Bass) for the Boeing 747-100 by Project Open Sky. I did paint the livery with the extra upper deck windows (10), as United ordered some of their 747s. To add this livery to your aircraft see the aircraft_cfg.txt.You can choose between chrome colored or white colored engines. Livery has been tested in P3Dv4.5 (should work as well in FSX and P3Dv3). For a FSX/P3D native release of the model please visit: https://www.facebook.com/groups/944745372679875 See zip file for screenshots.
Posted Dec 29, 2020 09:15 by Flanker256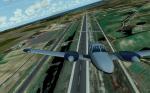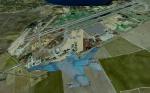 16.37Mb (51 downloads)
(ONLY for P3D4) Limnos International Airport "Hephaestus" (IATA: LXS, ICAO: LGLM) is an airport on Lemnos Island, Greece. The airport is located 18 km away from the city of Myrina and began operation in 1959. Greek airport. Created with ADE v1.78. Make sure you read the "READ ME" in this package.This scenery, contains static aircrafts like F-16 and F-4. so a big thank you goes to "Guy Diotte"
Posted Dec 29, 2020 08:05 by Dimitris Mylonas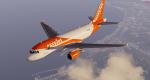 109.41Mb (625 downloads)
FSX/P3D Airbus A319-100 easyJet package. UK budget airline easyJet is based at London Luton Airport and currently have 69 Airbus A319-100 in their fleet flying to destinations mainly around Europe, North Africa and the Middle east. Easyjet is Europe's 2nd largest carrier in passenger numbers, behind Ryanair. The great Project Airbus model updated. The A319 is a shorter version of the A320 family. Custom Airbus sounds. Also added jetway configs (Ctrl J). Revised original VC by Microsoft updated by Collin MacKenzie to include built in FMC and more. Textured and assembled for P3Dv5 (Should also work in other P3D and FSX) by Chris Evans
Posted Dec 29, 2020 01:32 by chris evans