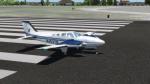 17.01Mb (221 downloads)
This is the default Beech Baron converted to the Beech 58 TC flight dynamics and specs. This turbocharged Baron is capable of 280 MPH in level flight. Unfortunately the model provided by Mark Rooks of his mod was in non-native FSX format. So I took the default FSX models but used the FDE provided by Mark Rooks which consisted out of an aircraft.cfg file plus an .air file. In that aircraft.cfg I did make changes to the [Lights] section, added extra Taxi and Landing lights. Then I replaced the annoying strobe light causing flashing in VC by a smaller strobe light. Also I added VC cameras in it. Then I added a FSX stock livery and a livery by Zane Gard, Jr. (N453TB) In the Panel.cfg I changed the background texture of the Airspeed Indicator so that the speed needle point to higher values in the 'green arc'. ALso some small other changes, compared to the default panel.cfg Sound is aliased to a Beech King Air, as Mark Rooks did. In this package the models are NOT provided so you must take them from your FSX or Prepar3D install disks. If you have already installed a beech_baron_58 then you're okay. For a different sound you can edit the sound.cfg file in the beech_baron_58TC sound folder. If you like the new light configuration you can of course, bring it over to the default baron 58. All tested okay in Prepar3D v4.
Posted Jan 10, 2023 21:00 by Flanker256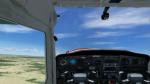 19.73Mb (205 downloads)
This is an upgrade package for the 'FSX/P3D Cessna 152-F G-BLAX' Just Flight Cessna 152 freeware package. This is NOT the whole aircraft, it is an update package. The original package as posted by 'uploader' in July 2020 did make my P3Dv4.5 crash, even after disabling the 32-bit radio gauge. It turned out that if I did swap the .air file my P3Dv4.5 did not crash anymore. For that I did use the .air file by SpiderSim and I also deliver here the sound from that package which will sound much better. I did replace the 32-bit gau gauge by a 64-bit gauge in VC. Furthermore I did include two extra liveries with the painters credited in the description section of the aircraft.cfg file. From all replaced files there have been made a backup. No changes in models or model textures, but a slight change of the aircraft.cfg was made: Added is an extra VC Camera Definition. Installation guide is at the bottom of included text file. Happy flights.
Posted Oct 29, 2022 09:24 by Flanker256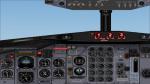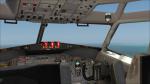 24.11Mb (686 downloads)
FSX/P3D Boeing 727 2D panel and VC V2. This is a panel package, based on the Thomas Ruth 727 VC interior model, contains a brand new wide 2D panel (1280px). The main features include: new day and night 2D panel background bitmaps (Main panel, Overhead, Throttles, Engineer, Autopilot and Radio), re-mastered day and night VC textures, updated set of xml gauges, fully integrated FMC, new popup windows and cockpit sounds. 6 VC camera views: First officer, Autopilot (centered), Center console, Overhead, Flight engineer and jumpseat. Fully working Auto-brake. Credits to Hiroshi Higami for the original Auto-brake gauge and Daniel Gauthier for the original Cockpit Sounds. The new panels are using the following extra gauges: FMC by Garrett Smith, TCAS V2 by Dietmar Loleit, and VSpeed, Altitude Callout, Icons32, Brake sound and new Cockpit sounds by me. Most of these gauges are using the FSX XML Sound gauge by Doug Dawson. Tested in FSX Acceleration (DX10) and FSX Steam Edition (DX9), on the Thomas Ruth 727. Not tested in P3D but should work correctly up to V3. Sound effects may not work in V4.
Posted Feb 13, 2022 10:28 by Philippe Marion
1.74Mb (236 downloads)
2D Six Engine Throttle Panel by Barivision for the Antonov-AN225 by Thomas Ruth & Alexander Kvitta
Posted Nov 9, 2021 11:56 by Barivision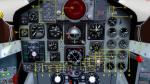 267.94Mb (552 downloads)
Full McDonnell Douglas F-4B Phantom II aircraft pack. Native FSX conversion of freeware AlphaSim models (interior and exterior) by: Y.T. (aka anon ?) Aircraft package is updated and extended for P3Dv4. Now with XML gauges, working HUD, dedicated Cockpit sounds, TCAS, correct Afterburners, Engine heat, Anti-Skid, Ground Radar, full AutoPilot in VC, aircraft speeds according to documentation, Sonic Boom effect, tested AI Carrier configuration, extended Phantom documentation, and 21 liveries. For a full modifications list see Flanker256.txt in the 'Docs' folder. Thank you Danny Garnier for pointing to this nice aircraft.
Posted Oct 18, 2021 08:46 by Flanker256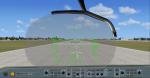 19.41Mb (1216 downloads)
This is a new panel for the Embraer E190. The gauges are pretty much identical to the real aircraft with all switches and dials working. It includes a FMC with flight plans, VNAV function, radio tuners, and maps. There is also a HUD which follows the Embraer specification. A detailed manual is included. Please at least read the installation instructions.
Posted Apr 18, 2021 02:27 by G. Munro
0.02Mb (76 downloads)
Here are the changes in this version... 1. Gives the user the ability to open a 2D Starter Panel (not the full main panel) with keys Shift + 6. 2. Edited the colors of the 2D cockpit lighting and gauges to match the green VC lighting.
Posted Apr 13, 2021 01:15 by TruNorthSim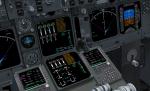 27.61Mb (957 downloads)
This panel is identical to the original release on 7 April except the manual in the original release was corrupted. This release includes the full manual. This is a new panel displaying the complete width of the main panel for the Boeing 747-8F. At first sight it seems identical to the Boeing 747-400 however there are some small differences. Although this panel is for the Boeing 747-8F it could also be used on the passenger version and also on a Boeing 747-400. The main differences are in the air conditioning panel and the doors. It is meant for 1920X1080 screens and will not look good on smaller screens. Drawback of this panel is that the gauges are pretty small but still readable. It includes 2 FMCs and a VC with limited functionality which which is entirely 747-400. Manuals are included - please at least read the installation instructions
Posted Apr 11, 2021 03:21 by G. Munro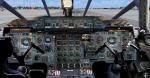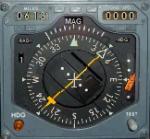 18.21Mb (368 downloads)
A user has pointed out to me that the HSI points in completely the wrong direction. Shameful to miss such a glaring error. This update contains only the CNC.CAB file to replace the existing one. The only change is to update the HSI.
Posted Mar 22, 2021 02:07 by G. Munro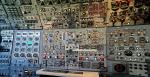 72.27Mb (581 downloads)
This is a new panel for Concorde. An aircraft is included so that you can see it working straight away. It can be fitted to any Concorde model but the VC may not work on other models. It includes full working 2D and VC panels including Flight Engineer Panel (not in VC). Almost all switches and knobs work and functionally try to follow the technical data in heritageconcorde.com. The manual is daunting but please at least read the first part. NOTE: Only suited to 1920X1080 screens or larger. SEE UPDATE
Posted Mar 12, 2021 01:14 by G. Munro