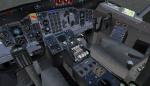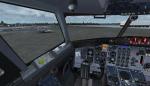 18.66Mb (684 downloads)
These Vc Textures will make flying this classic airplane a joy. The blurries and reflections on the windows have been eliminated so you have now clear windows to fly at ease. (This is up to you). Intended for the Thomas Ruth VC series, often matched with TDS 727 models. Textures are DDS fully compatible with DX10. Not tested on Steam Instructions are very simple to follow. Hope you enjoy this humble work, and thanks to all those wonderful people who make freeware for the community possible...... These VC textures are for the magnificient work of: Boeing 727-200 native FSX model by TDS/ Tenkuu Developers Studio with Thomas Ruth's great Boeing 727 VC added. Credit to them for the magnificient modeling. MY WORK IS FREEWARE AND MUST REMAIN FREEWARE AT SIMVIATION SITE, THE PLACE FOR SIMMERS. (See update above!)
Posted Jan 16, 2021 10:31 by Juan C. Brizuela AKA Johnny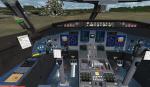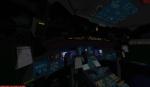 14.70Mb (311 downloads)
HD VC TEXTURES- day/night for the FSX/P3D Bombardier CRJ-900 FSX Native Petroleum Air Services package posted on this site. Project Opensky CRJ-900 2020 FSX native model and VC conversion by Speedbird77. (SHOULD ALSO WORK in any of the other Speedbird77 converted CRJ-900 Posky packages). Models by Nicholas Wilkinson/Hiroshi Igami Project Opensky. Flight dynamics Warren C. Daniel. FSX and Prepar3D v5 (and previous) compatible MdlX conversions by Speedbird77. Textured and tested in P3D v5 by Chris Evans. HD PS/DDS files fully compatible with DX10, Sp1, Sp2. Not tested on Steam.
Posted Jan 7, 2021 01:43 by Juan Brizuela AKA Johnny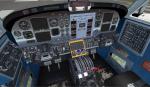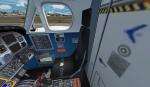 7.71Mb (394 downloads)
Textures for the Vc Cockpit of the Embraer Brasilia EMB 120ER posted here. Originally designed by Erick Cantu, now as a FSX/P3D Native conversion. DDs file fully compatible with DX10. Not tested in Steam.
Posted Dec 28, 2020 02:30 by Juan Brizuela AKA Johnny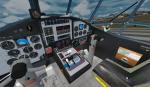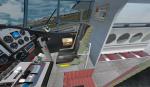 4.75Mb (334 downloads)
VC cockpit textures for the marvbelous AN-2 Aeroflot by Tim Conrad. FSX sp2 DX 10 compatible, not tested in Steam. DDS and BMP 32 bits files enclosed. IMPORTANT to read instructions.
Posted Dec 27, 2020 06:58 by Juan Brizuela AKA Johnny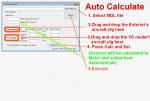 0.19Mb (329 downloads)
Model Slider tool. This tool is for moving the position of the VC Back/Forward and Up/Down. Purpose of this tool. Many people merges a VC but don't move the VC positon. Instead of moving a VC moves the eyepoint in the model.cfg But at that way ,eyepoint will be different from the position where it should be. At the worse case I saw was difference was more then 10 meters. And those will change the feelings of the landing and taxing. This tool moves the VC model to a correct position so that can fly at correct cockpit position.
Posted Nov 14, 2020 07:17 by uploader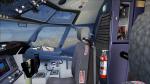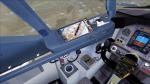 36.79Mb (2073 downloads)
Cockpit Textures Upgraded V2 for all aircraft using the FSX Boeing 737-800 VC. Thank you for downloading the -VC- Repaint Cockpit textures Upgrade V2 for the B737-800 FSX and not tested in P3D but if it has the B737_800_1_C, B737_800_2_C, B737_800_3_C, B737_800_4_C, B737_800_5_C VC textures it will works . This package is painted in 32bit that will make the B737-800 cockpit textures view in full resolution and with more color and better details like the real one. VC repaint V2 by: Enrique Cornejo
Posted Aug 9, 2020 17:03 by Enrique Cornejo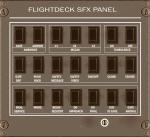 56.04Mb (260 downloads)
This is a new addon that comes as close as possible to the original FDSFX panel for FSX as developed by Marcus Thompson in 2003. The code was developed by Juan R. Ascanio just for fun, so this add-on is totally free and is distributed as-is with no warranti and no help, just these files. Flanker256: Tested okay in P3Dv4.5 Professional BUT I had to make one change in order to make the gauge work. Be sure to read ALL the text files. Good flights.
Posted Jun 20, 2020 08:23 by Flanker256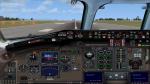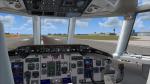 62.32Mb (1643 downloads)
FSX/P3D McDonnell Douglas MD80 2D panel and VC V1. This is a panel package, based on the Mitsushi Yutaka MD80 VC interior model, contains a brand new 2D panel (1280px) and it has been designed to fit most FSX native DC9/MD80 exterior models. The main features include: new day and night 2D panel background bitmaps (Main panel, Overhead, Throttles and Radio), re-mastered day and night VC textures, complete new set of xml gauges, fully integrated FMC, new popup windows and cockpit sounds. The VC is the Mitsushi Yutaka model. It is sadly not fully functional but it has been improved greatly and now has a fully working autopilot. Realistic integrated FMC and 4 VC camera views: First officer, Autopilot (centered), Center console and jumpseat. Fully working Auto-brake, Fully working Auto-taxi, working Autopilot annunciator panel, working Warning/Caution annunciator panel. Credits to Hiroshi Higami for the original Auto-brake gauge and Daniel Gauthier for the original Cockpit Sounds. The new panels are using the following extra gauges: FMC by Garrett Smith, TCAS V2 by Dietmar Loleit, and VSpeed, Altitude Callout, Icons32, Brake sound and new Cockpit sounds by me. Most of these gauges are using the FSX XML Sound gauge by Doug Dawson. Tested in FSX Acceleration (DX10) and FSX Steam Edition (DX9), on the default FSX MD83, Mitsushi Yutaka MD81, SGA MD83, SGA DC9-30, SGA DC9-50 and even the AI Ardvaark MD80. Not tested in P3D but should work correctly up to V3. Sound effects may not work in V4.
Posted May 4, 2020 13:40 by Philippe Marion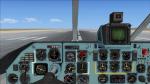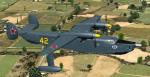 1.04Mb (339 downloads)
For those who like to fly with a 2D panel, this is a 2D panel for the Beriev B-12 recently posted here. I've also replaced the engine MFD with a radar in the vc and the 2D panel. NOTE: as this panel was taken from Tim Conrad's An-32 you can use it for it as well. New 2D panel by Michael Pook.
Posted Feb 28, 2020 13:16 by Michael Pook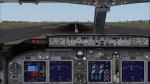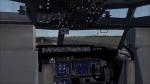 92.64Mb (1589 downloads)
FSX/P3D Boeing 737NG wide 2D panel and VC V2. This is a twin panel package, based on the default FSX B737-800 panel, containing an updated default panel (1024px) and a new wide panel version (1280px) for widescreen monitors. Version 2.0 features a fully working Altimeter and Airspeed Indicator Backup gauge, an optional PFD Backup gauge, a 2D panel Flight Yoke, some improved gauge bitmaps and several fixes. This is the full package. If you already installed V1 of this package, simply overwrite all the files with V2. Tested in FSX Acceleration (DX10) and FSX Steam Edition (DX9), on the default B737-800 and Project OpenSky B737-700W and B737-800W. Not tested in P3D but should work correctly up to V3. Sound effects may not work in V4.
Posted Jan 31, 2020 06:15 by Philippe Marion