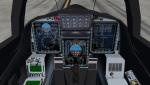 59.48Mb (769 downloads)
FSX/P3D Saab JAS 39 Gripen package. Swedish-built and designed Saab JAS 39 Gripen is a single-engine, single-seat multi-role all-weather fighter. Originally intended to replace the aging J-37 Viggen, it surpasses its older, larger brother in many ways. The new Gripen (Swedish for Gryphon) utilizes fourth-generation technology, an efficient augmented turbofan engine, all-digital fly-by-wire controls, and canard wing control surfaces. The Gripen is capable of carrying nearly all ordnance available to NATO allies. Formerly payware from Virtvia
Posted May 6, 2023 11:51 by virtavia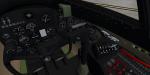 87.89Mb (37 downloads)
P3D Consolidated Vultee XB-46. For the 1944 jet bomber competition Consolidate Vultee (which became Convair) offered their model 109, which featured four Allison J-35-A-3 jet engines slung under the long straight wings in two large pods. Designated the XB-46, the first and only aircraft built made its maiden flight on 2 April, 1947. On a flight to Wright Field the XB-46 averaged 533 mph. Top speed was 548 mph at 15,000ft. The XB-46 could cruise at 439 mph with a service ceiling of 40,000ft. The aircraft was capable of carrying 4280 gallons of fuel and estimated range would have been 2870 nautical miles with an 8000lb bomb load. The XB-46 carried a crew of three, a pilot, co-pilot and bombardier. One of the more unusual features of the XB-46 was its pneumatic system which ran the undercarriage, bomb bay, crew doors, and brakes. No production orders were ever issued for the XB-46 as the Air Force deemed the type obsolete with the advent of the Boeing XB-47.
Posted May 1, 2023 15:37 by virtavia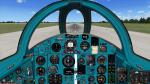 69.68Mb (597 downloads)
MiG-25 for FSX/P3D with multiple liveries. FSX native conversion by LLS. Original Model by Alphasim. The 2D cockpit has been redone, the textures have been replaced and new instruments have been inserted into the 3D cockpit, the dynamics have been fixed.
Posted Apr 10, 2023 04:41 by Golubenko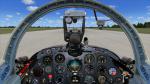 83.10Mb (490 downloads)
L-29 for FSX. Model by Tim Conrad. FSX native conversion by LLS. Remade the instrument panel and changed the textures in the virtual cockpit. Fixed flight dynamics. Should work in FSX an P3D4+
Posted Apr 9, 2023 03:41 by Golubenko
70.11Mb (162 downloads)
Archive contains documentation in pdf format about the real Lockheed SR-71 'Blackbird' aircraft. One pdf contains 'Functional Check Flight Procedures', 1986. The other pdf contains the 'Unclassified SR-71A Flight manual', 1989. Pdf files are assembled with tool 'Simple PDF Merger' from images on web page wwww.sr-71.org (SR-71 Online).
Posted Feb 28, 2023 11:17 by Flanker256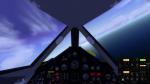 168.45Mb (201 downloads)
Purpose of these modifications are to fly the SR-71 with a little bit more ease when using Auto Pilot and to fly the aircraft from VC. After modifications we now got satisfying Auto Pilot behavior although the aircraft reaction is a little bit slow (as should be I guess) on turnings and catching AP Speed values. As Paul R. Varn said: fly the SR-71 aircraft on appoaches like an Airbus. The Auto Pilot speed hold function is now responding okay when deploying flaps (in reality this is altering the Inlet Spikes position) as opposed to the 'original' LLS configuration. Also added Engine heat glow effect, Sonic Boom effect, changed and recoded Afterburner effects. Also added Landing Gear Warning system, Cockpit Sounds, automatic Landing and Taxi lights. Added more gauges and made some gauges in VC expandable with enhancements in order to be able to fly the SR-71 in VC solely. 32-bits RKG_fuelstat is replaced with a limited XML variant. Like in the real SR-71 Gear warning system has been implemented and fuel probe state has been fixed. Latest updated 2012 aircraft sound by Paul R. Varn is added as default sound set. Two other sound sets are available, one (ALPHA) is much louder and one (FSAT) is more quite compared to Paul's set. Unfortunately I could not retrieve visibility of the Drogue Chute. Finally two NASA liveries has been added. All the modifications were tested okay in Prepar3D v4+
Posted Feb 28, 2023 10:40 by Flanker256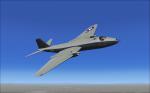 27.56Mb (519 downloads)
Bill Holker's various Canberra's, B.2, T.4, B-57A, B.6, for starts, FSX native, some sweet skins collected from GWK? over the years. B.2 Door on wingfold, bomb bay on tail hook, eject sequence on door-1 B.2-B.6-T.4 door on door 1, bomb bay on tailhook. Textures collected from all over. Sound alised to Republic F-84G_X sound. It's nice and shreiky My thanks To Bill Holker for these wicked jets, Arno for the tools to un-fcuk them, and get them into FSX. VC working, needs some work, and I have a radar gauge in the VC for LABS development work. Updates on the VC latter, it's interm. Moar latter.
Posted Feb 6, 2023 22:22 by Heath Robinson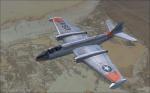 108.92Mb (549 downloads)
This update of the Alphasim (www.virtavia.com) B-57B features a native FSX model, textures and weapon features. A bunch of skins, and I corrected the colours of the SEA cam. Models now: Clean Baseline B-57B, HVAR armed, 500lbs bomb arme, Strike model with kiloton-range Mk-7 bomb, either LABS of Free-fall FSX Animations: Canopy : Door-1 key [Shift-E] Bomb Door:Tailhook Tactical Models: Weapons from saved flight It took a long time to get the materials just so-black paintjobs! I'm very happy with the results. Tiles: (strike) Mk-7_Tactical_gravity_bomb (B_Armed) bomb_c (B_Rocket) HVAR Example saved flights included
Posted Feb 6, 2023 21:52 by Jack D. Ripper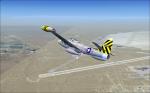 41.29Mb (459 downloads)
Jens B. Kristensens great Republic F-84G Thunderjet, FSX native. FSX native update, and tactical models Weapons dropable obj condition unless noted weapons in saved flight only Droptanks on ext tank fuel load Except Strike, left tank on tailhook, Mk-7 on dropable obj condition Rocket one type or other from a saved flight. 1000lb GP Bomb on Dropable Obj condition. weapons title list For F-84G use 1000b, Mk-7 bomb, 11.75, 5 inch rocket
Posted Feb 6, 2023 19:00 by Flameout Freddy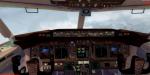 56.54Mb (405 downloads)
FSX/P3D Boeing 757-200 Royal New Zealand Air Force (RNZAF) package v2. The New Zealand Air Force No. 40 Squadron currently operate 2 Boeing 757-200. These are used for troop and freight transport and can be converted for use in medical emergencies. The FSX Native Boeing 757-200 model from TDS includes ground servicing and more. The VC is the FSND upgraded Boeing 737-800 VC cockpit brown tinted to be more like the 757, plus a 2d 757/767 panel by Philipe Wallaert (press F10). This VC model includes Working wipers (right mouse click on switch) with rain effect. Switches for LCD Screens, EICAS, PFD, MFT. Autobrake switch. Opening pilots window. Cabin Lights switch. Realistic FMC. Ground Proximity Warning System (GPWS) and additional G1000 MFD and PFD screens, More Realistic night VC textures. There are custom Boeing 757 sounds included for that extra realism. Edited views, wheel levels. Added wing views. Checklist included. See VC docs to get the best out of the VC and FMC. Textured and assembled for P3D 5.3 & FSX by Chris Evans.
Posted Jan 13, 2023 12:17 by chris evans