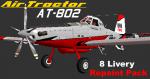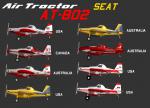 89.20Mb (282 downloads)
This is a high definition repaint pack for the FSN wheeled version of the AT-802. The AT-802 SEAT or Single Engine Air Tankers have been used widely across the world. Mainly in North America and Australia. The AT-802 is capable of operating on dirt strips and remote refill locations due to it's small size and ability to work from rough strips. This capability is widely used in Australia. The AT-802 is used widely in the US as a contracted initial attack aircraft for the USFS. But it is largly overshadowed by the large contracted air tankers the USFS uses. It's 2 competitors in North America are mainly the the Bombardier/Viking CL-415/215T Super Scooper and the Grumman/Marsh S-2F3AT Turbo Tracker flown by Cal Fire. The S-2 and CL-415s both carry more than 1,000 gallons. Making the AT-802's 800 gallon capacity the smallest of the category. It is also slower than it's twin engine competitors. Still a viable platform, used in pairs in tandem to add to the effectiveness of drops similar to the use of the CL-415, the 802s can also be used as lead / air attack platforms. More powerful versions of the AT-802 variants are currently being flight tested. The new derivative, the AT-1002 is larger and more powerful 802 was first flight tested in late 2013. It is still in development, but will be capable of carrying 1,000 gallons of retardant/water and carry nearly twice the fuel of the 802s currently. Making the 1002 closer in performance to the other aircraft in it's category. This repaint pack represents 8 liveries for several operators in the United States, Canada, and Australia. Repaints by Nicholas Mitchell.
Posted Apr 7, 2020 08:15 by Nicholas Mitchell
56.40Mb (938 downloads)
This package contains a FS-X native conversion of all my original Piaggio P-166 models developed for FS-2002/2004. All versions are included: P-166A, P-166BL-2, P-166CL-2, P-166M, P-166S, P-166DL-3 and P-166DP-1. The 3D models are virtually the same, so these are fairly simple models. Yet they come with a VC (no 2D panel this time!). With respect to the FS-2002/2004 releases, they come with very much improved panels, in two flavors: Piston and Turboprop. Gauges developed by Milton Shupe & Scott Thomas for the Aero Commander / Turbo Commander Aircraft series, and Edgar Guinart López of Aeroproyecto for the Embraer 110. Other Gauges from my own Piaggio P-180 & PD-808. Also Included is a brand-new flight model redeveloped from scratch. The 3D models are mildly improved, with a proper pilot figure, main panel backlighting and bump-mapping. Please refer to the Reference and Checklist pages provided via the FS Kneeboard for flying and operating instructions. Models converted with Arno Gerretsen's Model Converter X. The Piaggio P-166 is a light small twin. An Exotic twin-engine prop that sold all over the world including America, UK, and Australia. Its origin is traced Back to the Piaggio P-136, a light amphibian, which the P-166 keeps the wings, the engines and the tail planes. The first P-166A flew in November 1957. The aircraft was still in production in the early 21st century in an improved turboprop version, the P-166DP-1.
Posted Apr 2, 2020 10:58 by Mario Noriega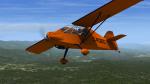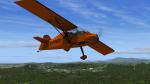 4.45Mb (83 downloads)
A repaint for Craig Richardson's Zippy Sport for FSX and P3D, available here: https://raraavissims.wixsite.com/rara-avis-sims/aircraft--z- Based on a real-world texture but rather different model, I have tried to make it fit as best I can (see included reference pictures for comparison). A revised prop texture is included - if it's not to your liking just overwrite with one from a default folder. By Gary Phillips.
Posted Mar 25, 2020 06:04 by Gary Phillips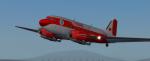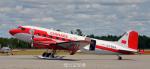 9.69Mb (101 downloads)
Fixed version: Basler BT-67 skis version China Chinare C-FGCX textures for the Basler BT-67 by Manfred Jahn and team
Posted Mar 25, 2020 03:31 by liao yitong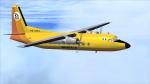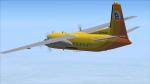 10.80Mb (75 downloads)
This is a repaint of the F-27-200 in Aviateca colors. The freeware FSX Native F-27 by Bjorn Kesten is needed for this repaint. The textures are 32bit DDS. It was tested on FSX-SE, but should work on FSX & P3Dv3. History of TG-AOA: Aviateca operated 3 F-27s over the years. The one depicted in this repaint is an F-27-200. History of TG-AOA: This aircraft began life with All Nippon Airways of Japan when it was delivered to them on November 3 1964. Ten years later to the month, it was sold to Air Niugini on November 28 1974. It was then bought by Aviateca with the registration TG-AOA, on April 6 1978. The Guatemalan Air Force was the next in line when they bought it on January 1 1983. They consequently converted it, in May 1985, to an F-27-400M which is the Military version. This version featured a large powered cargo door to facilitate movement of loads to the aircraft. It passed a few more hands along the way when it was finally bought by the German carrier WDL Flugdienst on May 15 1995.
Posted Mar 24, 2020 02:05 by Ted Giana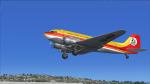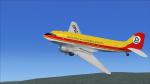 21.24Mb (42 downloads)
This is a repaint of a DC-3 in Aviateca colors. The freeware DC-3 (C-47) v3.14 by Manfred Jahn is needed for this repaint. This repaint was tested on FSX-SE. It should work on FSX & P3Dv4. Textures are 32bit DDS. History of TG-AKA: A total of five DC-3 served Aviateca. This DC-3 was first delivered to the USAF on May 16 1944, then on to the RCAF as KG956 on May 29, 1944. Its next move was to the RAF on Nov 6, 1944. It spent 2 years there, then it was bought by Canadair on Jul 17, 1946. Soon after it made its way to Empresa Guatemalteca de Aviacion (Aviateca) on January 27 1947 as LG-AKA. On October 29 1948 it was re-registered to Aviateca as TG-AKA. On Sep 30, 1977 in was involved in an accident at Flores-Santa Elena Airport in Guatemala when the tire burst on touchdown and aircraft went off the runway and the left gear dropped into a hole. Power on No 2 engine was applied, the tail raised, and the prop separated when striking the ground. There were three crew with one fatality.
Posted Mar 24, 2020 02:01 by Ted Giana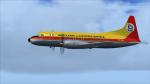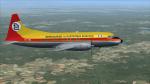 16.61Mb (33 downloads)
This is a repaint of the Convair 440 in Aviateca colors. The freeware CalClassic Convair 440 by Greg Pepper and Tom Gibson is needed for this repaint. Textures are 32bit DDS & BMP. This repaint was tested on P3D v3 and FSX-SE, it shoulkd also work on FS2004. History of TG-ABA: Aviateca operated 3 CV-440s in the 1970s. TG-ABA was a Convair 340 when it was ordered by Northeast Airlines of Boston but it wasn't taken up. Alitalia thus became the first operator of the propliner, which was delivered to them on August 24 1953. It was subsequently converted to a CV-440 and remained with Alitalia until it was bought by JAT in 1961. Two small time operations; Monarch Aircraft, and Ernest Moseley purchased the liner; the first owner in March 1974, and the latter in May 1975. Moseley then sold it to Aviateca on March 30 1976. It remained with Aviateca for 3 years, who then sold in January 1979. The aircraft was damaged beyond repair in April 1980.
Posted Mar 24, 2020 01:59 by Ted Giana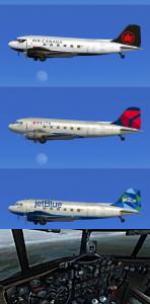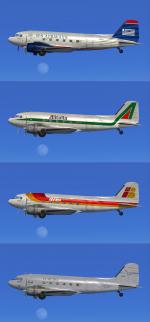 230.71Mb (631 downloads)
This package contains six modern fictional liveries:AIR CANADA, ALITALIA, DELTA, IBERIA, JETBLUE,USAF,USAIR. This package allows simmers to fly any of Manfred Jahn's V3 C-47s from a modern. Complete model included. Available even a basic HUD VC complete Repaint by JALopezR
Posted Mar 6, 2020 10:50 by JALopezR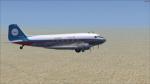 21.52Mb (72 downloads)
This is a repaint of a DC-3 in Alyemda colors. The freeware DC-3 (C-47) v3.14 by Manfred Jahn is needed for this repaint. This repaint was tested on FSX-SE. It should work on FSX & FSX-SE & P3D. Textures are 32bit dds. This repaint is of one of their 4 DC-3s, 7O-ABE. The DC-3s were phased out by 1980. Alyemda was founded by presidential decree om March 11 1971. It was the national airline of South Yemen (Aden). It replaced Brothers Air Services (BASCO) as the new national carrier.It acquired the BASCO fleet of DC-3s and the DC-6B. Alyemda's first jetliner, a Boeing 720B, previously operated by American Airlines, was delivered on November 25, 1974 and put to work early in 1975 on a daily service to Jeddah. Between 1979-1981 707s were purchased, together with a Tu-154. In 1983 the route network was : Abu Dhabi, Addis Ababa, Al Ghayday, Beihan, Bombay, Damascus,Djibouti, Jeddah, Kuwait, Mogadishu, Qishn, Riyan, Sana'a, Seiyan, Sharjah, and Socotra. 1984 saw them receive 2 737-200s, followed by a leased A310-300 from Airbus Industrie in 1993. Alyemda merged with Yemenia Airways Corporation to form Yemenia, on May 26, 1996.
Posted Mar 5, 2020 00:19 by Ted Giana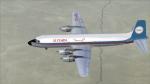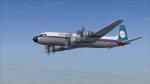 15.79Mb (65 downloads)
This is a repaint of the Douglas DC-6A (CB17 model) in Alyemda colors. The freeware CalClassic DC-6A CB-17 model by Greg Pepper and Tom Gibson is needed for this repaint. Textures are 32bit DDS & 32bit BMP. This repaint was tested on FSX-SE and should work on FSX & P3D v1-3, & FS2004. Alyemda operated 5 DC-6s from 1971 to 1985. This particular aircraft, 7O-ABO, was purchased from Inex Adria in June 1976. It flew for the carrier for 2 years, when it was damaged in Damascus in May 1978. It was withdrawn from use and stored in Aden in 1979.
Posted Mar 4, 2020 00:21 by Ted Giana