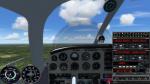 89.88Mb (544 downloads)
Native FSX Piper Arrow III PA-28R-201, non-turbo variant. Models by Rien Cornelissen. I did use the Arrow III PA-28R-201, non-turbo variant package, Arrow-3.zip by Rien to create a native FSX Piper Arrow III PA-28R-201 non-turbo, which Rien did not release as FSX native variant. I did use from Arrow-3.zip the data in the aircraft.cfg and did use the .air file from it. I then did use the external and internal models of the turbo variant Arrow III PA-28R-201T. I also did use the original panel from the Arrow-3.zip by Rien and except for 2 missing gauges it loaded straight in Prepar3D v4+ where it did perform well. Created a new extra panel with some enhanced gauges by Pierre Fasseaux. Created two new panels based on panel above with beige and blue colored VC front panels. So now there are four different panels. As Rien did, aircraft sound is aliased to the stock Mooney Bravo. Added are three liveries of which one completely new. More info and credits list in file Piper Arrow III PA-28R-201_mod.pdf. Happy flights.
Posted May 21, 2023 13:55 by Flanker256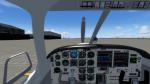 33.70Mb (833 downloads)
Piper Archer-III PA28-181 Pack. This is little revamp of the Piper Archer-III by Rien Cornelissen. Overall the gauges in VC now do have darker background or overall color as opposed to Rien's release. Many small changes and additions have been applied. For a full list see the file Piper Archer-III_mod.pdf in the 'Docs' folder of the aircraft. Some features to mention here are: - Newly created blue and green liveries. - Added new VC cameras. - Added documentation including Reference and Checks kneeboard files. - Added original POH for the Piper Archer III. - Small changes and additions in Light configuration. - Small additions to VC consist of: - CockpitSounds - Revised GNS 430 - Radio Stack - Annunciator panel is now more extended. - GPS-NAV switch in Auto Pilot, Heading value display and adjust values in Auto Pilot. - Some tooltips in overhead are added. - Recoloring of backgrounds of some gauges. - Made some gauges clickable to toggle them in expanded state. - Panel configurations for FSX included. - Install guide available in INSTALL.txt
Posted May 11, 2023 16:24 by Flanker256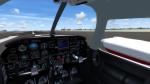 85.28Mb (777 downloads)
These modifications are for and of the Piper PA-44 Seminole aircraft created by Rien Cornelissen. They consist of modified gauges, added Cockpit sounds, added VC cameras, added documentation and kneeboard files, slightly changed light configuration, enhanced Bendix King Auto Pilot, TCAS, GPWS, and some new and some revised gauges as well. A new sound set has been added because of issues with the original aliased sounds in P3Dv4. Finally one newly created livery has been added. Now this pack has 4 different liveries. All has been tested okay in Prepar3D v4+.and in FSX as well. Note that this is the complete aircraft. See for full information and credits file 'Piper Seminole RC mod.pdf' in the 'Docs' folder of the aircraft. Happy flights.
Posted May 9, 2023 19:28 by Flanker256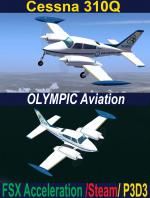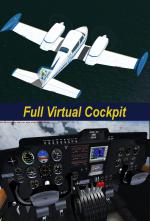 14.78Mb (325 downloads)
FSX/Steam/P3D3 Cessna 310Q Olympic Livery. This is a fictional livery of a Cessna 310 Q of Olympic Aviation. The reason for the livery is that I made a handcrafted 310 Q out of balsa wood & silkspan RC Model in 1977 that I still own in this same livery colors( I included photos of the RC Model in the package). You will need the original freeware Rob Richardson Cessna 310Q(Link Listed Bellow). Full VC and Continental T10 Sounds by Gary Jones. For the Microsoft Flight Simulator X SE. Happy Landings everyone. Repaint by Hellenic Aircraft/Yiannis Katehis Tsetsas 2023.
Posted May 6, 2023 18:20 by Yiannis Katehis Tsetsas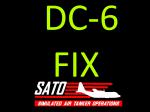 6.16Mb (66 downloads)
This is a fix for anyone that has issues with the DC-6 tanker pack's gauges not appearing. In some, not all installs for some reason, the gauges do not appear in the 2D or 3D panel. These two files should fix the missing gauges, as they were accidently omitted in the original release files. Simply drop the two files into your main P3D/gauges folder. Fix by Nicholas Mitchell.
Posted Apr 29, 2023 14:43 by Nicholas Mitchell

258.91Mb (164 downloads)
This is a comprehensive update from the original package for FSX/P3D. This being for P3Dv4+ only. The update includes the updating of aircraft's textures, addition of PBR, new updated model configurations/tanks, updated sounds, and a few additional liveries. This is the entire aircraft. Originally by the CalClassic Propliners team that gave me permission to create the original package, this is an improvement on that initial pack. The pack includes the DC-6/F aka: Baby DC-6 and the DC-6A and B models. Which encompass the shorter bodied airframe and longer bodied airframe with and without the aerodynamic propeller fairings on the prop hubs as well as other minor differences in configurations and tank designs. Despite the different airframes and performance differences the DC-6 platform carried up to 2,450 US Gallons or 22,050lbs of retardant/water aboard. The operators included in this package are variations from Aero Union, Conair, Securite Civile, UTA Industries, TBM Inc, Sis-Q Flying Service, and Macavia International. 5 model variations and 8 liveries total. Original aircraft by Tom Gibson, FSAVIATOR, Jens Kristensen, and Greg Pepper. Airtanker conversion and update modifications by Nicholas Mitchell.
Posted Apr 27, 2023 01:02 by Nicholas Mitchell
143.35Mb (332 downloads)
Hello and welcome to my Cal Fire S-2T Tanker pack. This has been a years work in progress with research and painting on and off with school and work. I have used Scorchs tanker pack since the day it was released, and the earlier paints even before that from Milton and his team. The original S2T Model by Milton Shupe, flight model by Tom Falley, sounds by Nigel, and paint by Rachael Whiteford, Scorch00(Nicholas), and possibly Jeremy "Tankerguy72" U. Paint lines were traced over on a new canvas to create the textures. Logos updated to high quality now that they are readily available, pilots updated to semi-correct uniforms. Both clean and retardant stain belly textures for each livery. Pick and choose, mix and match! You will need the original S-2T model by Milton and his team for these to work. This will be 1 of 4 Cal Fire packs that I will be releasing this year.
Posted Feb 27, 2023 00:15 by Delta

148.33Mb (203 downloads)
The Grumman F7F Tigercat, also known as the "Firecat" in aerial firefighting service flew as the first fast twin engine IA or Initial Attack firebomber in the United States. The Tigercat airtankers came equipped with an 800 gallon or 1000 gallon retardant tanks. These versions are the 1000 gallon tank version. The original model was done by Milton Shupe and with his permission I have combined it with the updated versions done by Gordon "Gman" Madison, and my own updates with PBR and some associated file updates. I have also included an addition six liveries to make a total of eight from the original releases for FS2004. Operators included in the pack are TBM Inc, SV Flying Service, Sis-Q Flying Service, and Cal-Nat Airways. Each operator has two liveries. Aircraft is only compatible in P3Dv4 and V5. Please read the readme file as there are many many people that have helped make the Tigercats possible over the years, and their names are part of this continuation. Many thanks to Milton Shupe. Additional repaints and modifications by Nicholas Mitchell
Posted Feb 24, 2023 00:11 by Nicholas Mitchell

450.83Mb (267 downloads)
This package is an updated version of the v1.0 package. However this pack is for use entirely in P3Dv4 or newer sims. Originally based on FS KBT's L-188 Passenger and Cargo versions, I was given permission by KBT to create the airtanker versions. This expands upon that permission updating them for use exclusively in the newer sims. The two models have been vastly updated and improved. Largely are a completely updated interior and exterior PBR added to them. Some other quality of life updates, effects, and texture updates for all 13 liveries contained in this pack. 9 aircraft for Air Spray, 2 for Buffalo Airways, and 2 for Conair. The Lockheed Electra tankers serve mostly in the confines of Canada, but have seen service in South America and the United States. The Electras are extremely fast aircraft, capable of flying at speeds in excess of 400 mph and able to carry 3,000 gallons of retardant. They have proven workhorses of the Canadian Territories in many a fire season. Original Aircraft by FS KBT, modified by Nicholas Mitchell.
Posted Jan 19, 2023 04:01 by Nicholas Mitchell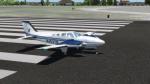 17.01Mb (285 downloads)
This is the default Beech Baron converted to the Beech 58 TC flight dynamics and specs. This turbocharged Baron is capable of 280 MPH in level flight. Unfortunately the model provided by Mark Rooks of his mod was in non-native FSX format. So I took the default FSX models but used the FDE provided by Mark Rooks which consisted out of an aircraft.cfg file plus an .air file. In that aircraft.cfg I did make changes to the [Lights] section, added extra Taxi and Landing lights. Then I replaced the annoying strobe light causing flashing in VC by a smaller strobe light. Also I added VC cameras in it. Then I added a FSX stock livery and a livery by Zane Gard, Jr. (N453TB) In the Panel.cfg I changed the background texture of the Airspeed Indicator so that the speed needle point to higher values in the 'green arc'. ALso some small other changes, compared to the default panel.cfg Sound is aliased to a Beech King Air, as Mark Rooks did. In this package the models are NOT provided so you must take them from your FSX or Prepar3D install disks. If you have already installed a beech_baron_58 then you're okay. For a different sound you can edit the sound.cfg file in the beech_baron_58TC sound folder. If you like the new light configuration you can of course, bring it over to the default baron 58. All tested okay in Prepar3D v4.
Posted Jan 10, 2023 21:00 by Flanker256