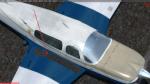 8.19Mb (42 downloads)
Edited mooney_bravo_t.dds files for the stock liveries. Editing is done for both the Prepar3D files and the Ms FSX files (although I think there is hardly a difference). Edited part is the wing step texture part on the right wing. I did repaint it because I did not like the stock paintings wing step parts which did seem to me as kind of a tarmac part. See the images for yourself. I hope you'll find these repaints useful.
Posted Nov 29, 2022 20:26 by Flanker256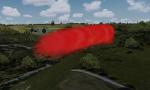 18.38Mb (115 downloads)
This is a repaint pack for the Grumman S2A Tracker by Milton Shupe. This will cover the last of the CDF Green Machines used from the late 70's to mid 80s. Works in FSX and P3D. Tankers added are 90, 91(Orange stripes), 92(orange stripes), 93(Orange stripes), 94, 96, 100.
Posted Nov 28, 2022 01:12 by Delta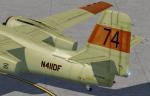 0.55Mb (102 downloads)
This is a repaint pack for the Grumman S2A Tracker by Milton Shupe. This will cover more of the CDF Green Machines used from the late 70's to mid 80s. Works in FSX and P3D. Tankers added are 70, 73, 74, 75, 76, 77, 78(Orange stripes), and 80.There will be one more pack of the green machines.
Posted Nov 28, 2022 01:06 by Delta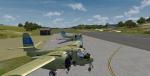 6.22Mb (75 downloads)
This is a texture fix pack for my first CDF Green Machine pack, #3 in the series of 5 for the S2A. Read me included. Drag and drop to overwrite existing files and you're done.
Posted Nov 28, 2022 00:46 by Delta
259.08Mb (48 downloads)
Repaint pack 4 of 4 for the stunning now freeware Aeroplane Heaven C47 Skytrain. Contains 6 Repaints of the USAAF Circa 1944 till present. Tested in P3Dv5 and V4. This Aircraft can be found in the ORBX Central Library.
Posted Nov 26, 2022 06:26 by Ash Oxley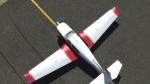 6.59Mb (140 downloads)
Texture files of a new livery for the stock Mooney Bravo (M20M) as delivered with FSX and later Prepar3D. This livery will work in FSX and all versions of P3D. It's a fictional painting inspired on a real Mooney as seen on picture FSX Mooney Bravo_.jpg (in livery folder). That picture was extracted from a Mooney checklist I found on internet. To install the livery see file: Cfg.txt Happy flights.
Posted Nov 23, 2022 01:55 by Flanker256

73.58Mb (43 downloads)
This package is for my recently released OV-10 Air Attack Pack. The repaint pack includes all 16 OV-10s currently in Cal Fire's service. All air attack bases as well as the spare relief aircraft kept at McClellan in Sacramento are included. The aircraft have all their respective proper individual markings to represent their active stations. These are to be used on the current Cal Fire 5-blade models of the pack. All files have also been converted to .dds files from the base pack. Repaints by Nicholas Mitchell.
Posted Nov 23, 2022 01:16 by Nicholas Mitchell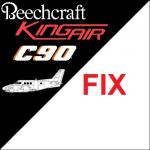 3.44Mb (267 downloads)
This archive contains small fixes and quick enhancements for the FSX/P3D Beechcraft King Air C90 V4 Air Attack Pack as posted by Nicholas Mitchell Oct 25, 2022 01:02 The new aircraft.cfg here already contains the fix as provided by Nicholas Mitchell Posted Oct 26, 2022 00:55. Main fix here is the restoration of the NAV radios. They do work now. Additions are extra VC cameras and IMHO a slightly better Panel.cfg containing CockpitSounds.
Posted Nov 22, 2022 12:29 by Flanker256

247.24Mb (211 downloads)
The OV-10 Bronco has flown in various services and countries since the late 1960s. In the 1990s the Bronco was introduced into the role as being an air tactical aircraft for aerial firefighting. This package consists of 4 variations of civilianized OV-10 Broncos flown by the Bureau of Land Management, California Dept. of Forestry, and then Cal Fire. The base aircraft is from Tim "Piglet" Conrad and was updated to 4k textures, PBR, bump maps by George Arana. The air attack versions were modified and created by me however. But based on George Atana's extensive base updates. The package includes the standard OV-10A with 3-blade propeller and an external tanked version. The two others are of the current configuration of Cal Fire's OV-10s with the 5-blade propeller and early Cal Fire service OV-10D with 4-blade propeller. The paints included are for the Bureau of Land Management scheme flown on N97LM, CDF AA330 flown out of Ramona AAB, AA310 flown out of Hemet, and lastly AA505 home based out of McClellan AAB, Cal Fire's HQ. In addition to the extensive external updates, I have also modified the interior slightly to represent the civilianized Broncos somewhat. I have also made custom sounds for the OV-10s as each version of the different prop and engine Broncos makes each version sound slightly different than one another. The OV-10 has served as an air tactical platform for aerial firefighting since the 1990s and continues to serve with Cal Fire currently with numerous updates. Aircraft is only compatible in P3Dv4 or newer sims. Cal Fire's current fleet repaint pack is also planned in the future. Original aircraft by Tim Conrad, P3Dv4 conversion George Arana (Eagle Rotorcraft Simulations), Air Attack Conversions by Nicholas Mitchell (Simulated Air Tanker Operations).
Posted Nov 18, 2022 02:50 by Nicholas Mitchell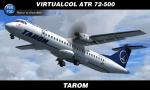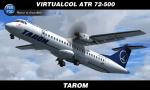 6.49Mb (161 downloads)
VirtualCol ATR 72-500 in Tarom Old Colors livery. Texture only for the ex payware VirtualCol model. Repaint by Sergey Gleba aka serg09. Description and instruction in the archive. Link to my products on SimMarket: http://secure.simmarket.com/paintsim.mhtml
Posted Nov 4, 2022 12:36 by Sergey Gleba aka serg09