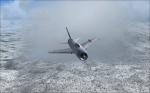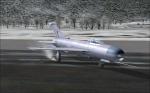 18.57Mb (477 downloads)
MiG-I3U by Josef Cepek for FSX, should go in P3D all versions. The I-3U was modified from the unfinished I-3; the fuselage was stretched, the nose redesigned to accommodate the Uragan-1 fire control system above the inlet and an Almaz search radar with a search/track range of 17 km was fitted in the cone centered in the inlet. Armament consisted of two 30 mm Nudelman-Richter NR-30 cannon with symmetrical auto ranging connected to the radar. In addition to the fire control system, Mikoyan-Gurevich also used, for the first time, titanium alloys in the rear fuselage where high temperatures were expected. The conversion from I-3 to I-3U was completed in 1956. Flight testing took place on an irregular basis in 1956–1958 due to engine flaws and frequent modifications. A total of 34 test flights were carried out, with design bureau test pilot Georgiy Mossolov reaching a speed of 1960 km/h at attitude on one flight. The program was cancelled on June 17, 1958.
Posted Nov 26, 2020 00:41 by Diogenes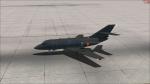 4.62Mb (245 downloads)
This is th only Dassault Falcon 20 that is operative in the Spanish Air force (Ejercito el Aire) on the 47th ECM/AAR squadron. This plane is used for elecronic warfare and elite missions. This aircraft is based in Torrejon AFB, Madrid. Original model by Rotorcraft. Textures by Alex.
Posted Nov 21, 2020 10:11 by Alex M. D.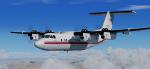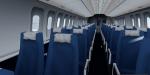 86.30Mb (668 downloads)
FSX/P3D de Havilland Canada DHC-7 United States Army pack. The United States Army uses the DHC-7 as a surveillance aircraft. Model by Milton Shupe, Mike Kelly, George Arana and Sim-Outhouse. FSX native conversion by Eagle Rotorcraft Simulations. Thanks to Matt Ervin for the great textures. Textured and tested in P3Dv5 by Chris Evans. Should work in FSX and all previous P3D versions.
Posted Nov 11, 2020 11:26 by chris evans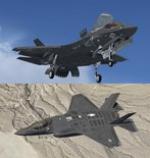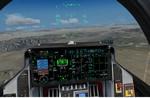 183.75Mb (62045 downloads)
FSX Acceleration/P3D (incl.v4) Lockheed Martin F-35 Lightning II, version 2.30. The F35 Lightning II is a fifth-generation, single-seat, single-engine stealth multirole fighter that can perform close air support, tactical bombing, and air defense missions. The F-35 has three different models: the F-35A is a conventional takeoff and landing variant, the F-35B is a short take off and vertical-landing variant, and the F-35C is a carrier-based variant. Includes custom HUD by Jivko Rusev and Scott Printz, sound package by Serge Luzin, and conventional flight dynamics by Roberto Leonardo and full STOVL functionality by Rob Baredregt and Mario Motta. Package also contains detailed documentation. Designed by Dino Cattaneo (Previous version downloaded 16132 times)
Posted Oct 14, 2020 04:24 by dino cattaneo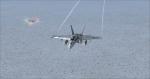 14.16Mb (275 downloads)
US Navy VFA-146 Blue Diamonds repaint for the FSXBA F/A-18C Hornet. This file contains two textures. Strike Fighter Squadron 146 (VFA-146) also known as the "Blue Diamonds" is a United States Navy an operational fleet strike fighter squadron based at Naval Air Station Lemoore California.
Posted Oct 1, 2020 14:58 by Dustin Kosman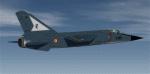 6.87Mb (360 downloads)
This is a repaint of the updated Gmax Mirage F1C by Kirk Olsson/Henk Schuitemaker. It is a demonstration of the Mirage F1C in its original configuration without any RWR antenna on the tail. It is painted as an F1C from the Armee de l'Air during 1975. This aircraft was assigned to Escadron de Chasse 1/5 'Vendee' at BA 115 Orange. It wears the original Mirage F1C markings for EC 1/5 with the insignia of SPA 26 (stork) and SPA 124 (Joan of Arc). Repaint by Frank Safranek using paintkit by Henk Schuitemaker
Posted Sep 23, 2020 18:18 by Frank Safranek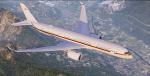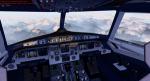 81.28Mb (1149 downloads)
FSX/P3D Airbus A350-900XWB Bundesrepublik Deutschland (German Air Force One) package. This is the new Airbus A350-900 XWB for the German Government. Maybe the most luxurious aircraft ever produced? FSX native AI model by FS Painter. 2020 updated vc by Speedbird77. Textures, assembled and tested in P3D v5 and should be ok in FSX and earlier P3D versions. By Chris Evans.
Posted Sep 6, 2020 01:42 by chris evans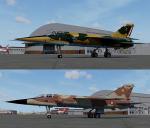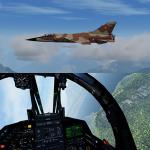 69.27Mb (1498 downloads)
Kirk Olsson's FS9 gmax Mirage F1 converted for use in P3Dv4 and 5. Includes: New textures, configuration manager. The cockpit is almost completely rebuild and features a.o. 3D modeled gauges/switches and P3D dynamic mirrors. Just like the original FS9 model, the layout is based on the Mirage F1.CR version. This package is created for / tested in P3Dv4 (also works in P3Dv5) and requires XMLTools (64bit) to enable all features (weight and fuel gets updated by changing payload/fuel options, dumping fuel or in flight refueling. Radio preset frequencies are loaded from a customizable text file). Credits: Kirk Olsson for allowing use of his files, Frank Safranek for his valuable feedback and testing, Jens Ole Kjolberg for the F.1ZA textures. Henk Schuitemaker
Posted Aug 25, 2020 08:19 by admin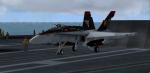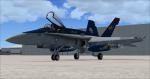 52.44Mb (355 downloads)
This package for the FSXBA F/A-18C Hornet contains two squadrons (VFA-15 & VFA-87) with two textures each. This file comes with textures only so you will have to place them into any FSXBA F/A-18C file that is already downloaded.
Posted Aug 17, 2020 02:40 by Dustin Kosman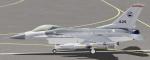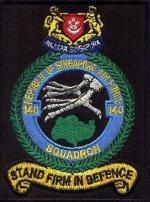 12.59Mb (172 downloads)
Due to the lack of repaints for Singapore's air forces, as well as to commemorate Singapore's 55th National Day, I have repainted the default P3D F-16C in the RSAF 140 Sqn. colours, S/N 625, based on pictures on the internet. The RSAF operates the F-16C/D Block 52. To my fellow Singaporeans, happy belated National Day! Rev 2: Incorrect engine type fixed (now correctly using F100-PW-229). I apologize for the error. zachary77 (Zachary Tay)
Posted Aug 12, 2020 07:33 by Zachary Tay