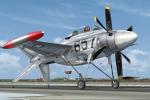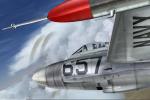 61.59Mb (817 downloads)
Updated Lockheed XFV-1. After releasing v1, I compared my XFV-1 to the photos again and felt it needed fixing. Because I modeled 9 years ago when I was still inexperienced with FSDS. So I bulged out the canopy and the lower fuselage a bit. I also sharpened the spinner a little and installed the tail wing parts that I had forgotten. So Luckily the texture wasn't a large scale fix. I also fixed some other concerns. Improved flight dynamics and engine performance. Fixed autopilot lamp gauge XML. About the night display of the VC warning lamp, about the shadow of the propeller, adjustment of the specular map, etc. It was failing to land vertically on hard realism settings, but the success rate has been increased. FSDS 3.5 model by UENOSHING. Also works in P3D.
Posted Aug 25, 2022 16:33 by UENOSHING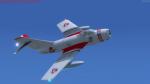 5.95Mb (65 downloads)
Egg Girl aircraft toy skin for Bear Studios New MiG-15Bis P3D version. Need the complete mod to use this skin The aircraft mod release on Just Flight https://www.justflight.com/product/bear-studios-mig-15-p3d-fsx Simmarket https://secure.simmarket.com/bear-studios-mig-15bis-p3d4-5-fsx-fsxse.phtml
Posted Aug 18, 2022 07:00 by Bill Wolfgen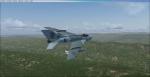 16.07Mb (140 downloads)
Six historical textures for Yan Tao's MiG-19 in the colors of Bangladesh, Vietnam, China and Pakistan. Works in FSX/FS2004 and P3D up to v3.
Posted Aug 13, 2022 00:37 by Nilsson.J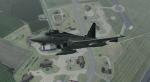 12.80Mb (271 downloads)
Repaint for the IndiaFoxtEcho Typhoon. ZH588 Development Aircraft #1. Depicted in its original roll out scheme (two tone) shortly after being fitted with the EJ200 Engines. A short while later it was painted all black. Tested in P3DV5.3
Posted Aug 5, 2022 06:27 by Ash Oxley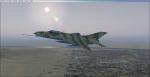 49.05Mb (152 downloads)
Textures for Ivan Jurcaga's MiG-21 F-13 in the colors of Bulgaria, Egypt, East Germany, Poland, Indonesia, Syria and Hungary.
Posted Aug 3, 2022 20:44 by Nilsson.J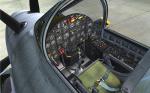 55.96Mb (758 downloads)
The Lockheed XFV-1 is a US Navy tail-sitter VTOL prototype manufactured in the early 1950s. When I first saw the XFV-1, I was fascinated by its unique shape. The protruding cockpit and canopy, the large inflated propeller spinner, the beauty of the curves around the air intake, the tail wing tires like casters on an office chair, and the simple landing gear like training wheels on a kid's bicycle. On the ground, it looks like an animal standing on two legs. The more I look at it, the more attractive it is, so I wanted to make it the FS model. This model has bump mapping and specular mapping. I haven't tested it to work other than FSX. (Admin: Also tested well in P3Dv5) FSDS v3.5 model by UENOSHING.
Posted Aug 2, 2022 10:31 by UENOSHING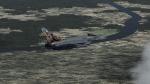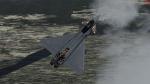 15.45Mb (129 downloads)
Textures for FSX-P3D Dino Cattaneo Eurofighter, Wing 14, Tiger Meet 2018 Based in Albacete AB. This work has been done in collaboration with my friend Ramon Ep
Posted Jul 12, 2022 01:52 by Antonio Diaz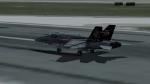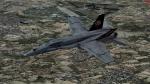 8.49Mb (156 downloads)
Textures for default FSX-P3D F-18. Livery Spanish Air Force Tiger Meet 2022 , Wing 15 , based in Zaragoza AB
Posted Jul 11, 2022 01:04 by Antonio Diaz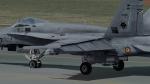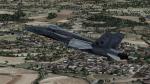 10.37Mb (155 downloads)
Textures for default FSX-P3D F-18. Livery Spanish Air Force 40 Anniversary of Spain in NATO, Wing 12 , based in Torrejon AB.
Posted Jul 11, 2022 01:02 by Antonio Diaz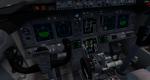 122.97Mb (630 downloads)
FSX/P3D Boeing E-7 Wedgetail AEW Royal Air Force (RAF). The RAF has ordered 5 E7 Wedgetails to replace the E3 Sentry. Deliveries are expected in 2023. Includes military themed VC. The Boeing 737 AEW&C was originally designed for the Royal Australian Air Force (RAAF) and named as the E-7A Wedgetail. It is possible thatNATO may use these in the future. FSX Native 737 AEW&C model by TDS. Package includes military themed 737-800 VC by Alejandro Rojas Lucena/FSND/Ken Wiggington upgraded Boeing 737-800 VC model. Autobrake switch. Opening pilots window. Cabin Lights switch. Realistic FMC. Ground Proximity Warning System (GPWS). Includes added MFD and PFD panels. Exits, wheel levels, jetways and views corrected for FSX/P3d. See VC docs to get the best out of the VC and FMC. Textured and texted in P3D 5.3 by Chris Evans. Should also work in earlier P3D versions as well as FSX.
Posted Jul 4, 2022 09:03 by chris evans