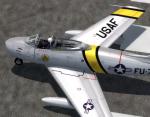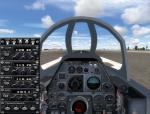 1.69Mb (578 downloads)
FSX/P3Dv3 & 4 North American F-86F Sabrefix. This fixes the radio problem and adds a better looking outside cockpitview. Replace panel.fsx and aircraft.cfg and put NAF86Painel.bmp into the texture.common map. Fix by A.F.Scrub.
Posted Jul 23, 2019 05:49 by A.F.Scrub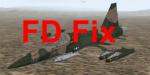 0.00Mb (856 downloads)
Flight dynamics fix for the FSX/p3D F5-A. Credit to Bob Chicilo
Posted Jul 17, 2019 15:47 by GARNIER D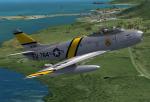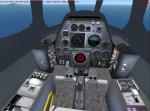 23.03Mb (1099 downloads)
FSX/P3Dv3,v4 North American F-86F Sabre The North American F-86F Sabre was the most capable western fighter of the early- to mid-1950s. This swept wing, single engine jet was the most important western aircraft of the Korean War and often tangled with Russian-made MiG-15s over the infamous 'MiG Alley'. It was a hard struggle not only for the Korean sky, but also between two excellent aircraft builders of the East and West. In addition to its primary role as an air-to-air fighter, the Sabre could also carry bombs and air-to-ground rockets to attack ground targets. FSX/P3Dv3/v4 mdl by A.F.Scrub
Posted Jul 15, 2019 10:45 by A.F.Scrub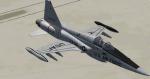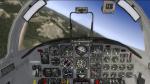 71.32Mb (2068 downloads)
Northrop F-5A for FSX and P3D4. The Northrop F-5A is a USA supersonic flighter introduced in 1962 and still in service today. Original model by Tim Conrad. FSX native MDL X conversion with added VC textures and FSX panel and VC mods by Bob Chicilo. Sounds added. FSX native /P3D4 model included. Danny Garnier
Posted Jul 13, 2019 08:22 by GARNIER D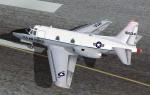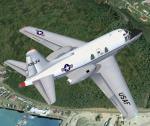 0.53Mb (471 downloads)
FSX/P3Dv3,v4 T-39 Sabreliner texture fix This fixes the wingfences texture of the Sabreliner. Replace the old mdl by the new one and put wingfences.dds into the sabreliner texture folder. Fix by A.F.Scrub
Posted Jul 12, 2019 03:13 by A.F.Scrub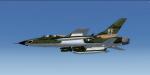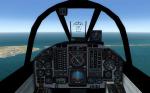 43.86Mb (1563 downloads)
Republic F-105D Thunderchief for FSX and P3D4. The Republic F105 Thunderchief was a USA supersonic flighter bomber in service between 1958 and 1984. Original model by Alphasim. Used the FSX native MDL X conversion by Cirrus N210MS at simouthouse and the FSX pansl and VC mods by Philipe Walleart. Sounds added. FSX native /P3D4 model. Danny Garnier
Posted Jul 7, 2019 03:14 by GARNIER D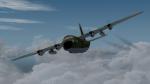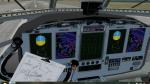 160.81Mb (5030 downloads)
FSX / P3Dv3 C-130 Hercules. This is a medium-heavy tactical transport aircraft powered by four turboprop engines, manufactured in the United States since the 1950s by the company Lockheed (now Lockheed Martin). The Hercules is the main transport plane of many armed forces in the world. It has served in more than 50 countries, in its nearly 40 different versions and models, in countless military, civilian and humanitarian aid operations. In December 2006, the C-130 became the fifth aircraft (after the English Electric Canberra, Boeing B-52 Stratofortress, Tupolev Tu-95 and Boeing KC-135 Stratotanker) to reach 50 years of continuous use with its original primary client, in this case the United States Air Force. And, in addition, it is one of the few military aircraft that continues in production after 50 years, currently it is making the updated Lockheed Martin C-130J Super Hercules version. On the model of Simshed and multiple skins of several authors to whom the merits go, I have personally made changes in sound, textures and gauges, smoke system, props and other details for its correct use in FSX up to P3Dv3. See the readme file for the correct vcualization of vc cockpit. Enjoyment....
Posted Jul 6, 2019 14:18 by Rodolfo Valery
79.40Mb (1716 downloads)
FSX/P3D > v4 Boeing P8 Poseidon US Navy 951 package. Includes retouched VC textures to more resemble modern 737's. The Boeing P8 Poseidon is a highly modified Boeing 737-800ER for the US Navy with many additions to include anti submarine, anti sea surface and is equipped with highly developed naval detection and anti warfare systems. FSX Native P8 Poseidon model by TDS. The VC is the Alejandro Rojas Lucena/FSND fantastic revised Boeing 737-800 VC model. This VC model includes Working wipers (right mouse click on switch) with rain effect. Switches for LCD Screens, EICAS, PFD, MFT. Autobrake switch. Opening pilots window. Cabin Lights switch. Realistic FMC. Ground Proximity Warning System (GPWS), More Realistic night VC textures. There are custom Boeing 737 sounds included for that extra realism. Added G1000 PFD and MFD nav systems including manual. VC added and aircraft.cfg edited to allow correct VC views, jetways, wheel levels and wing views. See VC docs to get the best out of the VC and FMC. Textured and assembled for P3D 4.5 by Chris Evans. Will certainly also work in earlier P3D versions as well as FSX.
Posted Jul 3, 2019 01:22 by chris evans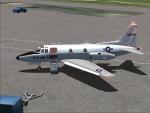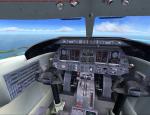 28.49Mb (1292 downloads)
FSX/P3Dv3,v4 T-39 Sabreliner The North American Sabreliner, later sold as the Rockwell Sabreliner, is an American mid-sized business jet developed by North American Aviation. It was offered to the United States Air Force (USAF) in response to its Utility Trainer Experimental (UTX) program. It was named "Sabreliner" due to the similarity of the wing and tail to North American's F-86 Sabre jet fighter. Military variants, designated T-39 Sabreliner, were used by the USAF, United States Navy (USN) and United States Marine Corps (USMC) after the USAF placed an initial order in 1959. The Sabreliner was also developed into a commercial variant. FSX/P3Dv3,v4 native upgrade by A.F.Scrub
Posted Jul 2, 2019 01:59 by A.F.Scrub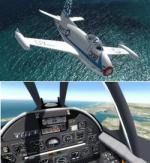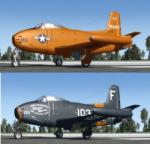 75.01Mb (982 downloads)
North American FJ-1 Fury Package for FSX and P3D4. USN, NAS, NATC liveries included. The North American FJ-1 Fury was the first operational jet aircraft in United States Navy service, and was developed by North American Aviation as the NA-135. Original model by Kazunori Ito. FSX native MDL X conversion by LLS. Panel and basic VC modified with P4D4 compatible gauges. Sounds added. . FSX native /P3D4 model. Sorry I forget radio stack in 1st version. Danny Garnier
Posted Jul 2, 2019 01:28 by GARNIER D