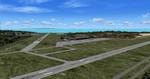 0.18Mb (36 downloads)
HUEN, Entebbe Airport Uganda, for FSX. New setup of this airport I came across in one of my virtual flights. Entebbe Airport is the principal international airport of Uganda on the shores of Lake Victoria. In 1976 the old airport was the scene for a remarkable rescue mission, dubbed as 'Operation Entebbe'. Tim van Ringen
Posted Mar 24, 2018 06:03 by uploader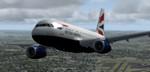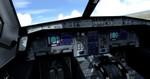 70.87Mb (363 downloads)
FSX/P3D> v4 Airbus A319-100 British Airways package. British Airways currently (March 2018) fly 44 Airbus A319-100. The Airbus A319-100 is part of the A320 family carrying up to 160 passengers and with a range of up to 6900km/4300miles. High quality FSX native model by Project Airbus. Added the better Thomas Ruth VC with updates by Chris Evans and Louis Quintero. Use FMC under Views/Instrument panel in FSX menu. (FSX : Go to Views -Instrument Panel. P3D: Go to Vehicle - Instrument panel) I included the great textures by Mathieu Vos. Includes FMC by Garret Smith. Airbus sounds and manual included. Custom packaged by Chris Evans
Posted Mar 23, 2018 06:35 by chris evans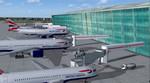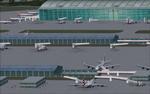 5.84Mb (359 downloads)
London Heathrow Terminal 5 FSX scenery. This Scenery for london Heathrow Airport contains realistic renditions of terminal 5A, 5B, and 5C, as well as the new control tower. Also features the "HSBC" jetways found at the real Heathrow airport. Works well with the Project Airbus A32X series and the world-of-ai British Airways Traffic (and other airlines too). By Dr. Macouglious
Posted Mar 23, 2018 05:17 by uploader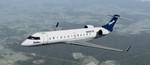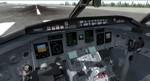 84.21Mb (270 downloads)
FSX/P3D >v4 Bombardier CRJ-200 Skywest package. Skywest Airlines is based in St. George, Utah and is said to be the largest regional airline in the US. It operates along with partner airlines and currently (March 2018) has a fleet of 20 CRJ-200 flying with the Skywest livery. FSX native CRJ200 model by Iris with new upgraded VC by David Hoeffgen. Includes built in FMC, working wipers and more (see VC docs in folder). High quality model. All credit to the fantastic talents of the Iris team and David Hoeffgen. Thanks to Matthew Miler for the great textures. Other updates by Chris Evans.
Posted Mar 22, 2018 14:14 by chris evans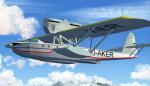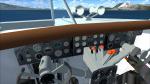 32.83Mb (372 downloads)
The Dornier Do J Wal ("whale") was a twin-engine German flying boat of the 1920s designed by Dornier Flugzeugwerke In the military version (Militärwal in German), a crew of two to four rode in an open cockpit near the nose of the hull. Several countries, notably Italy, Norway, Portugal, Uruguay and Germany, employed the Wal for military tasks. The civil version had a cabin in the nose, offering space for up to 12 passengers, while the open cockpit was moved further aft. Main users of this version were Germany, Italy, Brazil and Colombia. The Norwegian polar explorer Roald Amundsen used two Dornier seaplanes in his unsuccessful attempt to reach the North Pole in 1925. His two aircraft, N-24 and N-25, landed at 87° 44' north. It was the northernmost latitude reached by any aircraft up to that time. This is an FSX update for the FS2002 model of the Wal, posted by the "Freeware Project Dornier Whale" in 2003. It features three closed cabin models and one open cabin model in four different liveries. The focus of this update lies on completely reworked VCs and new 2D panels, giving the cockpits a much more realistic appearence. Included are three different panels (two for the closed cabin model and one for the open cabin) with now all German authentic gauges of the 1920s. Thanks to Michael Garbers, Wolfram Beckert, Uwe Hochmuth and Markus Senkbeil for the original models, reworked VCs and new 2D panels by Michael Pook.
Posted Mar 22, 2018 08:29 by Michael Pook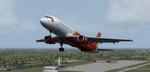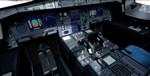 63.25Mb (197 downloads)
FSX/P3D (all versions) Airbus 320-200 Vietjet Air package. Vietjet is a Vietnamese low cost airline and currently flies 24 A320-200 (March 2018). Model by Project Airbus. Added the better Thomas Ruth VC with updates by Chris Evans and Louis Quintero. Use FMC under Views/Instrument panel in FSX menu. (FSX : Go to Views -Instrument Panel. P3D: Go to Vehicle - Instrument panel) I included the photo-realistic textures by Sergey Gleba and the A320 checklist by Werner Schott. A320 sounds by Abid Mounir. Includes FMC by Garret Smith. A320 sounds and manual included. Custom revised package by Chris Evans
Posted Mar 21, 2018 14:05 by chris evans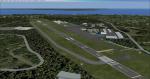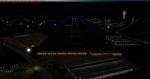 30.28Mb (238 downloads)
This is scenery for Hilton Head Island Airport, on Hilton Head Island South Carolina. Identifier KHXD. Changes include Lengthening the runway to its current length, Re designing the taxiway and ramp layout to match the real world airport, Updating instrument approach and magnetic variation, updating landclass around the airport. The airport has seen extensive construction since the default 2006 date. Taxiway A has been relocated, and the runway has been lengthened. Full change log is in the read me. This airport has special VFR departure and arrival procedures detailed in the read me. They make this airport quite a fun place to visit. This mod is standalone, but also a update to my Greater Savannah Area scenery package. Compatible with FSX and all versions of P3D. The download is standalone, the "required file" below merely links to the Greater SAV area scenery of which this download updates 1 airport.
Posted Mar 21, 2018 05:26 by CountryFlyboy
65.21Mb (567 downloads)
FSX/P3D >v4 Boeing 767-300ER Tui Airways G-OBYF package with advanced VC. TUI Airways is the British wing of the German TUI Group and currently (March 2018) operate 4 Boeing 767-300 on flights throughout the world. Package includes advanced 737-800 VC added. Includes utility for ground services, cargo, stairs, etc (FSX find it under - Views/P3D Vehicle - Instrument panel - - Posky Utility) The great native FSX Boeing 767-300ER from Project Opensky/Skyspirit will be enjoyed by many more people who do not know how to install a VC, views, exits, Utilities etc into a FSX native model. The layout fof the 767 cockpit is not a million miles away from the advanced 737-800. The VC is the Alejandro Rojas Lucena/FSND fantastic revised Boeing 737-800 VC model. This VC model includes Working wipers (right mouse click on switch) with rain effect. Switches for LCD Screens, EICAS, PFD, MFT. Autobrake switch. Opening pilots window. Cabin Lights switch. Realistic FMC. Ground Proximity Warning System (GPWS), More Realistic night VC textures. There are custom Boeing sounds included for that extra realism. Jetways also edited (Ctrl j) and VC views corrected for FSX/P3d. Added extra views. I have added the high quality textures by Torsten Martke, and added 767 sounds for more realism. See VC docs to get the best out of the VC and FMC. Packaged for P3D/FSX by Chris Evans.
Posted Mar 20, 2018 13:27 by chris evans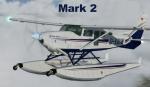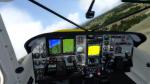 192.45Mb (953 downloads)
Cessna T206H Soloy Turbine Pac Mark 2 V1.0 for FSX and P3Dv1-3. (Separate P3Dv4+ available). It contains 9 different FSXA native models with 12 repaints. All models are prepared to use alternative avionics like F1 G500/600, F1 GTN 750/650, F1 GNS, Bendix KLN 90B and RXP GNS. Instructions for the installation of RXP GTN are included. Important: XMLTools must be installed to get a realistic engine behavior. Please read readme/manual. By Thomas Roehl and Alexander M. Metzger.
Posted Mar 19, 2018 18:24 by Thomas Roehl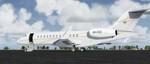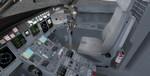 81.84Mb (713 downloads)
P3D 3/4 /FSX Bombardier Global Express XRS (9H-FED) Package. The Bombardier Global Express is a large, ultra long range business jet manufactured by Bombardier Aerospace in Toronto, Ontario. This particular aircraft is owned by Hyperion Aviation Ltd, as private jet hire. FSX Native model by Iris with added enhanced new upgraded VC by David Hoeffgen , includes built in FMC, working wipers and more (see VC docs in folder). Added the high quality textures by Quincio. Includes Honeywell FMC (Find it in Instrument panel - Views) and revised MFD and custom sounds. High quality model with opening doors and stairs. Updates by Chris Evans.
Posted Mar 19, 2018 13:33 by chris evans