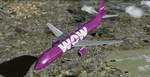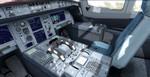 54.74Mb (204 downloads)
FSX/P3D V3 (Not V4) Airbus A321-200 Wow Air. Icelandic low-cost carrier WOW air, is based at Keflavik Airport in Iceland. As of july 2017 Wow operate 10 A321 with orders for 5 more. Includes enhanced default A321 VC with better gauges and popup FMC (Go to FSX top menu - Go to Views -Instrument Panel), GPWS callouts. Custom CFM sounds. Corrected VC views. Also added jetway configs (Ctrl J). Model by Project Airbus. Internal model by Thomas Ruth with updates by Louis Quintero, FMC by Garret Smith and some further edits by Chris Evans. High quality textures by Stefan Bree. Will work in FSX and P3D up to version 3 but NOT V4. Assembled and tested by Chris Evans
Posted Jul 25, 2017 07:05 by chris evans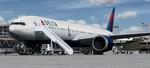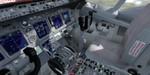 74.63Mb (392 downloads)
FSX/ P3D 3/4 Native Boeing 777X Delta updated package with Virtual Cockpit and working FMC. As of July 2017 Delta have not ordered the new Boeing 777X (yet). Delta currently operate the B777-200 and it is quite possible they may order 777X in future. The Boeing 777X is a new series of the Boeing 777 family under development. The 777X will have two variants; the 777-8 and the 777-9. The 777X will feature new engines, new composite wings with folding wingtips and other elements from the Boeing 787. It is intended to compete with the Airbus A350 with deliveries expected to begin around 2020. The VC is the Alejandro Rojas Lucena/FSND fantastic revised Boeing 737-800 VC model blended with Ken Wiggington's work on the default 737 VC to make it more resemble a 787 and possibly the new 777-9X! This VC model includes Working wipers (right mouse click on switch) with rain effect. Switches for LCD Screens, EICAS, PFD, MFT. Autobrake switch. Opening pilots window. Cabin Lights switch. Realistic FMC. Ground Proximity Warning System (GPWS), More Realistic night VC textures. There are custom Boeing sounds included for that extra realism. The great native FSX Skyspirit model features opening doors & cargo doors, detailed textures, accurate paint, dynamic shine & effects, dynamic flexing wings that respond to turbulence, fully independent suspension, trim animation, gear steering, accurate flight dynamics, spoiler animation, reflective cockpit windows, crash effects, animated tilting bogies, full night lighting, stairs, ground service vehicles when cargo doors open, (FSX - Go to Views - Instrument Panel -Posky Util), detailed virtual cockpit and more. Added custom B777 sounds. To use FMC - Go to Views - Intrument panel - FMC. See FMC docs. Fantastic native FSX model by Skyspirit/Project Opensky. Jetway exits and wheel sink fixed. I have included the fine textures by unknown. Zip preview for images. Prepared, tested and assembled for FSX P3D v 3 & 4 by Chris Evans
Posted Jul 24, 2017 10:51 by chris evans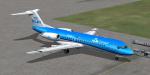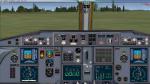 39.65Mb (260 downloads)
The Fokker 70 was a streched version of the Fokker 100 launched in 1994 to replace the aging Fokker 28. Original design by project Fokker. 2 D panels (no VC) and gauges for wide and standard screen including GPWS callout by Philippe Wallaert. FMC by Garret Swith. See instructions in the readme.txt file. Enjoy!
Posted Jul 24, 2017 06:47 by Philippe Wallaert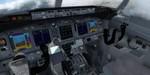 5.68Mb (159 downloads)
This is the missing KW_MAX gauge I accidentally left out in some Boeing 777X packages 2d panel. It is used by the 2d panel. Just install in the panel folder of the aircraft. As far as I am aware it only effects the recent Boeing 777X packages I have assembled. Apologies for the ommission. Chris Evans
Posted Jul 24, 2017 06:29 by chris evans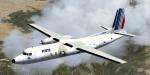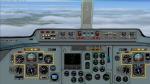 19.08Mb (355 downloads)
The Fokker 27 has been designed to replace the legendary Douglas DC3 and the first flight was in 1955. This aircraft had a great success and 586 aircrafts have been constructed and a lot are still in service. This is a cargo version of the Fokker 27 used for mail transport. Original model by Mike Stone. Adaptation to FSX, textures and 2D panels (standard and wide screen), GPWS callout. No VC. Updates by Philippe Wallaert. See instructions for installation in the readme.txt file.
Posted Jul 24, 2017 02:22 by Philippe Wallaert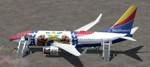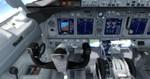 71.15Mb (318 downloads)
FSX/Prepar3D V3 & 4 Boeing 737-700 Southwest Airlines Missouri One Package with enhanced VC. Alaska Air Southwest currently (2017) have over 500 Boeing 737-700 in operation and are the largest operator of the Boeing 737 series. Many are painted in special liveries such as this Missouri 1. FSX native model by TDS/ Tenkuu Developers Studio with advanced 737-800 VC added. Includes utility for ground services, Passenger bus, cargo, stairs, refuelling truck etc (find it under - Views - Instrument panel - Util) The wonderful Boeing 737-700 from TDS will be enjoyed by many more people now, assembled in one ready tested and ready to fly package. The VC is the Alejandro Rojas Lucena/FSND fantastic revised Boeing 737-800 VC model. This VC model includes Working wipers (right mouse click on switch) with rain effect. Switches for LCD Screens, EICAS, PFD, MFT. Autobrake switch. Opening pilots window. Cabin Lights switch. Realistic FMC. Ground Proximity Warning System (GPWS), More Realistic night VC textures. There are custom Boeing sounds included for that extra realism. I have added the great textures by Nathan Rusdianto. Model is not modified in any way. VC added and aircraft.cfg edited to allow correct VC views. TDS wonderful native FSX Boeing 737-700 model. See VC docs to get the best out of the VC and FMC. Assembled and prepared for FSX/P3D by Chris Evans.
Posted Jul 23, 2017 12:26 by chris evans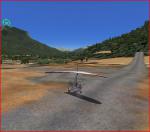 0.74Mb (133 downloads)
Watched the Tour de France 2017. Stage 18 looked sort of interesting as a possible mission, so that is what I've made. In the actual tour, there are bikes, motorcycles, cars and helicopters used along the route. A map of stage 18 has been provided. I set out points of interest about 10-15 miles apart. The route is in the Alps and is 179.5km (111.5 miles, or about 100nm) long. The final destination is essentially at a mountain top. Take off in an AirCreation Trike Ultralight from Briancon, to St. Crepin airport to Embrun to Le Sauze du Lac to the airport at Barcelonette to Guillostre and land at the high region of Col d' Izoard. Should you prefer to use a helicopter, feel free to change the trike, say, in the FLT file. In any case, Touch & Goes at each point of interest and land at Col d'Izoard. I added crowds at the points of interest. That has required the use of FSX Acceleration or Gold.
Posted Jul 23, 2017 08:35 by Don Olsson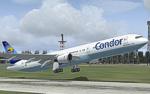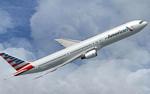 11.63Mb (270 downloads)
The Boeing 767 is a twin-engine aircraft of the U.S. aircraft manufacturer Boeing . The economically very successful low-wing monoplane was the first long-haul Boeing aircraft with only two engines and is produced today. The Boeing 767 has until today more transatlantic flights performed than any other passenger airplane. The development of the Boeing 767 as a widebody aircraft began on 6 July 1979 and was intended as a replacement for the Boeing 707. The first flight took place on 26 Of September 1981. Without virtual cockpit. Free for private use. By Andreas Meyer - www.afs-design.de
Posted Jul 23, 2017 04:55 by Andreas Meyer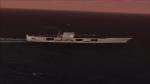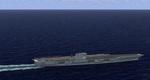 40.29Mb (253 downloads)
V1.5. The Vietnam-Desert Storm era of aircraft carriers is really lacking in the world of FSX/P3D. I have been working, using Google Sketchup, to fill this gap. This is the latest project fresh out of the Dry dock. The USS America (CV-66) is the 3rd of the Kitty Hawk class. It is a HEAVILY modified 3DWarehouse model originally by A.W. (https://3dwarehouse.sketchup.com/model.html?id=8aacd0f973114c1b53d9199581d0f4b4) I have tried many times over the last 2 years to find out how to contact the author, to no avail. I am using it under free use, and I will not be charging money for it. I also got permission to use the static planes from Gary (Author of the Midway CV-41 and the Oriskany.) with my previous uploads.
Posted Jul 22, 2017 17:35 by WombRaider78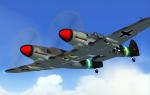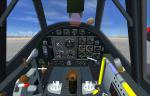 26.39Mb (308 downloads)
The Messerschmitt development department received a directive in 1942 to begin work on a Zerstörer (destroyer, or heavy fighter). An earlier RLM directive of 1941 had tried to limit the amount of new designs coming from the major aircraft companies (to not disrupt the production lines with new aircraft), so it was decided to couple two Bf 109 fuselages together, along with a new center wing and tailplane section, to come up with the Me 109Z (Zwilling, or twin). A prototype was completed in early 1943, but it was damaged in an Allied air attack on the Messerschmitt test center, and the damage was deemed too severe for repair. The development was abandoned in 1944, and by then, the Me 262 jet fighter had taken wing. This is an update for the Me-109 Zwilling, recently converted for FSX by Eric Hertzberger. Its focus lies upon an improved and more realistic looking VC and interior, but I also added wing and vc lights, improved the FDE and added smoke effect as well as new thumbnails. Gauges are all authentic German in both the VC and 2D panel. This is the whole package for easy installation. Credits go to Daisuke Iga,Kazunari Shinada and Kawauso Hermitage for the original CF2 model and to Eric Hertzberger for his FSX conversion. All new updates by Michael Pook.
Posted Jul 22, 2017 03:21 by Michael Pook