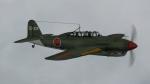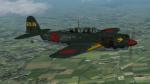 24.23Mb (408 downloads)
FSX / P3D v3 Update of Yokosuka D4Y Suisei (comet). This was a dive bomber of the Imperial Japanese Navy. The code of the allies was Judy. The D4Y was one of the fastest dive bombers of the entire war. Despite its limited use, its speed and autonomy made it effective in reconnaissance missions as well as in kamikaze attacks. They were built in several versions up to a total of 2,038 copies, mostly by Aichi. On the CFS2 model of Thicko, make changes of VC cockpit and glass, gauges, propellers, and flight characteristics for its operation in FSX up to P3D v3. All the merits and thanks to its creator. Original textures by Morton. Enjoyment.....
Posted Feb 28, 2019 11:21 by Rodolfo Valery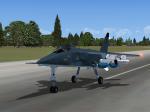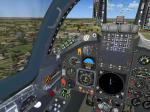 41.95Mb (790 downloads)
SEPECAT Jaguar M for FSX and FS9 with changes and additions. The Jaguar M was intended to operate from an aircraft carrier, his structure had been strengthened accordingly, also was equipped with a modified landing gear. The nose gear was lengthened and the main gear consisting of a single wheel. Developed by Sepecat (Dassault-Breguet and BAC). Author: Tsyntsar Victor, Kyiv, Ukraine, 2019. Model version 2.0
Posted Feb 28, 2019 09:15 by Tsyntsar Victor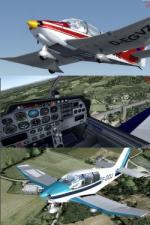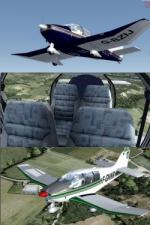 33.39Mb (473 downloads)
FSX/P3D Robin DR400 4 More Livery Pack 2. All private liveries: F-GNNR (Annecy-Meythet (LFLP)), F-GCIJ (aeroclub Rouen-Normandie), D-EGVZ and G-BZIJ. Original DR400 Robin model and VC by Yannick Lavigne, Fred banting and Rob Young, converted to FSX native by Bluebear. I included the textures by Nicolas PESSAY, Mike Formatschek, Patrick Machabert as well as the converted textures by Bluebear. Converted new textures to DDS format and added small shine. Edited panel to fix non compatible gauges. Famous for it's bent wing, The Robin DR400 is a wooden framed light aircraft made in France and commonly used by flight schools as well as private pilots. Assembled and tested in P3Dv4.2 by Chris Evans Should also be fine in FSX and earlier P3D versions.
Posted Feb 28, 2019 08:56 by chris evans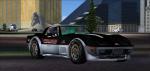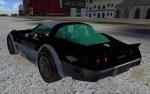 12.53Mb (183 downloads)
FSX/Acceleration/FS2004/P3dV3 Chevrolet Corvette C3 Indianapolis pacecar from 1978. The model comes with photorealistic 2D panel and equal VC. The T-roofs and the hood with the V8 engine underneath are animated. The special gauges and lights are made by Pierre J. Carosin. The FSDS 3.5 models with panels are made by Erwin Welker. The special gauges and lights are made by Pierre J. Carosin.
Posted Feb 28, 2019 03:05 by Erwin Welker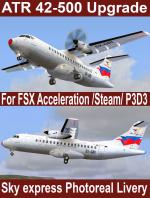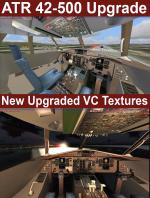 46.79Mb (905 downloads)
FSX/P3D3 ATR 42-500 upgraded package.There are 2 models of the F. Sanchez-Castaner ATR 42-500 with improved photoreal VC some new gauges and problems fixed.In fact all the textures Interior and exterior are photoreal from the real aircraft in HD 2046x2046 DXT3 with alpha (gloss) mode.There are two different (day and night) 2D panels overhead panel,gps and radar.Yoke textures are replaced with photoreal and problems in co-pilots face are also resolved.The Livery is the Skyexpress SX-GRI wich is based on the Island of Crete Greece.There are also new VC camera views.Complete package with sound,checklist and manuals.By Hellenic Aircraft/Yiannis Katehis Tsetsas 2019. File size:(46.7 MB)
Posted Feb 27, 2019 10:47 by Yiannis Katehis Tsetsas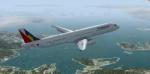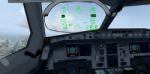 75.49Mb (311 downloads)
FSX/P3D Airbus A321-200 Philippine Airlines package. Philippine's flag carrier airline was founded in 1935 as an air taxi service and is now based at Manila's Ninoy Aquino International Airport, flying to destinations worldwide. As of February 2019, Philippine operate 24 Airbus A321 and are investing in more than 20 A321neo. Native FSX model by Project Airbus. I added the high quality textures by Britney Ren. Includes enhanced Thomas Ruth Airbus VC with updates by Phillip Wallaert, Louis Quintero and some further edits by Chris Evans. Fixed wheel levels. Fixed jetway codes. Converted to DDS textures. Tested in P3D v4.2 and should be ok in FSX and P3D versions. Airbus sounds and checklist included. Zip preview for images. Custom packaged by Chris Evans
Posted Feb 27, 2019 10:14 by chris evans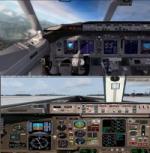 133.91Mb (1073 downloads)
FSX/P3D Boeing 757-200 Hawaiian Airlines Package. Founded in 1929 and based in Honolulu, Hawaii, Hawaiian is the US's 10th largest airline and never flew the 757. The fantastic new FSX Native Boeing 757-200 from TDS includes high detail model with ground servicing and more. The VC is the Alejandro Rojas Lucena/FSND fantastic Boeing 737-800 VC cockpit plus a 2d 757/767 panel by Philipe Wallaert (press F10). This VC model includes Working wipers (right mouse click on switch) with rain effect. Switches for LCD Screens, EICAS, PFD, MFT. Autobrake switch. Opening pilots window. Cabin Lights switch. Realistic FMC. Ground Proximity Warning System (GPWS), More Realistic night VC textures. There are custom Boeing sounds included for that extra realism. Added 757 checklist. I added the high quality textures by A Magadan. Edited views, wheel levels. Added wing views. See VC docs to get the best out of the VC and FMC. Prepared and assembled for P3D & FSX by Chris Evans.
Posted Feb 26, 2019 12:35 by chris evans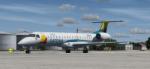 19.13Mb (79 downloads)
Textures for the freeware Posky ERJ-145. Satena is an airline of the state of Colombia
Posted Feb 26, 2019 12:25 by PhotoshopFSX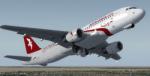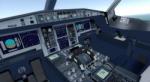 91.71Mb (456 downloads)
FSX/P3D Airbus A320-200 Air Arabia package. Based at Sharjah International Airport, United Arab Emirates, Air Arabia is a low cost airline with destinations all over Europe as well as the Middle East, India, Russia. As of February 2019, Air Arabia operate 51 Airbus A320-200. Added the better Thomas Ruth VC with updates by Louis Quintero and Chris Evans. Use FMC under Views/Instrument panel in FSX menu. (FSX : Go to Views -Instrument Panel. P3D: Go to Vehicle - Instrument panel). Added better views, fixed exits. Model by Project Airbus. Added the great textures by Mohammed Al-Khalifa. FMC by Garret Smith. Includes A320 checklist by Werner Schott. Airbus sounds included. Tested in P3D v4.2 and should be ok in FSX and previous P3D versions. Zip preview for images. Custom packaged by Chris Evans
Posted Feb 25, 2019 11:57 by chris evans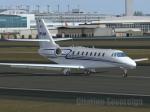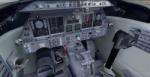 72.93Mb (1202 downloads)
FSX/P3D Aryus Cessna Biz Jets Package with Lear 45 VC. Complete FSX native aircraft package with extra pop-up extras in VC. (See Read Me File)
Posted Feb 24, 2019 10:05 by Jetranger