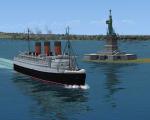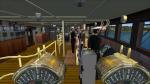 18.04Mb (210 downloads)
FSX/Acceleration Pilotable ocean liner RMS Queen Mary plus ai-model. This vessel was definitly the queen of the Atlantic. She sailed from 1936 until 1967 between Southampton, Cherbourg and New York, won the Blue Riband (for record crossings) in 1936 and kept it until 1952 (except 1937 were won the Normandie). During WWII she served as troopship. She has a length of 311 m/1019 feet, a beam of 36 m/118 feet Since 1967 and reached with her four eingines of 200.000 Shp/150.000 Kw up to 33 knots. With a crew of 1100 men she carried up to 2,139 passengers. Since 1967 the Queen Mary is mored at Long Beach/California and serves as museum, restaurant and hotel ship. The pilotable version has a extremly detailed virtual historical navigation bridge plus a photoreal 2D panel. Thirty camera views let you explore all decks and the virtual bridge. The gauges are made by Pierre-Jean Carosin. The ai-model is proposed for the great tool Ai-carriers2. FSDS 3.5 models and 2D panel by Erwin Welker
Posted Nov 17, 2020 01:10 by Erwin Welker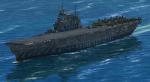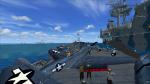 47.40Mb (216 downloads)
FSX/Accel WWII Aircraft Carrier USS Hornet. The vessel was one of the Yorktown-class and went in service October 1942. With a length of 252 m and a with of 33 m, a speed of 32.5 knots and 2900 men crew it was a quite big and modern aircraft carrier at the Pacific war. Very famous became the Hornet due to the Doolittle Raid in April 1942 against Japan. Sixteen B-25 Mitchell bombers were carried on the decks and all made successfully take offs from the deck without any catapult. In June 1942 Hornet fought in the Battle of Midway. In October 1942 the huge ship went lost in a battle against the japanese Navy. After attacked by bombs and a big fire, Kami Kaze attacks and finally torpedo shots the Hornet sank. Now you can explore this warship in camo textures by toggling through thirty one cameras showing hundreds of realisticly details. A 2D panel, ship effects and the original grey textures from the ai-version are included. The Ai-vessel is converted from Sketchup to native FSX by Klaus Novak and belongs to his WWII US Navy fleet at SOH. Repaint in camo, 2D-panel, configurations and files for pilotable vessel by Erwin Welker
Posted Oct 29, 2020 04:45 by Erwin Welker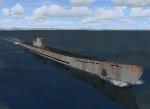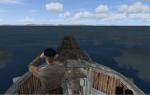 18.19Mb (596 downloads)
FSX/Accel/FS2004 Pilotable and divable German WWII 9D U-Boa with animations. This model comes originally from UBI Softs Silent Hunter 3, converted to FS2004/FSX by Shessie from SOH. After sending the crew into the boat you let it go submerging. Six different 2D views and twelve FSX camera views plus virtual conning tower views let you explore the boat. You even can watch the submerging from the periscope. The ship and weapon effects can be triggered with lights, strobe lights and smoke-key. Model convertion from SH3 to FS2004 and animations by Shessie from SOH. 2D Panels, activation of the virtual views, effect configuration and FSX-cameras by Erwin Welker
Posted Sep 30, 2020 03:11 by Erwin Welker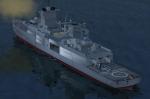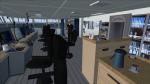 15.67Mb (357 downloads)
FSX/Acceleration/P3DV3/FS2004 German frigate F222 Baden Wuerttemberg, a new vessel of the German F125-class. The package contains a pilotable and three ai-versions; one with a MH-90 helicopter doing take off and landing training. The ship is launched in 2014 and has a length of 150 m. It is armed with a 127 mm, two 27 mm and five 12.7 mm remote controled maschine guns plus Harpoon missiles and carries two Sea Lynx or MH-90 helicopters. The pilotable version has more than fourty moving parts, a complete realistic virtual nav-bridge plus a matching 2D bridge. The animations shows movements of the helicopter, Harpoon missile launches and a Zodiac boat moved down to the water surface. Twenty five camera views let you explore all decks and the virtual bridge, let you operate all weapons and the helicopter. The gauges are made by Pierre-Jean Carosin. FSDS 3.5 models and 2D panel by Erwin Welker
Posted Sep 28, 2020 08:38 by Erwin Welker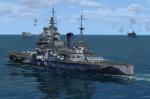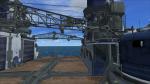 18.73Mb (349 downloads)
FSX/Accel Pilotable Battleship HMS Prince Of Wales, a King George V-class vessel. Prince Of Wales was commisioned in January 1941 and was supposed to support HMS Hood against the German battleship Bismarck in May 1941. Prince of Wales served at the Atlantic, the Mediteran Sea and finally in Far East. In December 1941 she and the battlecruise HMS Repulse were attacked and hit by torpedos of japanese submarines and finally sunk by air attacks. Now you can explore this warship in camo textures by toggling through twenty two cameras showing hundreds of realisticly details including a virtual nav-bridge. Effects are seperatly configured for port and starboard. The original grey textures for the ai-version of the HMS King George V. are included. The Ai-vessel is converted from Sketchup to native FSX by Klaus Novak and belongs to his WWII Royal Navy fleet at SOH. Repaint in camo, 2D-panel, configurations and files for pilotable vessel by Erwin Welker
Posted Aug 18, 2020 02:25 by Erwin Welker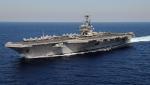 6.66Mb (668 downloads)
This is the U.S.S. George H. W. Bush (CVN-77) available for FSX. This is basically the default FSX Acceleration carrier with the number 77 on the flight deck and island. Hope you enjoy!
Posted Aug 16, 2020 14:35 by Dustin Kosman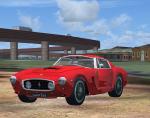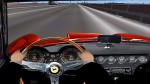 8.06Mb (610 downloads)
FSX/Acceleration/FS2004 Acceleration/FS2004 Ferrari 250 GT Berlinetta SWB or "Passo Corto". Between 1959 and 1962 167 peaces were built and this rare beauties has nowadays a value above ten million Dollars or Euros. There were different variants buildt, some as road car, other as Competizione or "Scuderia Enzo Ferrari Automobili Corsa" Hot Rod. The 3 liter V12 engines performed between 240 and 302 PS. The FSDS 3.5 model with photoreal 2D panel and VC made by Erwin Welker.
Posted Aug 8, 2020 03:12 by Erwin Welker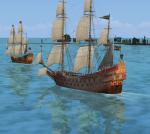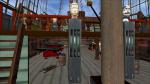 36.61Mb (313 downloads)
FSX Package of three galleons of the 17th century: The Vasa from Sweden 1628, the Batavia from the Netherlands 1628 and the Wapen von Hamburg from Germany 1670. All three vessels ended with a desaster. The royal Vasa capsized after a mile on her maiden voyage. The Batavia got wrecked on a reef near Australia and the Wapen von Hamburg exploded after a great fire in the harbour of Cadiz/Spain. All boats are almost completely rigged with hundreds of ropes regarding the early 17th century. The cannons for port and starboard can be animated with smoke or light keys. The detailed decks and views high from the masts can be explored with up to twenty seven cameras views. Probably the ships will also sail in FS2004 or P3dv3 (not tested). All three galleons plus my priatship Neptune are also included as ai-models with reduced parts. A configuration for an ai-carrier2 formation is included but I give no support or tutorials for that great tool! 3.5 model made by Erwin Welker
Posted Jul 21, 2020 04:41 by Erwin Welker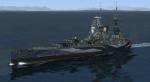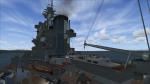 18.21Mb (229 downloads)
FSX/Accel FSX/Accel Pilotable prewar battleship HMS Rodney. She was launched in 1925 and was from the same class as the HMS Nelson. The vessels had a lenght of 217 m and carried three 16-inch triple guns. You can explore this warship now by toggling through nine twenty three cameras shwowing you hundrets of realisticly details. The original grey DDS-textures for the Nelson are included. The Ai-vessel is converted from Sketchup to native FSX by Klaus Novak and belongs to his WWII Royal Navy fleet at SOH. Special ship gauges by Jean Pierre Carosin. Repaint in camo, configurations and files for pilotable vessel by Erwin Welker
Posted Jun 24, 2020 02:56 by Erwin Welker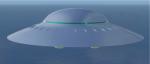 4.05Mb (827 downloads)
This is an update for FSX of the Alpha UFO. I have given it a 2D panel as the panel folder it came with was empty. I have added all the wheels, and added some float points so you can land on water if you choose to. I have added some nav lights so it is a bit easier to tell which way it is going; and I have updated the flight dynamics. This is the whole aircraft. No VC.
Posted May 28, 2020 11:49 by Bob Chicilo