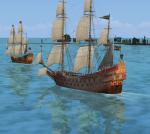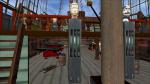 36.61Mb (375 downloads)
FSX Package of three galleons of the 17th century: The Vasa from Sweden 1628, the Batavia from the Netherlands 1628 and the Wapen von Hamburg from Germany 1670. All three vessels ended with a desaster. The royal Vasa capsized after a mile on her maiden voyage. The Batavia got wrecked on a reef near Australia and the Wapen von Hamburg exploded after a great fire in the harbour of Cadiz/Spain. All boats are almost completely rigged with hundreds of ropes regarding the early 17th century. The cannons for port and starboard can be animated with smoke or light keys. The detailed decks and views high from the masts can be explored with up to twenty seven cameras views. Probably the ships will also sail in FS2004 or P3dv3 (not tested). All three galleons plus my priatship Neptune are also included as ai-models with reduced parts. A configuration for an ai-carrier2 formation is included but I give no support or tutorials for that great tool! 3.5 model made by Erwin Welker
Posted Jul 21, 2020 04:41 by Erwin Welker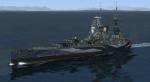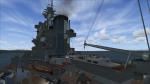 18.21Mb (276 downloads)
FSX/Accel FSX/Accel Pilotable prewar battleship HMS Rodney. She was launched in 1925 and was from the same class as the HMS Nelson. The vessels had a lenght of 217 m and carried three 16-inch triple guns. You can explore this warship now by toggling through nine twenty three cameras shwowing you hundrets of realisticly details. The original grey DDS-textures for the Nelson are included. The Ai-vessel is converted from Sketchup to native FSX by Klaus Novak and belongs to his WWII Royal Navy fleet at SOH. Special ship gauges by Jean Pierre Carosin. Repaint in camo, configurations and files for pilotable vessel by Erwin Welker
Posted Jun 24, 2020 02:56 by Erwin Welker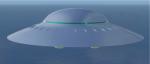 4.05Mb (944 downloads)
This is an update for FSX of the Alpha UFO. I have given it a 2D panel as the panel folder it came with was empty. I have added all the wheels, and added some float points so you can land on water if you choose to. I have added some nav lights so it is a bit easier to tell which way it is going; and I have updated the flight dynamics. This is the whole aircraft. No VC.
Posted May 28, 2020 11:49 by Bob Chicilo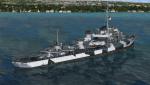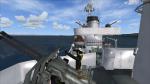 39.74Mb (391 downloads)
FSX/Accel/P3dV3 Package with four different pilotable German WWII Destroyers like Narvik-class and others. The ships are very detailed and you can explore the decks now by toggling through more than twenty cameras showing you hundreds of realisticly details. All destroyers comes with a common 2D nav bridge and virtual nav bridges. The Ai-vessels are converted from Sketchup to native FSX by Klaus Novak and belongs to his German WWII Kriegsmarine fleet at SOH. Repaint in camo, configurations and files for pilotable vessel by Erwin Welker
Posted May 23, 2020 03:53 by Erwin Welker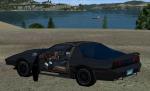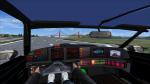 7.83Mb (612 downloads)
FSX/Acceleration/FS2004/P3dV3 Pontiac Firebird Trans-Am as movie car K.I.T.T. Knight Rider 1982, known from the TV series with David Hasselhoff as Michael Knight. K.I.T.T. is a high sophisticated car with artificial intellegence, able for autonom driving and discussions with Michael, equipped with turbo boost power. The sim model comes with an impressive cockpit (2D and VC), the typical running red LED lights at the front and removable overhead windows. The special gauges, effects and lights are made by Pierre J. Carosin. The FSDS 3.5 models with panels is made by Erwin Welker.
Posted May 12, 2020 03:58 by Erwin Welker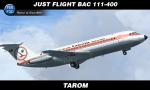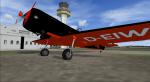 115.39Mb (520 downloads)
One of the reasons why Star Wars is still so popular after over 40 years is surely the creative and unique designs of the vehicles! Back then, Boba Fett's ship was a mystery to me! After seeing "The Empire Strikes Back" in the cinema for the fifth time, I tried to recreate this strange ship with Lego at home from my memories! Now through the Corona break I had the opportunity to build my first model for FSX and it had to be this bird... This model has no VC, one texture but a nice 2d panel (Thanks to Battlefront 2 for the Slave 1 panel background)! Many thanks to Bruce Fritzgerald for his Flight dynamic settings (FDE), Milton Shupe and Krispy1001 for their Gmax and Blender entry-level videos and the people from the FSDeveloper site for their Blender tool! Without their work I could not have exported anything for FSX (have no FSX SDK)! Tested only in FSX/ACC! Have fun!
Posted Apr 30, 2020 01:03 by Andiroto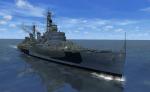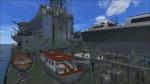 15.13Mb (439 downloads)
FSX/Accel/P3d Pilotable Light Cruiser HMS Belfast. This vessel of the Town-class went in service 1939 and very soon she was heavily demaged by a mine. After repair she was involved in many tasks and battles. After the Great War she took her role in Asia and in the Korean war. In 1956 she became modernized with the look of that ai-model. Now she lays as museum ship close to the Tower-Bridge in London. You can explore thiw warship now by toggling through nine teen cameras shwowing you hundrets of realisticly details. The Ai-vessel is converted from Sketchup to native FSX by Klaus Novak and belongs to his WWII Royal Navy fleet at SOH. Repaint in camo, configurations and files for pilotable vessel by Erwin Welker
Posted Apr 13, 2020 00:57 by Erwin Welker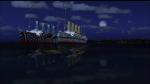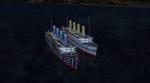 9.92Mb (465 downloads)
Package consisting of the sister ships to the Titanic, HMT Olympic in her dazzle paint and HMHS Britannic as a hospital ship. Model created by Mitsuya Hamaguchi as the Titanic. Olympic texture designed by Michael Barnes. The Britannic was my texture.
Posted Apr 3, 2020 12:15 by TheHawkerHurricaneMan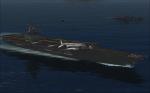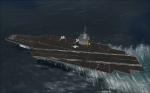 55.05Mb (1099 downloads)
USS Enterprise, USS Long Beach and USS Bainbridge in their iconic 1962-1980 fit. Task Force One was the centerpiece of the Nuclear Navy, a crucial coldwar policy instrument and technological triumph of the United States. Acceleration enabled, animated, detailed deck park, diving SSN's and plane guard helio. FPS friendly, aicarriers cfg provided, extra's included for carrier builders.
Posted Mar 29, 2020 00:40 by LLS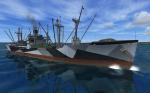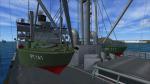 13.97Mb (326 downloads)
FSX/Accel/P3dV3 Pilotable Liberty ships with military cargo. This mass produced cargo vessel was built during WWII to replace the high losses mainly on the Atlantic because of supporting the island of Great Britain. About three ships was built in the States within two days, totaly 2710 ships. The pilotable FSX-ships comes in two camo paint schemes and three versions with different decks cargo like ELCO Pt-boats, steam locomotives, military trucks, Jeeps, Sherman tanks and small landing crafts. The Ai-vessels are converted from Sketchup to native FSX by Klaus Novak and belongs to his WWII US fleet at SOH. Repaint in camo, 2D nav-bridge, twenty camera views, configurations and files for pilotable vessel by Erwin Welker
Posted Mar 21, 2020 04:02 by Erwin Welker