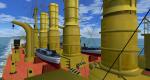 12.71Mb (163 downloads)
FSX/Accel Pilotable German Heavy Cruiser SMS Scharnhorst From 1908 together with an Ai-version. With a length of 145 m, a power of 28.800 HP on 3 three screws, almost 24 knots and 8x21cm, 6x15cm, 18x8.8cm and 4 torpedo tubes Scharnhorst was a very powerful vessel. Before the Great War she did its service in Far East. In November 1914 she fought together with the battlecruiser Graf Spee near Chile against a british battlegroup. In December 2014 Graf Spee, Scharnhorst and her sister ship Gneisenau and other German cruiser fought their next battle near the Falklands against a strong fleet of RN cruisers. Except the small cruiser Dresden all German warships sunk in this battle. This addon is a pilotable version with many animations plus an ai-version, supposed to be used with the great tool Ai-carriers2. Twetnythree cameras let you explore the decks of the ship. FSDS 3.5 model and configuration made by Erwin Welker
Posted Nov 13, 2021 04:06 by Erwin Welker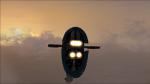 74.43Mb (212 downloads)
This is an reupload but with updated effects (I forgot a .fx file the last time) and a stripped down sound folder! Many thanks to Bruce Fritzgerald for his Flight dynamic settings (FDE), Milton Shupe and Krispy1001 for their Gmax and Blender entry-level videos and the people from the FSDeveloper site for their Blender tool! Without their work I could not have exported anything for FSX (had no FSX SDK)! Tested only in FSX/ACC! Have fun!
Posted Oct 28, 2021 04:25 by Andiroto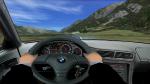 8.15Mb (229 downloads)
FSX/Acceleration BMW 850 CSI Sportcar from 1989-1999. This upper class cars were equipped with 12-cylinder V-engines between 300 and 380 HP, later also with a V-8 eingine with 218 HP. The engine size was between 3 and 5.6 liter volume. Maximum speed was 250 kmh. The effects and lights are made by Pierre J. Carosin; also my gauges are based on him. The FSDS 3.5 model with 2D and VC panels is made by Erwin Welker.
Posted Oct 22, 2021 05:23 by Erwin Welker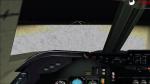 3.24Mb (534 downloads)
A reworked version of Gerrit Kranenbarg's vc rain effect mod, so that you can see in FSX with FS2004 models through the VC cockpit windows when it rains! Many thanks to Gerrit Kranenberg for his original mod which i have used really a long time but it worked no longer under my new system, so I revised all files! Maybe someone has the same problem and want to try these new files out!
Posted Oct 10, 2021 08:17 by Andiroto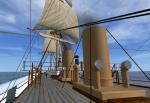 12.99Mb (168 downloads)
FSX/Accel Royal Navy steam frigate H.M.S. Warrior from 1860. This vessel was at that time the most powerful, fastest (13 knots), best armed and most modern "battleship" worldwide. She and her sister Black Prince were the first armour-plated, iron-hulled warships and a response to the wooden Gloire from France. The ship patrolled mostly in the Channel with a crew of 700 men and was equipped with 40 guns between 40 and 110 pounds. Warrior became decommissionend in 1883 but she still served in varying configurations for different tasks until 1979. After eight years for a complete restoration as museums ship she lies in Porthmouth, open for the public. This addon is a pilotable version with animated change of sails and animated guns. Thirtyone cameras let you explore the whole ship: On deck and you can enjoy the sailors views from high above in the masts. FSDS 3.5 model and configuration made by Erwin Welker
Posted Oct 2, 2021 03:08 by Erwin Welker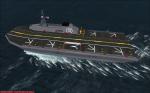 70.10Mb (517 downloads)
USS_CVL-130_Samar is a fast SWATH Sea Control ship for FSX. From a tiny JPG copy of a tiny print of an art work that I first saw in in an issue of ICA back in mid eighties. That was the sum total of reference materials for this build, so any error claims are irrelevant... Animated and functional elevator, hangar deck, skijump ramp, hangar doors. Animated AI escort PHM-6 combat hydrofoils - all six ships of the class - and a Seasprite AI helio. For use with AI carriers2 , or other traffic system. CVL is sized for F-35/AV-8/SHAR/XFV-12's, and typical naval helios, including V-22. Lots of fun, see read me for crucial operational details.
Posted Sep 17, 2021 09:45 by Private Hooley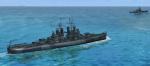 12.23Mb (200 downloads)
FSX/Accel Pilotable light cruiser USS Cleveland. CL 55 was the first ship of the Cleveland class. Commissioned in 1942 she fought in WWII in the Pacific in the areas of Solomon Islands, Kula, Shortland Islands, Marianas, Philippines and East China Sea. Powered with 100.000 shp the vessel reached almost 33 knots. Clevelands became decommissioned in 1947. Now you can explore this succesful warship by toggling through twenty seven cameras showing hundreds of realisticly details. Effects are seperatly configured for port and starboard. The Ai-vessel is converted from Sketchup to native FSX by Klaus Novak and belongs to his WWII Royal Navy fleet at SOH. Repaint in camo, 2D-panel, configurations and files for pilotable vessel by Erwin Welker
Posted Aug 9, 2021 02:32 by Erwin Welker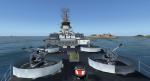 9.47Mb (238 downloads)
FSX/Acceleration WWII FRENCH battleship Richelieu. This class was based on the smaller Dunkerque class and should be a response to the Italian Littorio class. Commisioned in 1940, just before the Germans won the Battle of France, Richelieu was sent to Dakar in French West Africa to remain under Frech control. She then was attacked and damaged twice by the British Forces. Repaired in USA Rihelieu served for the British Home Fleet before she supported the Eastern Fleet in Asia against Japan. After the war, given back to France, the ship served as training- or later as barrack-vessel. Richelieu was decommisioned in 1968 and broken up in 1968. The pilotable version provides plenty of animations and has a 2D panel. Twenty five FSX camera views let you explore all decks and some external views. The ai-version is proposed to be used with the great tool "ai-carriers2". FSDS 3.5 models and 2D panel by Erwin Welker
Posted Jul 21, 2021 03:03 by Erwin Welker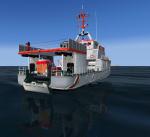 24.82Mb (419 downloads)
FSX/Accel Pilotable German sea rescue vessel with animated boats. Ai-models for FS2004,FSX,P3dV3-5. The "Hermann Marwede" is the biggest german rescue vessel and carries the daughter boat "Verena". The vessel is stationed at the North Sea island Helgoland. The pilotable version is tested in FSX and it will problably also sail in FS2004. It has a photorealistic 2D panel but no VC. The daughter boat Verena is animated and another motor boat with engine problems can be towed. Nineteen camera views let you explore the decks of this 46 meter ship. Ai-models in three sim-formats are included. The package is to honour the German organisation "Deutsche Gesellschaft zur Rettung Schiffbrüchiger". This independent organisation was founded in May 1865 and does their job just by donations. Within that period many thousands of missions saved hundred thousend of lives and rescued thousend of boats and ships in the areas of North Sea and Baltic Sea. Make also a search for my pilotable "John T. Essberger", the SAR cruiser from the 70th. FSDS 3.5 model and panel made by Erwin Welker, Sound by Knud Kristofferson.
Posted May 12, 2021 04:07 by Erwin Welker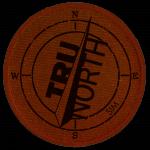 6.90Mb (132 downloads)
This is the first pilot voice pack I created for Ultimate Crew 2014. The voice is male and replaces the default EN-US voice. Readme with installation instructions included. Please visit my Facebook @TruNorthSim to leave a comment or request support.
Posted Apr 9, 2021 09:17 by TruNorthSim