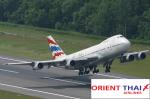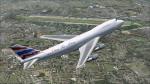 4.26Mb (53 downloads)
CLS Boeing 747-200 classic style Orient Thai textures. Engine by Pratt & Withney JT9D-7R4G2
Posted May 13, 2019 10:46 by Thanawit Thongswai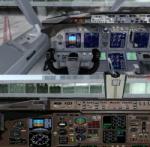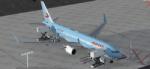 65.66Mb (487 downloads)
FSX/P3D Boeing 767-300ER Neos package. Neos is an Italian leisure airline based at Milan-Malpensa Airport. As of May 2019, Neos operate 2 Boeing 767-300ER (one for Arkia) flying to popular tourist destinations around the world. Package includes Boeing 767 2d panel as well as the advanced 737-800 VC added. Includes utility for ground services, cargo, stairs, etc (FSX find it under - Views/P3D Vehicle - Instrument panel - - Posky Utility) The great native FSX Boeing 767-300ER from Project Opensky/Skyspirit will be enjoyed by many more people who do not know how to install a VC, views, exits, Utilities etc into a FSX native model. The layout fof the 767 cockpit is not a million miles away from the advanced 737-800. Added the Philippe Wallaert Boeing 767 2d panel plus Alejandro Rojas Lucena/FSND fantastic revised Boeing 737-800 VC model. Added HUD. This VC model includes Working wipers (right mouse click on switch) with rain effect. Switches for LCD Screens, EICAS, PFD, MFT. Autobrake switch. Opening pilots window. Cabin Lights switch. Realistic FMC. Ground Proximity Warning System (GPWS), More Realistic night VC textures. There are custom Boeing sounds included for that extra realism. Jetways also edited (Ctrl j). Exits, wheel levels and views corrected for FSX/P3d. Boeing 767 checklist included. I have added the high quality textures by Stefan Bree and added 767 sounds for more realism. Fixed viewpoints and jetways. Added wing views. See VC docs to get the best out of the VC and FMC. Assembled and tested in P3D4 by Chris Evans. Should also work in FSX and earlier P3D versions.
Posted May 13, 2019 03:41 by chris evans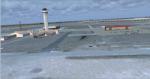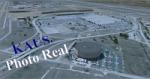 41.24Mb (269 downloads)
FSX, KAUS - Austin-Bergstrom International Airport, Austin TX, Photo Real Scenery. This Photo Real scenery is a complete rebuild for the FSX Default KAUS airport using the latest version of ADE, SBuilderX scenery design tool, & Google SketchUp. This scenery includes new parking garage, cargo buildings, realistic Google Earth buildings, and Photo Real ground textures that give the airport a more realistic feeling. I constructed this scenery using all FSX textures and imported Google Earth Buildings via Google SketchUp. I have also added new approach lights, parking lot lamps, terminal gate assignments, and several other nice scenery enhancements. The runways and airport aprons are aligned to match Google & Yahoo satellite imagery. By Glenn Johnson
Posted May 13, 2019 03:40 by mlietz
11.13Mb (157 downloads)
FSX/P3D TDS Boeing 737-800 TUIfly D-ATUC textures. To install this paint you need the Boeing 737-800 model (B--W3) model. Textures by Stefan Bree
Posted May 13, 2019 03:36 by uploader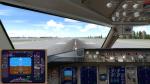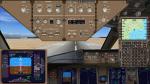 47.34Mb (415 downloads)
Modifications for Project OpenSky Boeing 777-x000 with Native FSX VC for Panel and Aircraft.cfg Especially recommended for simmers who have problems with flaps, missing gauges or crashes by Autopilot. Consists of extra Gauges, rearrangement of Gauges, Sounds, Effects, texture file and installation manual. (README_.txt) Use Zip preview for images. Also contains credits to all known artists, developers. See screen shots in Zip preview.
Posted May 12, 2019 11:34 by Flanker256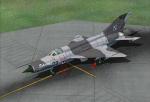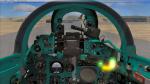 90.48Mb (754 downloads)
The MIG-21 is a supersonic fighter of the cold war and was massively produced by the USSR. Original model by Ivan Jurcaga, Peter Priskin and Kendy Schwarz. New panels for wide and standard screen, gauges including GPWS callout, FD modifications by Philippe wallaert. See instructions in the readme.txt file. Compatible with FSX and P3D up to V4
Posted May 12, 2019 03:33 by Philippe Wallaert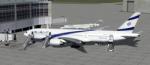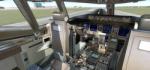 64.68Mb (439 downloads)
FSX/P3D (up to v4.*) Boeing 777-200LR El Al Package. Includes P3D4 compatible VC. Israel's flag carrier airline was founded in 1943 and is based at Ben Gurion Airport. As of May 2019, El Al operate 6 Boeing 777-200 flying to destinations worldwide. This is the FSX native version the Skyspirit Boeing 777-200LR with the FSX native internal B777 model/VC. Compatible with 64bit P3D4 versions. Thank you to Zachary777 for the native conversion from the . Gauges added by Chris Evans. Added the textures by Ben Jones. Thank you to Flanker 256 for the previous sun shield fix. Added wings views. Tested in P3Dv4.2 and should also work in other P3D up to v4.* & FSX. Edited and packaged by Chris Evans. Added custom B777 sounds. To use FMC - Go to Views - Intrument panel - FMC thanks to Garret Smith. See FMC docs. Fantastic native FSX model by Skyspirit/Project Opensky. Added Jetway exits. Zip preview for images. Prepared, tested and assembled for FSX by Chris Evans.
Posted May 12, 2019 03:12 by chris evans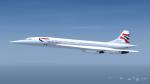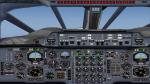 111.87Mb (1985 downloads)
This is a 2019 complete reworked version of the Concorde for FSX and P3D up to V3 (Not v4). Based on the beautiful model by Libardo Guzman Garcia. Featuring a very long list of improvements over previous versions, including: New .AIR file, passive VC with transparent windows, New 1280px 2D panel (day and night), A complete set of new and updated gauges based on Philippe Wallaert and Hans Zuidervaart concorde gauges, the Flight Engineer Panel by Andiroto (modified), New throttle panel, New fuel panel, New dynamic visor, New extended V1 gauge, New altitude callout gauge, New Sonic boom gauge and New brake gauge. Also featuring New lights and effects designed exclusively for Concorde, and a New panel icons set. Flight dynamics have been fine tuned using real aircraft specifications data. New Fuel Management with 3 center tanks to improve weight distribution and balance. Includes TCAS by Dietmar Loleit (modified), Icing Mod by Charles Owen and FMC by Garrett Smith. Beautiful RR/SNECMA OLYMPUS 593 sound package by Kelvin Keeble (modified). New textures of Air France and British Airways flagships: "Fox Alpha" and "Alpha Charlie", saved in DXT5 formats. Also uses the xml sound gauge by Doug Dawson. 12 external camera views. Designed to be as realistic as possible, yet easy to fly and land. For the community. Enjoy!
Posted May 11, 2019 10:15 by Philippe Marion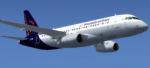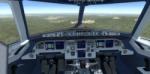 70.56Mb (499 downloads)
FSX/P3D Sukhoi Superjet Brussels Airlines AI made flyable for FSX and P3D. This is the freeware UTT AI model Sukhoi Superjet 100. I added the Airbus VC by Bjoern Kesten. Its the nearest VC I find for this model. Brussels Airlines previously wet leased 4 SSJ100 from Cityjet. For full vc see this https://simviation.com/1/search?submit=1&keywords=pa_a321fd-fmc_cfm_iae.1.55a.zip&x=10&y=4 FSX/P3D native GMAX model. Added the textures by Philippe Tabatchnik. Needs a good runways for takeoff. Maybe 160-180kts. I tested with P3Dv4 & v3 and also should work in FSX Danny Garnier.
Posted May 11, 2019 05:33 by GARNIER D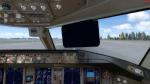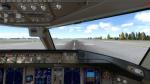 1.14Mb (315 downloads)
This is a fix for the FSX/P3D (up to v4.*) Boeing 777-200LR American Airlines Package(& others using the FSX Native 777 VC) adapted to FSX native by Zachary777 with gauges added by Chris Evans on simviation.com, posted May 3, 2019 11:46. Glass is now clean (black sun-shield removed) for the Co-Pilot side. Installation and bonus are in the text files of the archive. Credits go to Zachary777, Chris Evans and simviation.com
Posted May 11, 2019 05:22 by Flanker256