52.88Mb (299 downloads)
FSX/P3D Boeing 727-200F FedEx 1990 livery package. Fedex is the world's largest freight airline and based in Memphis, Tennessee. FedEx operated 75 Boeing 727 between 1989 and 1996. This livery was used in the late 1980's and early 90's. Boeing made the 727-200 between the early 1960's to 1984. It has a max. range of 2700nm. Boeing 727-200 native FSX model by TDS/ Tenkuu Developers Studio with Thomas Ruth's great Boeing 727 VC added. Includes utility for ground services, Passenger bus, cargo, stairs, refuelling truck etc (find it under - Views - Instrument panel - Util) See panel docs to get the best out of the VC. Textured and assembled for P3D v5 and should be ok in older P3D & FSX by Chris Evans
Posted Jan 13, 2021 08:27 by chris evans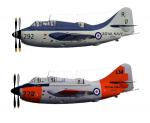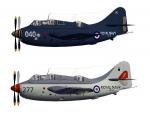 16.88Mb (480 downloads)
FSX acceleration Fairey Gannet AS 1 with four new liverys XA340 815 Squadron, XG797 based at the Imperial War Museum, London, UK. XG790 849 Squadron, XT752 based in the USA N752XT. Repaints by Stephen Browning
Posted Jan 12, 2021 14:40 by STEPHEN BROWNING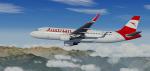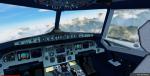 91.55Mb (285 downloads)
FSX/P3D Airbus A320-200 Austrian Airlines NC package. Austria's flag carrier airline is part of the Lufthansa Group and based at Vienna International Airport. Austrian currently have 29 A320-200 in their fleet. Views/Instrument panel in FSX menu. (FSX : Go to Views -Instrument Panel. P3D: Go to Vehicle - Instrument panel). Added better views. Model by Project Airbus. 2020 updated VC by Speedbird77 with built in FMC by Garret Smith. Includes A320 operation manual and checklist. Airbus sounds included. Textured and assembled for P3D v5 by Chris Evans. Should work in FSX and other P3D
Posted Jan 12, 2021 11:29 by chris evans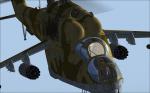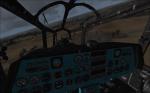 27.13Mb (645 downloads)
FSX/P3D. Deadly looking, and just as lethal, the Mil MI-24 series of Helicopter Gunships are perfect Cold War images of the Soviet concept of a "Flying APC" Armed with AT Missles, Rockets and Cannon, and capable of transporting 8 Troops in its cabin. Caused much concern in the West, where there was no counterpart, and given the NATO code-name "Hind" MI-24's were first built with conventional flightdeck-type cabin,as the MI-24A, then redesigned with the stepped, armored cockpits for pilot and weapons systems operator (wso), as the MI-24D. Later improvements resulted in the V, VP, P, and Recon versions. Was, and still, in service with over 20 nations. 2020 FSX native conversion of Tim`s excellent HIND-A and HIND-F. The usual animations, VC`s, and a nicely done animated dynamic system on about 12 texture sheets and 24 drawcalls. This is where Tim`s modelling shines. He could pack his models with high detail and many features, yet still keep the file size and drawcall count down to nothing. The net result: great looking models that run ultra-fast on a soup-can-and-string setup, with a minimal HD foorprint. FSX Native up-convert with all the materials and tags to FSX standard, re-wrote the cfg file for a fsx helicopter. Hope you enjoy this timeless classic for many more years to come. Models by Mr. Tim (Piglet) Conrad, weapons by Y.T.
Posted Jan 11, 2021 13:24 by Bruno Sluggoro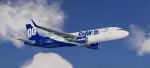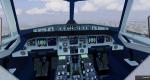 91.68Mb (214 downloads)
FSX/P3D Airbus A320-200 GoAir package. GoAir is an Indian budget airline based at Mumbai Chhatrapati Shivaji Airport and currently have 55 Airbus A320 aircraft. Views/Instrument panel in FSX menu. (FSX : Go to Views -Instrument Panel. P3D: Go to Vehicle - Instrument panel). Added better views. Model by Project Airbus. 2020 updated VC by Speedbird77 with built in FMC by Garret Smith. Includes A320 operation manual and checklist. Airbus sounds included. Textured and assembled for P3D v5 by Chris Evans. Should work in FSX and other P3D
Posted Jan 11, 2021 09:17 by chris evans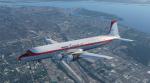 6.05Mb (66 downloads)
FS9/FSX/P3D Wardair DC-6A textures for the California Classic DC-6A by Greg Pepper and Tom Gibson. Wardair textures by Gary Harper.
Posted Jan 11, 2021 01:01 by Gary Harper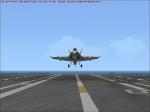 20.60Mb (73 downloads)
Textures only for the FSXBA F/A-18C Hornet, this two texture pack represents F/A-18C Hornets from the Kestrels of VFA-137 from the final deployment of the USS Constellation (CV-64). That cruise also happened to be the Kestrels last Hornet deployment before transitioning to the F/A-18E Super Hornet in 2004. Enjoy it if you like.
Posted Jan 10, 2021 14:20 by Dustin Kosman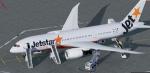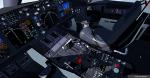 75.55Mb (264 downloads)
FSX/P3D Boeing 787-8 Jetstar Package v2 with 787 VC. Jetstar is an Australian low cost airline based at Melbourne and part of the Qantas group. Jetstar currently have 11 Boeing 787-8 and fly to destinations around Australia, New Zealand and Southern Asia High quality FSX native Boeing 787-8 from TDS. The VC is the comprehensive Bender Erik great adaption of the Asobo MSFS 2020 Boeing 787 cockpit. TDS high spec. native FSX Boeing 787-8 model. See Document folder to get the best out of the VC. Textured, assembled and tested in P3Dv5 by Chris Evans. Should also work in earlier P3D & FSX.
Posted Jan 10, 2021 11:51 by chris evans
76.19Mb (233 downloads)
FSX/P3D Boeing 737-Max 8 Icelandair package. Revised package to include the 787 glass cockpit. Icelandair is based at Keflavík International Airport, Reykjavik, and currently have 4 Boeing 737 Max 8 with a further 5 on order. TDS high spec. native FSX Boeing 738 Max 8 model. The VC is the Bender Erik great adaption of the Asobo MSFS 2020 Boeing 787 cockpit. See Document folder to get the best out of the VC. Textured, packaged and prepared for FSX & P3D up to v5 by Chris Evans.
Posted Jan 10, 2021 07:53 by chris evans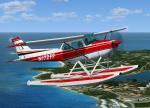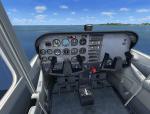 21.94Mb (503 downloads)
FSX/P3Dv4,V5 native Cessna 172 floatplane The Cessna 172 Skyhawk is an all-metal, single-engine, four-seat, high-wing light utility aircraft, produced by Cessna Aircraft Company between 1958 and 1962.The model N of the Cessna 172 was not officially built to support water floats, but a certain number were successfully modified with floats by their owners and other enthusiasts. This modification has proved especially useful in locations where the landscape has many lakes, rivers and shores. Native FSX/P3Dv4,v5 by A.F.Scrub.
Posted Jan 9, 2021 07:36 by A.F.Scrub