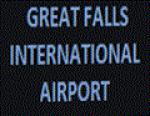 7.26Mb (154 downloads)
Back in Montana again! Today we get to visit Great Falls International. Not the heart of the Big Sky, but if you like mountains (as I do) it is a great place to start your adventure. Helena is closeby. As is Idaho. I've tried some new things that I hope you like. I'm a fan of night flying. I think you might like KGTF at night. As with all my work the structures are original work. Some are accurate, some are workups based on what I think they might look like.
Posted Oct 31, 2019 02:33 by Brett Delana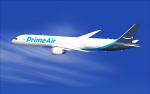 10.20Mb (140 downloads)
FSX Prime Air Boeing 787-9 Cargo AGS V6. New Night lights reflection. New Animated Ground Servicing. New static displays. New landing / taxi soft light beams. New 2D panel. (No VC). Model design and paint by Camil Valiquette. ( CamSim )
Posted Oct 31, 2019 02:18 by Camil Valiquette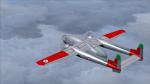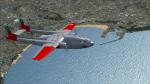 6.87Mb (141 downloads)
I was made aware of an error in the French Air Force C-119 texture I recently uploaded. I inadvertently placed the wrong texture in the zip file. The wrong texture is a copy of the other French Air Force C-119 I uploaded, with serial number 12571. I fixed the issue, and have now placed the correct texture of the French Air Force C-119, with serial number 12562, in this zip file. I apologize for any inconvenience. Textures are 32bit BMP. This repaint was tested on FSX-SE. It should also work on FSX, P3D v1-3.
Posted Oct 30, 2019 20:07 by Ted Giana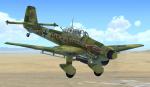 0.16Mb (317 downloads)
This is a small panel fix for the Ju-87 Stuka. I forgot to delete one of the 2 parkbrake gauges in the VC. Just copy this panel.cfg into the panel folder and overwrite. Michael Pook
Posted Oct 30, 2019 13:35 by Michael Pook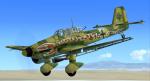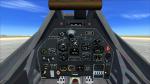 40.28Mb (534 downloads)
This is a major panel and cockpit update for A.F. Scrub's Ju-87 Stuka package featuring a completely reworked and enhanced VC and petty much authentic gauges and panel configuration.The flight dynamics have also been optimized, so now the plane takes off in decent time and flies pretty stable. In additon to the original 4 repaints I've included a unique "Desert Snake" repaint by Wolfgang Faber and his team. Gun effects by Erwin Welker. The model was originally designed for CFS2 as far as I know, so credits go to the original designers (team Wolfgang Faber). Also thanks to A.F. Scrub for his earliar FS9/ FSX conversion. Reworked VC and flight dynamics by Michael Pook. Not sure if the model will work in FS9 and P3D (version3) but it may.
Posted Oct 30, 2019 09:05 by Michael Pook
54.15Mb (491 downloads)
FSX/P3D (incl. v4) Boeing 757-200 Titan Airways package with type coloured VC textures. Titan Airways is a UK charter airline based at London Stansted Airport and offers charter flights for tour operators, government, entertainment and sports. As of October 2019, Titan operates 12 aircraft, 2 of which are Boeing 757-200. The fantastic FSX Native Boeing 757-200 from TDS includes high detail model with ground servicing and more. The VC is the Alejandro Rojas Lucena/FSND fantastic Boeing 737-800 VC cockpit tinted to be more brown like the 757, plus a 2d 757/767 panel by Philipe Wallaert (press F10). This VC model includes Working wipers (right mouse click on switch) with rain effect. Switches for LCD Screens, EICAS, PFD, MFT. Autobrake switch. Opening pilots window. Cabin Lights switch. Realistic FMC. Ground Proximity Warning System (GPWS) and additional G1000 MFD and PFD screens, More Realistic night VC textures. There are custom Boeing 757 sounds included for that extra realism. Edited views, wheel levels. Added wing views. Checklist included. See VC docs to get the best out of the VC and FMC. Textured and assembled for P3D & FSX by Chris Evans.
Posted Oct 30, 2019 06:16 by chris evans
59.02Mb (585 downloads)
FSX/P3D Boeing 747-400F KLM Cargo New Colours package. KLM Cargo is based at Amsterdam Schiphol Airport and as of October 2019, operate 4 Boeing 747-400ERF operated by Martinair and flying worldwide. Project Opensky Boeing 747-400f FSX native model with the much improved Boeing 747 internal model (VC) from Alejandro Rojas Lucenda (Manual included). Model includes ground cargo servicing, stairs (FSX - Go to Views - Instrument Panel -Posky Utility. P3D go to Vehicle - Instrument Panel -). Added 747 sounds, edited views, panel. Thank you to Project Opensky for their huge contribution to the worldwide community of flight simulation. Also includes the Boeing 747 VC textures upgrade. This give a much clearer 747 interior virtual cockpit look. Zip preview for larger pictures. Added wing views. Thanks to Mathieu Vos for wingtips and Paul Craig for engine textures. Textured and assembled and tested in P3D v4.5 and should be ok in FSX and previous P3D versions. Zip preview for images. Custom packaged by Chris Evans
Posted Oct 29, 2019 01:50 by chris evans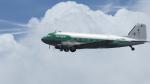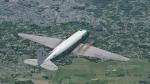 19.62Mb (106 downloads)
This is a repaint of the DC-3 in Ozark Airlines colors. The freeware DC-3 (C-47) by Manfred Jahn is needed for this repaint. Ozark Air Lines of Missouri, began scheduled services in 1950 using DC-3s between St. Louis and Chicago. They eventually created a vast route network spreading two-thirds of the USA. The name OZARK is said to derive from the French "Bois Aux Arc" - "Wood of Bows". Incidentally, the Ozarks are highlands that stretch across 5 states in Mid-America. Ozark Airline's logo of the 3 swallows was chosen because the birds are traditional symbols of safe travel and good luck. At the beginning, Ozark flew various pistons such as CV-240s, Martin 404s, and the DC-3s. Turborpop F-27/FH-227Bs were also used. By 1968 all their piston engined airliners were retired, and the FH-227Bs took their routes. Their first jet, a DC-9-10, was delivered in May 1966. Later on they used DC-9-30s, and MD-82s. In 1985 Ozark boasted a huge fleet of DC-9s, and passenger boardings topped the five million mark for the first time. Ozark was progressing very well. However, TWA was none too pleased with the competition from Ozark, so after applying heavy pressure on the airline from Missouri, they purchased it in 1986 and integrated it into their network. Textures are 32bit dds. This repaint was tested on P3Dv3, and should work on FSX & FSX-SE.
Posted Oct 28, 2019 10:59 by Ted Giana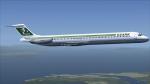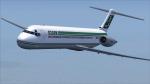 3.99Mb (67 downloads)
This is a repaint of the MD-82 in Ozark Airlines colors. The freeware MD-82 by Eagle Rotorcraft Simulations (George Arana) native FSX conversion of Erick Cantu's MD-82 is needed for this repaint. Between 1984 and 1985 Ozark Airlines purchased 4 McDonnell Douglas MD-82s. All were new from the manufacturer. Two years later when TWA and Ozark merged, TWA took them over and used them in their extensive route network, until TWA's own demise in 2001. The textures are 32bit DDS. It was tested on FSX-SE, but should work on FSX & P3Dv3. I have also included DXT3 textures for FS2004 users.
Posted Oct 28, 2019 10:56 by Ted Giana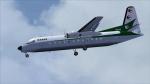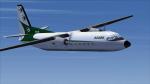 2.77Mb (65 downloads)
This is a repaint of the FH-227B in Ozark Airlines colors. The freeware FSX Native FH-227B by Bjorn Kesten is needed for this repaint. It was converted from Mike Stone's and Tom Gibson's models. Bjorn's versions of the F-27 and FH-227 are all 64 bit (P3D v4, FSW) compatible. Ozark operated 21 Fairchild FH-227s from 1966 to 1981. The FH-227B, which was the U.S. produced stretched version of the F-27. It replaced the older piston engined aircraft in the Ozark fleet in 1968. This particular repaint is of N4216, which was with Ozark from 1966 to 1975. The textures are 32bit DDS. It was tested on FSX-SE, but should work on FSX & P3Dv3 & v4.
Posted Oct 28, 2019 10:53 by Ted Giana