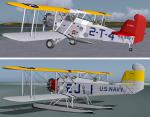 88.79Mb (126 downloads)
This is David Wooster and my ancient Martin T4M Torpedo Truck completely reskinned using what I've learned about painting textures in the seventeen years since the 2006 release. This is the complete aircraft, on wheels and floats.
Posted May 12, 2023 14:17 by Mick Morrissey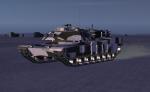 5.59Mb (323 downloads)
Textures for U.S. ARMY M1A1 Abrams Tank. Requires Bruce Fitzgerald's Abrams Tank.
Posted Jul 22, 2013 10:46 by Dave Austin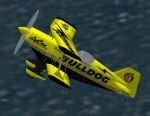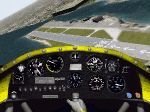 0.41Mb (880 downloads)
FS2000 Jim LeRoy's Pitts S-2S Bulldog. Start with a factory built Pitts S2S, add stronger wings, build a larger, more powerful motor, add an oversized, custom propeller, increase the sizes of all the control surfaces, reshape the tail, strengthen the fuselage, and re-design the fuel and oil systems and you have what Jim calls the "Bulldog" Pitts S2S. Includes instrument panel, full moving parts, virtual cockpit with transparent canopy and realistic flight dynamics. Designed by Mikko Maliniemi. Flight testing by Jim LeRoy himself. 418K
Posted Aug 24, 2009 06:46 by archive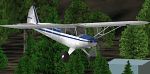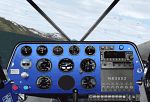 1.54Mb (1165 downloads)
FS2000 - Piper Super Cub "BlueCub". Superb New Super Cub with new full interior, transparent canopy, new panel and new high resolution textures. Bob Wening'model, panel and textures by Yannick Lavigne, special gauges by Fred Banting. 1.6MB
Posted Aug 24, 2009 06:46 by archive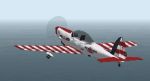 1.24Mb (703 downloads)
TRIBUTE TO ART SCHOLL - Aerobatics Super Chipmunk for FS2000. This model is fully animated - flaps, rudder, ailerons and prop - and now includes a rudder-controlled steerable tailwheel. Modifications in this file include: improved aerobatics flight dynamics (modified air file), improvements to visual model, enhanced cockpit and other minor details. Designed with FSDS by Graham P. Oxtoby. 1.3MB Panel here
Posted Aug 24, 2009 06:46 by archive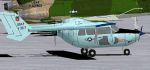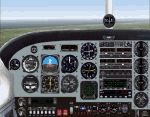 1.20Mb (1428 downloads)
FS2000 USAF O2A Cessna Skymaster AFX: Donn E. Bohde FDE and Panel: Michael Verlin USAF Paint: Don Gilham NOTE: For FS2000 Professional ONLY. 1.2MB
Posted Aug 24, 2009 06:46 by archive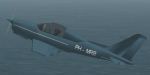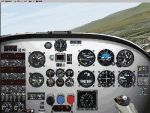 2.54Mb (597 downloads)
FS2000 General Avia F22C (charlie), registration PH-MRC (as flown at Teuge Airport, Netherlands) - 2 seater basic trainer and aerobatics aircraft of Italian design. Design using FSDS, this model features 20-sided structures, 256x256 BMP textures and full moving parts (landing gear, flaps, ailerons, rudder). The panel by Marco Spada is only usable with FS2000 default gauges + Chuck Dome's Stickhand moveable gauge. By Graham P. Oxtoby. Public domain. 2.6MB
Posted Aug 24, 2009 06:46 by archive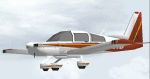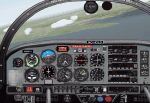 0.48Mb (601 downloads)
Grumman AA-5ab plane & panel. Thanks to the guys at Professional Flight Displays "PDFteam.com" and Rob Howard, for letting me use the bitmap, and to Capt. Mel (747) Ott for his support. I design this panel using the default FS2000 gauges. The Hobbs meter gauge is thanks to the utility of Scott Macmillan in Scotland. The plane is my original paint from 1996 yeah you heard right! 1996 from the original AFX file supplied to me directly by the original author. The file was sent to me in afx format and I re-painted and tweak a little the plane like the one I use to fly. It was sitting in my disks for 4 years until... Pdfteam. By: Jose Miranda. 493K
Posted Aug 24, 2009 06:46 by archive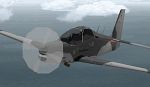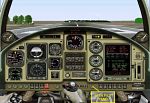 3.44Mb (1073 downloads)
Super Tucano FAB - Sivam Program. Painting of the Brazilian Sivam Program to protect the Amazon Region. This Livery was presented in the FIDAE 2000, by Embraer and will be used by the Brazilian Air Force. Original by Jean-Louis Coumont & Jim Goldman. Painted by Luiz Lins. 3.6MB
Posted Aug 24, 2009 06:46 by archive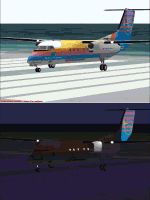 0.19Mb (777 downloads)
FS2000 Dehavilland DASH8-202 Eastern Caribbean Express "Spirit of Bridgetown" (Leased to Air Jamaica Express) With Maximum Moving Parts Rev4 with steerable nose gear, Night Textures New Props with tips, New LG Doors and New motion sequences Revised FD for FS2000 Flight Performance Updated Flight Dynamics New Night Textures Authors: Barry Blaisdell / Jens Borgstroem. 199K
Posted Aug 24, 2009 06:46 by archive