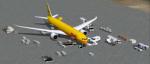 2.89Mb (64 downloads)
FS2004 DHL Boeing 787-9 Cargo AGS V6.1. New Night lights reflection. New Animated Ground Servicing. New static displays. New landing / taxi soft light beams. New 2D panel. Model design and paint by Camil Valiquette. ( CamSim )
Posted Jun 25, 2020 03:19 by Camil Valiquette

2.98Mb (39 downloads)
FS2004 Korean Air, Airbus A220-300 AGS V6.1. New Animated Ground Servicing. New static displays. New landing / taxi soft light beams. New tail. New aft fuselage. New 2D panel. Model design and paint by Camil Valiquette. ( CamSim )
Posted Jun 25, 2020 03:18 by Camil Valiquette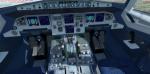 70.37Mb (410 downloads)
FSX/P3D Airbus A319-100 China Eastern package. 2020 updated sharklet model and VC. China's 2nd largest airline China Eastern is based at Shanghai-Hongqiao and currently operate 35 Airbus A319-100. China Eastern fly to destinations globally. The A319 is a shorter version of the A320 family. A319 sharklets model by Project Airbus updated by Collin MacKenzie. Revised original VC by Microsoft updated by Collin MacKenzie to include built in FMC and more. Textured and assembled for P3D/FSX by Chris Evans. Should work in FSX and other P3D
Posted Jun 24, 2020 16:17 by chris evans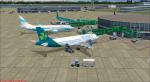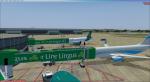 0.17Mb (151 downloads)
This replaces the regular jetway textures in fsx to a Aer Lingus Style Jetway that is in Dublin airport. Enjoy ;-)
Posted Jun 24, 2020 15:51 by Chris BG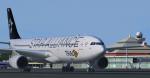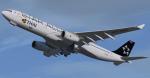 5.65Mb (132 downloads)
Thai Airways "Star Alliance" Livery (HS-TBD) Texture for the Thomas Ruth A330-300 RR Engine model. This texture is a part of my project to attempt to re-texture the Thomas Ruth A330s with 4096*4096 HD Textures. Feel free to join the JetRepaintsSG group on Facebook for more of my repaint works! Installation instructions have been included in the file. Made by Muhammad Akmal Farhan
Posted Jun 24, 2020 07:23 by Muhammad Akmal Farhan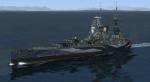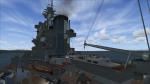 18.21Mb (130 downloads)
FSX/Accel FSX/Accel Pilotable prewar battleship HMS Rodney. She was launched in 1925 and was from the same class as the HMS Nelson. The vessels had a lenght of 217 m and carried three 16-inch triple guns. You can explore this warship now by toggling through nine twenty three cameras shwowing you hundrets of realisticly details. The original grey DDS-textures for the Nelson are included. The Ai-vessel is converted from Sketchup to native FSX by Klaus Novak and belongs to his WWII Royal Navy fleet at SOH. Special ship gauges by Jean Pierre Carosin. Repaint in camo, configurations and files for pilotable vessel by Erwin Welker
Posted Jun 24, 2020 02:56 by Erwin Welker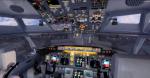 57.78Mb (573 downloads)
FSX/P3D Boeing 737-700 Aerolineas Argentinas Skyteam package. Argentina's flag carrier airline is based at Buenos Aires Aeroparque Jorge Newbery Airport and currently has 8 Boeing 737-700 in it's fleet. High quality FSX native model by TDS. Model includes utility for ground services, passenger bus, cargo, stairs, refuelling truck etc (find it under - Views - Instrument panel - Util) The VC is the Alejandro Rojas Lucena/FSND revised Boeing 737-800 VC model. This VC includes working wipers (right mouse click on switch) with rain effect. Switches for LCD Screens, EICAS, PFD, MFT. Autobrake switch. Opening pilots window. Cabin Lights switch. Realistic FMC. Ground Proximity Warning System (GPWS), More Realistic night VC textures. Custom Boeing sounds included for that extra realism. Correct VC views, jetways, wheel levels and wing views. I added PDF B737 checklist, additional G1000 MFD and PFD screens and HGS (HUD). The high quality Boeing 737-700 and paintkit from TDS. Textured and assembled for P3D 4.5 by Chris Evans. Should also work in earlier P3D versions as well as FSX.
Posted Jun 23, 2020 03:06 by chris evans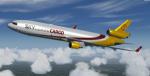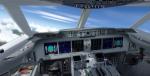 69.36Mb (166 downloads)
P3D4 McDonnell Douglas MD11 SkyLease Package. Cargo airline Skylease is based at Greensboro, North Carolina and is part of centurian Cargo Airlines. Skylease currently have 1 MD11 in their fleet and fly worldwide. Model and VC by SMS Overland. Includes MD11 manual. Original bitmaps by Overland Co., Ltd., Antonio Bucoli and Marco Spada adapted for this project. Bucoli's bitmaps courtesy of Mediterranea Virtual. Supporting gauges by Philippe Wallaert, Ken Mitchell and Jacob Larsen. Joerg ZEitschel made FSX/P3D4 friendly by de-mipping and conversion to 32-bit BMP. Custom MD11 sounds included. May work in FSX and earlier P3D versions. Textured by Chris Evans.
Posted Jun 23, 2020 01:50 by chris evans

3.47Mb (202 downloads)
FSX Flight Analyzer Utility FsQC V6.18 Flight Data Recorder - with Logbook. Now with a built-in GPS logger. Also some bugs are fixed. Also Prepar3D, FS2004 and FSX Steam supported. Very easy to use, just make a flight plan in the simulator or in this utility. (But please read the readme.txt file) What this program does: quickly change the settings of P3D/FSX/FS2004, such as time, date, fuel, weight, traffic etc. Start a failure sytem, such as gear, flaps, engine, etc. runway detecting system to see wich runways are in use. Quickly look at Airport Info for all possible info such as: ILS, Radio, RW length, Elevation, etc, etc. This is all fully freeware. Only Limited demo for: The flight analyzing/data recording, Logbook and the PDF Flightreport. Flight analysis start recording at the moment when you begin taxiing. It gives you huge information such as: - takeoff- and landing-weight. - takeoff- and landing-roll in m. and ft. - separate fuel consumption in taxi, climb, cruise and descent. - maximum banking in flight. - which speed you using the flaps and gear. - when autopilot on or off. - vertical speed on touchdown. - reverser set after landing. - wich speed you cancel reverser. - bouncing at landing. - graphical landingchart. - and lots of more. You can better look the example of the pdf document. Requirements: Computer with Windows7 or higher and internet access.(XP also supported look in the help/manual) Flightsimulator P3D FSX or 2004 and FSUIPC installed. Note: requires paid activation for full use of the Flight Analyzer. Register and you have 1 month free. Program fully works without registration at airport Athens and Iraklion (Greece). By Evander Tholen.
Posted Jun 22, 2020 13:21 by Evander Tholen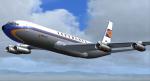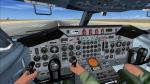 67.96Mb (2210 downloads)
This is an update of the legendary Boeing 707 by Libardo Guzman. As none of the various virtual cockpits and 2D panels coming with diverse updates of this beautiful model have ever satisfied me I've decided to offer a new package with new reworked panels. I've tried to design and configure the panels as close and authentic as possible to the real 707 panel. The package includes 15 selected texture sets, among them Lufthansa, AA, Pan Am, USA-1, AWACS and others. The package comes with automatic exhaust smoke and new camera views. Thanks to Libardo Guzman for the great original model. Also, credits go to Andre Ludick for the South African repaint, to Erwin Welker for the additional camera views and to Bill Melichar for his great sound. New VC and 2D panel as well as smoke configuration by Michael Pook. The model may also work in P3D, Version3).
Posted Jun 22, 2020 05:33 by Michael Pook