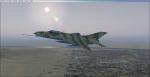 49.05Mb (85 downloads)
Textures for Ivan Jurcaga's MiG-21 F-13 in the colors of Bulgaria, Egypt, East Germany, Poland, Indonesia, Syria and Hungary.
Posted Aug 3, 2022 20:44 by Nilsson.J
81.66Mb (304 downloads)
FSX/P3D Airbus A320-251N Transavia France package. Transavia France have 100 A320 and A321 NEO aircraft on order with plans to replace their Boeing fleet with these new versions. This is the standard Project Airbus A320 painted to resemble a N (neo) version with window and door placements, etc. Model by Project Airbus. 2020 updated VC by Speedbird77 with built in FMC by Garret Smith. Includes A320 operation manual and checklist. Airbus sounds included. Textured and assembled for P3D v5 by Chris Evans. Should work in FSX and other P3D
Posted Aug 3, 2022 07:07 by chris evans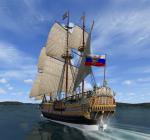 13.89Mb (76 downloads)
FSX/Accel Pilotable russian 54 gun ship "Goto Predestinatsia" from 1700 - an Ai-model is included. This vessel was the first russian ship of the line. The meaning of the name is "God's Predestination". The replic from 2014 is now the proud of the museum at Woronesch/Russia and I would say it is one of the most beautyful museums ships worldwide. The Sim-model reflects the old warship and differs a bit from the museums boat. It is almost complete rigged with hundreds of ropes and has twenty three animated guns. Twentyfive cameras let you explore the whole ship: The deck, the lower gun deck and you can enjoy the sailors views from high above in the masts. The effects allows you to fire broadsides to starboard and port seperatly. The model should run in P3dV3 and in FS2004 but it is not tested and no support is given. FSDS 3.5 model made by Erwin Welker
Posted Aug 3, 2022 02:19 by Erwin Welker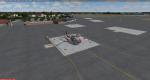 0.04Mb (48 downloads)
This a revamp of the Orbx Fresno Airport. A lot was missing from it and so I have done my best to recreate it. There are several scenery packs you will need to download in order for everything to show up. The links are located in a readme in this pack. Orbx NA Northern California is required for this scenery to work. Vector is also ideal and works best. You can try without Orbx and Vector and see what happens, it has not been tested without however so nothing is guaranteed.
Posted Aug 2, 2022 23:27 by Delta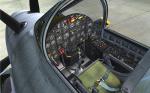 55.96Mb (544 downloads)
The Lockheed XFV-1 is a US Navy tail-sitter VTOL prototype manufactured in the early 1950s. When I first saw the XFV-1, I was fascinated by its unique shape. The protruding cockpit and canopy, the large inflated propeller spinner, the beauty of the curves around the air intake, the tail wing tires like casters on an office chair, and the simple landing gear like training wheels on a kid's bicycle. On the ground, it looks like an animal standing on two legs. The more I look at it, the more attractive it is, so I wanted to make it the FS model. This model has bump mapping and specular mapping. I haven't tested it to work other than FSX. (Admin: Also tested well in P3Dv5) FSDS v3.5 model by UENOSHING.
Posted Aug 2, 2022 10:31 by UENOSHING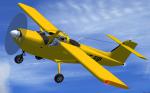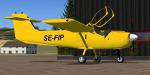 12.94Mb (319 downloads)
Delivered new to Ethiopia in 1976, this aircraft, registered ET-AGD, was used by Count C-G von Rosen to airdrop relief supplies to isolated communities, in Ethiopia, in the late 1970's. Having been stored between 1982 and 1987, it was returned to Sweden taking up its current marks and continuing to to fly with Halle-Hunnebergs Flygklubb in Linkoping. Painted on to John Woodward's MFI-15 model, I have included the default Cessna 172 panel as well as the original panel, as there was no 2D panel included in the original package.
Posted Aug 2, 2022 10:29 by turbodak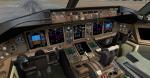 68.90Mb (211 downloads)
FSX/P3D Boeing 777-300ER Air New Zealand 'All Blacks' package v2. Livery in the 'All Blacks' New Zealand rugby team. New Zealand's flag carrier airline is based at Auckland International Airport and currently fly 6 Boeing 777-300ER flying worldwide. Realistic CFM soundpack added. Original VC by Jacob Kubique. Converted to FSX native by Zachary777. VC updates by Speedbird77 with gauges by G. Munro and Ken Wiggington. See Credits for more. Textured and assembled for P3d v5.3 by Chris Evans. Should also work in FSX and previous P3D.
Posted Aug 2, 2022 02:02 by chris evans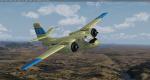 29.96Mb (84 downloads)
This is a repaint pack for the Grumman S2A Tracker by Milton Shupe. It will be a total of 3 packs to keep things small. This will cover the CDF Green Machines used from the mid 70's to early 80s. Original model required. Works in FSX and P3D. Attaching link to base file in description as linking in the dialogue box doesn't seem to work.
Posted Aug 2, 2022 01:13 by Delta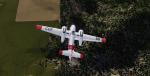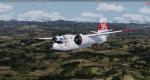 31.36Mb (63 downloads)
This is a repaint pack for the Grumman S2A Tracker by Milton Shupe. It will be a total of 3 packs to keep things small. This will cover CDF Tankers 86-96. Original model required. Works in both FSX and P3D.
Posted Aug 2, 2022 01:03 by Delta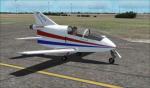 2.21Mb (26 downloads)
50 years ago, a fighter jet-like tiny home built plane took to the sky. The Bede BD-5 is remembered for its dazzling looks and aerobatics. Requires the payware Iris Simulation and thanks to them for this beautiful aircraft.
Posted Aug 2, 2022 00:12 by W Visagie